April 3
We celebrated Easter a day early with sons Andy and Eric and their friend Scott. I wanted to cook (heat) a ham, but didn't have room for everything in my oven, so I decided to heat it on our grill, using the indirect heat method. I was worried about it getting done, but thanks to a thermometer that was a gift from Sue Hokamp some years ago, I could read it from the outside of the grill. Ham was great. Even had some marshmallow "Peeps" on the table just for fun. (Remember Peeps? Did you know they have their own website? Take a look at: http://www.marshmallowpeeps.com)
After lunch the guys decided that Ken should make a video for YouTube to demonstrate how he makes his Absolutely-the-Best popcorn ever. So, Andy and I used our still cameras, which will hold 10 minutes of video, and we recorded it. Andy did the wide shot, I did closeups. Scott is going to edit it. Can't wait to see it. (See end of this chapter for more popcorn stuff.)
And of course the dogs were there. Tatum found a corner of the couch she liked. She's such a poser.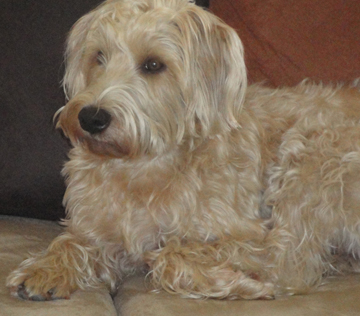 April 4
First big earthquake. Happened in Mexico near the California border about 3:30 p.m. It felt like rolling in a boat or walking on a water bed. No damage, but felt all the way to LA, where Andy and Eric both noticed it. Heard that it went all the way to Phoenix.
I was sitting at my computer when it started (there are loud rumbles from Camp Pendleton that rattle my windows so I thought it was probably that). They say it lasted for 10 seconds, but it felt longer. It was odd because the couple of other times I've experienced one, it sort of shook. This one rolled. Scary, but not even a picture on the wall ended up crooked, so there was no impact. I called Andy in LA and he was at work and had just experienced the same thing. It was evidently widespread. I'll be interested in reading the paper the morning.
April 8-17, 2010
My friend Sue Hokamp (Laurel Oak in Sarasota) and I share a birthday and have celebrated our day together in some way, in the past. So I thought it would be fun to make our trip to Florida around that time. Ken and I wanted to spend the first part of the trip in Tampa, especially with Chip, Lisa, and our grandsons Thomas, and Ryan.
Packing for the trip.
Ken decided to research luggage that would be easy to identify at the time of pickup. (Everyone seems to have black.) So, this is what he found. Can you believe it? It's called Giraffe. The set was originally $800, but on sale for $135. He couldn't resist. Each piece fits inside the other, so it's nice for storage and it actually packed very well.

I guessed that we would be laughed out of the airport, but no one seemed to pay any attention, even at the hotels. Perhaps they were too embarassed to say anything. When I sent this picture to my sons, Andy used the work "hideous" to describe it, and he's right. It certainly won't win any beauty contests.
The trip started off inauspiciously when the driver who was to take us to the San Diego airport called us to say he was lost. We haven't been here long enough to be of much help. He said he was at the dead end of Cannon Road, which is right outside our community, but it turns out he was on the opposite side of the mountain in Carlsbad, which dead ends at the mountain there (Cannon road does not go through the mountain). So as not to miss our flight, we threw ourselves and the luggage in our car and drove ourselves. There was valet service at Continental. We grabbed our bags, left the car, hurried to check in, and made it in plenty of time.
Because Ken has a pacemaker, he could not go through the x-ray and had to be patted down.  I never saw such a thorough pat-down. Whew! San Diego does not have the new machines yet.
The two flights — one to Houston, then Houston to Tampa — were great. On the second leg the plane had TVs in the back of the seat, and Ken got to watch the masters. The picture quality was great. The picture on the right below is the back of the seat when we didn't have video. Remember when planes had phones on them? You can still see the image of where the phone had been.  Such old technology now.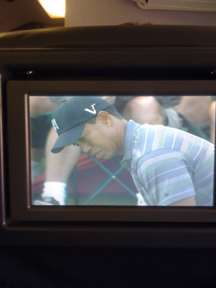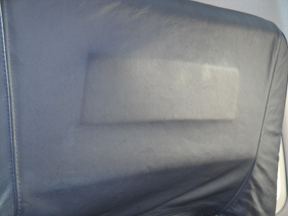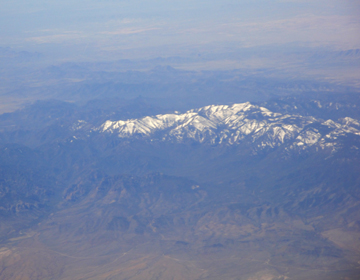 We arrived in Tampa late on Thursday, really tired. We had decided to stay at the Hyatt Regency near the Tampa airport, and I chose to roost us in one of the casitas, which are on the bay and also near Oyster Catchers restaurant. (We used to have our Kaset annual customer conventions there and had stayed many times in the hotel itself.)
April 10
On Saturday Lisa kindly hosted a few of our relatives for lunch. We caught up with lots of good stories and got really good hugs from Thomas and Ryan.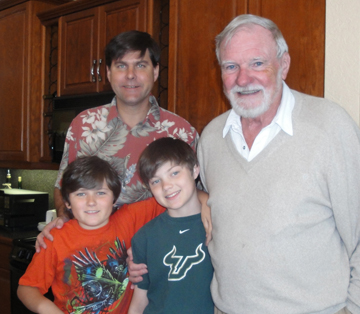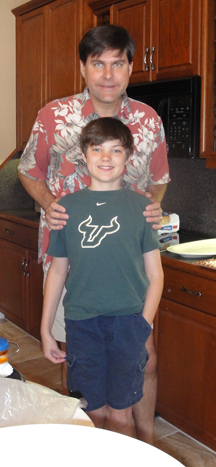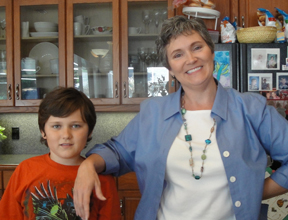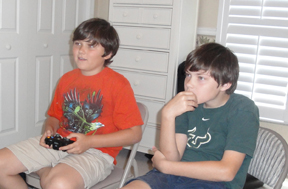 My niece Lori drove over from the West Palm area and baked my very favorite chocolate cake for my birthday. Cousin Ruth drove up from Sarasota.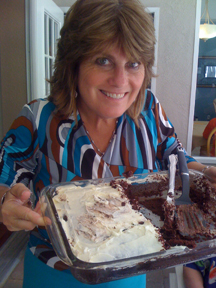 Since we left the area, the young Johnston family has acquired another dog. Roscoe has been added to the mix, along with a cat who stayed hidden while we were there. Nephew and niece Pete and Chris Mitchell as well.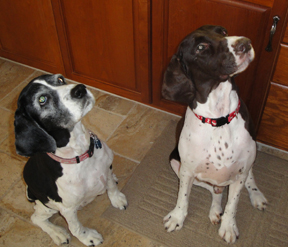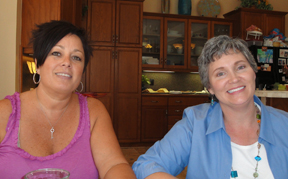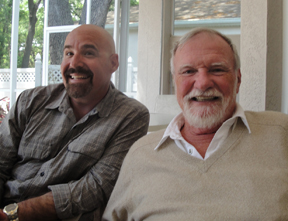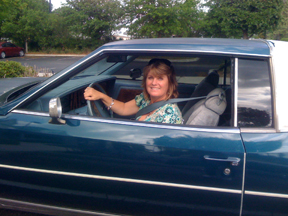 Lori has no car at the moment so she borrowed an old 1979 Buick Riviera from her friend Greg, for the trip. She followed us to the Hyatt, staying in a nearby casita. Chip and Lisa also chose a nearby hotel so that we could have dinner and breakfast the next day, all together. Grandma Nancy, Chip's mom kindly stayed overnight with the grandkids.
April 11
We moved our belongings to Sarasota on Sunday, choosing the Country Inn and Suites, located mid-way between friends in Laurel Oak and The Glenridge. The skyway bridge, as always, was smashing.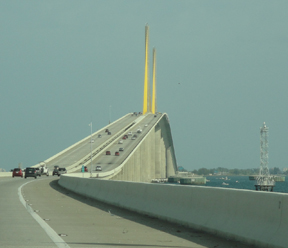 As it turned out I did not take nearly enough pictures of the things we did, e.g. an evening with our tennis friends from The Glenridge, arranged by Norma and Stan Cohen, and a cocktail buffet on Kilmory Way with our old neighbors, at Ginny Tarika's home.
Things were a little hectic, so Sue Hokamp, Linda Habif and I met for breakfast one morning. This picture was from Linda's camera.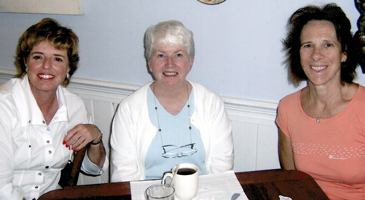 One couple at The Glenridge — Dick and Mary Manegold — told us their daughter C.S. would be staying with them and speaking at The Glenridge on Thursday about her newly published book: "Ten Hills Farm: the Forgotten History of Slavery in the North." We had purchased the book and read it before we went (well-written fascinating story and we recommend it to anyone who likes to read). The Manegolds hosted a party for their daughter and we had a chance to speak with her.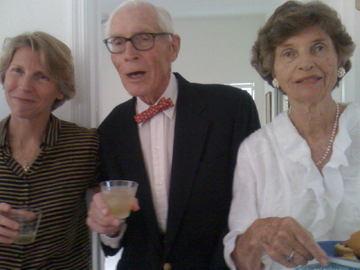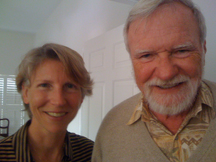 Friday, April 16
The highlight of the trip for me was the mutual birthday celebration for Sue and me at Mattison's Forty-One restauarant.
A slight detour in this narrative:
When we first moved to Sarasota in 1993, I spent the first year attending cooking classes on every Wednesday at the Summerhouse, where Chef Paul Mattison demonstrated many delicious meals. I captured as many of his recipes as I could. If you're familiar with my recipes on our kenshan website, you'll see his name on many of them.
Sue had convinced Chef Paul to give us a private lesson. She arranged for many of our friends to be there and we had a terrific time and a terrific meal.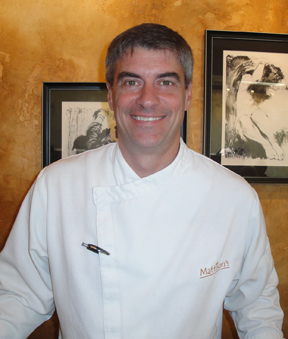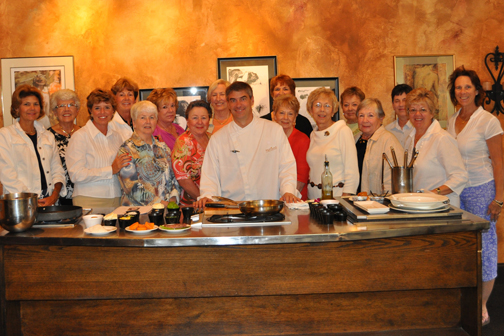 One big laugh were the outfits worn by the two Nancys. It wasn't planned, it just happened. Even the shoes!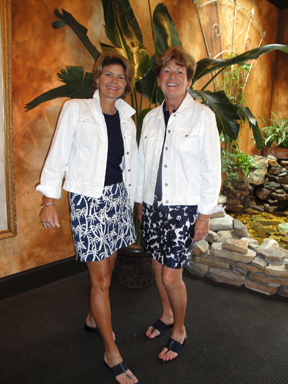 For those of you who were not there, here are the recipes in PDF if you care to download them.
Appetizer: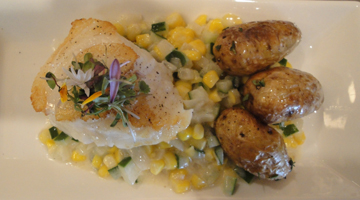 Seared Sea Bass with Truffled Cream Corn: Click to download the PDF.
Roasted Fingerling Potatoes: Click to download the PDF.
Entrée: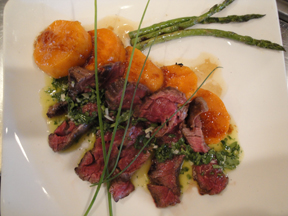 Grilled Marinated Skirt Steak with Cilantro Chimmichurri: Click to download the PDF.
Candied Sweet Potatoes: Click to download the PDF.
Dessert: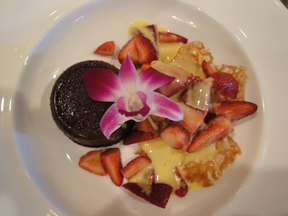 Chocolate Espresso Torte
Honey Tuiles filled with strawberries and covered in Zabaglione: Click to download the PDF.
I asked Chef Paul if it would be okay to share the recipes on this website and he agreed, except for the Chocolate Torte which is a specialty of the restaurant (so you'll have to go to Mattison's 41 in Sarasota to have that wonderful experience).
Saturday
Time to go back to California. We drove our rental car back to Tampa and headed to the airport. All the roads around the airport are new so we had to pay close attention to the signs. Much easier access now. The Tampa airport has the new scanner. I was hoping to go through it, but you have to fail the "walk through" test. Bummer.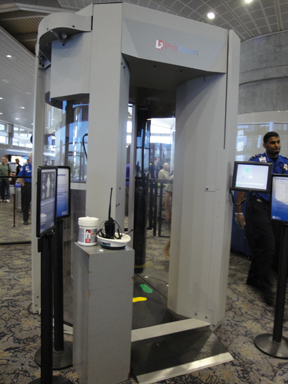 Taking off from Tampa I saw this sign. I thought it was funny. We're used to the "thank you for not smoking" signs, but this one aimed at pilots seemed pretty unneccessary. If it's hard to read, it says: "Thank you for following noise abatement procedures."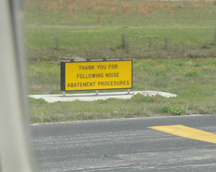 Both returning flights were fine. All four had been on time. Amazing. The views during landing were lovely. The harbor at San Diego has lots of naval ships. And the Coronado Bridge is something to see from the air.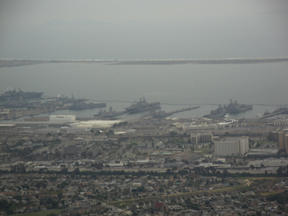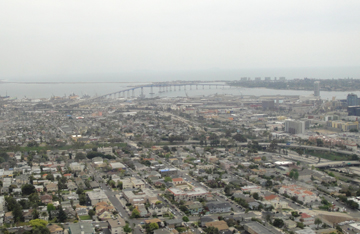 We picked up our car in San Diego (pricey to do valet), and were back at the house by 5 p.m. It was a lovely trip, and great to see so many friends and family. Hard to leave all of you behind.
The Popcorn Movie
I'm sure most of you have viewed Ken's movie about popcorn making. It's turned out to be a lot of fun. Yesterday I needed to order some more macadamia nut oil from Oils of Aloha. I had told Chef Paul I would send him a sampler, since he had not tried cooking with it. While I was ordering, I gave them the link for Ken's movie.  Here is their reply:
"Thank you for your recent order. I came across your husband's video a couple of days ago and sent it around the office for viewing. It was really fun. I also went to YouTube to find out if we could put it our Facebook page at Oils of Aloha. I would really like to encourage people to send us videos on how they use our macadamia cooking oils.
I have asked our shipping department to include a free Mac Oil Sampler, so that your husband might like to experiment with our various flavored oils. Excellent for cooking, but what we do at trade shows is to spritz the flavors onto the finished popcorn. Don't know which flavor is my favorite.
Aloha from Hawaii and Mahalo-  Barbara"
How about that? They already knew about the video. Can't understand how that could happen. Anyway, the hits keep mounting.
In retrospect there were a couple of things we left out of the video (it really was off-the-cuff), so if you're planning to try it, here are a few more things to know: any heavy bottom pan will do, electric or gas cooktops are fine, you can use other brands of popcorn, but be sure to use popcorn salt (we couldn't find it here so I ordered a bunch from the Morton's web site). If you missed the popcorn movie, or want to see it again, it's at: http://www.youtube.com/watch?v=E6GsnTNR_Hg Or, if you'd like a PDF copy of the recipe, click on popcorn.
Flowers of Spring
I find the flowers here simply amazing. I have never had roses before, and they seem to be everywhere. Here are a couple in our patio: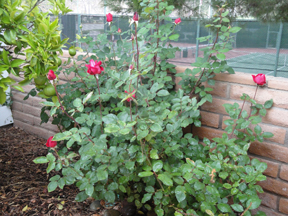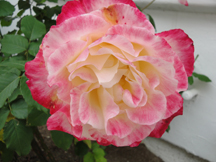 You may remember some time ago I showed you a picture of one of our weird-looking succulents (I didn't — and still don't know — its name). It grew very fast and got pretty big, so our yard guy simply cut off all the legs and stuck them in the ground to form two totally different arrangements.
BEFORE: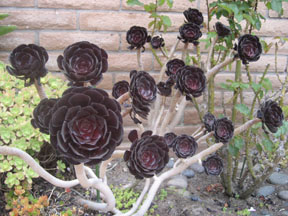 AFTER: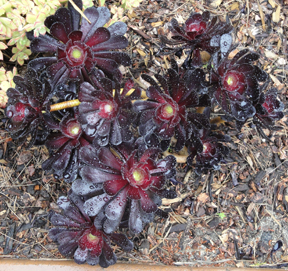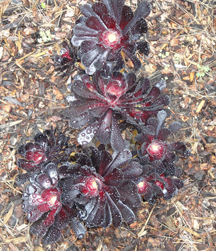 The lady who cuts our hair gave me a clipping of an unusual plant called a rose geranium. The flowers look more like pansies. Again, she told me just to stick the cuttings in the ground and they will grow. I'll give you an update in a later chapter.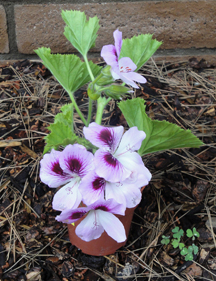 To say goodbye for now, here is a picture of Ken. He continues to wear warm clothing on the patio after 4 p.m. We keep hoping that summer will come soon. Daytimes are lovely, high 60's to low 70's, but much colder when the sun goes down.