Weather
I remember the first year we spent in Florida (St. Petersburg, 1972). On May 1st that year it soared up to 90 degrees and stayed that way until October. We were cash strapped and had purchased a "loss-leader" car without air conditioning. I found a job in Tampa and made the daily trip with the windows down. Whew. That was hot.
So here it is May 1 and the weather hasn't changed. Mid 60's during the day and colder at night. Plus, there is what is called a "marine layer" that creeps in at night, and doesn't go away until mid to late morning. (Marine Layer means a low-hanging cloud cover that looks suspiciously like fog.) They call it "May gray" or "June gloom." I guess that means it won't happen in July?
May 1
Eric spent the day with us, bringing the ever faithful Gabriel and Tatum. There is a darling Bichon next door named Tiger. He can jump over the wall from his back property and race around to our back wall. When the dogs are here he sometimes does that, standing on his back legs to peer at our two dogs. I thought this was a cute picture of Tiger and Tatum chatting over the back fence. (In case you think Tiger is a very tall dog, the hill comes up about halfway on the other side.)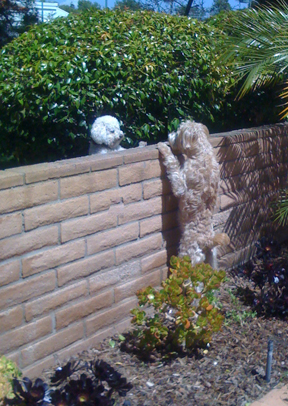 May 7
I like participating in the Sewing Club. Sometimes I go just to sit around and chat. However, one of the members has been teaching us to quilt a "flag" for Memorial Day and 4th of July. I haven't done this sort of thing for years, so it was quite a chore. When I finished it, I mounted it on our front gate for the holidays.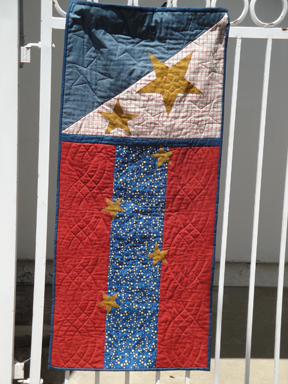 May 9 Mother's Day
Andy and Eric came here for Mother's day. They would be furnishing the pizza for lunch from their favorite place: Pizza Port, in Carlsbad.  I went along with Andy who was going first to Lost Abbey in San Marcos to pick up some growlers and other beer. Lost Abbey is not a bar, however, people can go there and do "beer tastings." This is a picture of some folks settled in for a day at Lost Abbey. Andy says the cat is a real advantage. The hops and other grains attract rats and the cat takes care of them.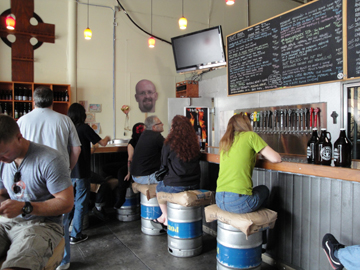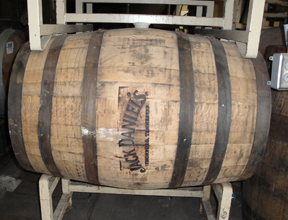 Above: the mother's day beer tasters. Upper right: some beer is kept in old Jack Daniels barrels for added flavor.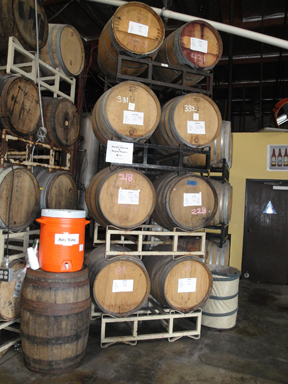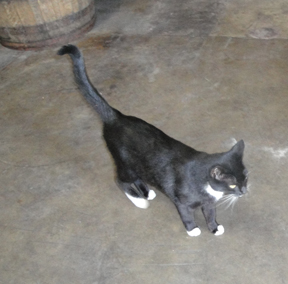 Left: beer stacked in barrels. Cute kitty keeps the rats away.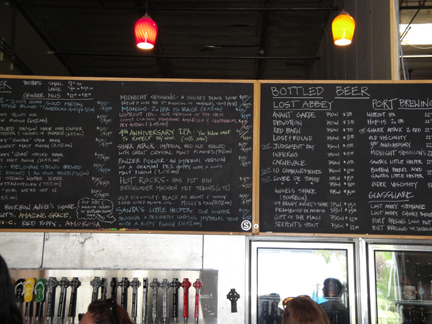 The board above displays the kinds of beer available. Most of the craft beer companies have beautiful labels.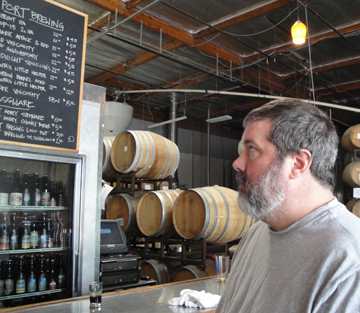 Andy, checking out his choices.
May 19th
The Tennis Club has lots of events. This one was a demo day, made up of some local pros as well as the young man who is the manager for the 1600-home community. They were looking for line callers, and since Ken had actually called lines with the pros in the touring events in St. Pete, I volunteered him. I think he had a good time calling the service line, which is always the most difficult. Some linesmen took it more seriously than others. You can see the green courts surrounded by red. In a later picture you'll see what the new re-surfacing looks like.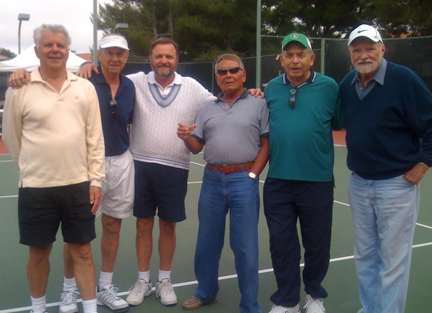 May 23rd
Can you believe, we've started a very (very) small garden. Ken planted one of those upside down tomato plants. He's been very good at watering it and feeding it. The red object is just to show you where the tomato plant hangs.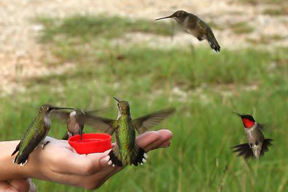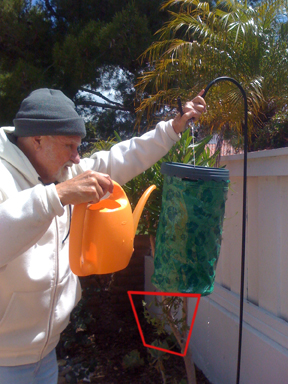 I thought I'd throw in a picture of hummingbirds. They are everywhere! And as you can see they are quite unafraid of humans. As long as they get their sugar fix, anything seems to be okay. Needless to say this is not my picture. I found it on the Internet, but truly we see them all the time.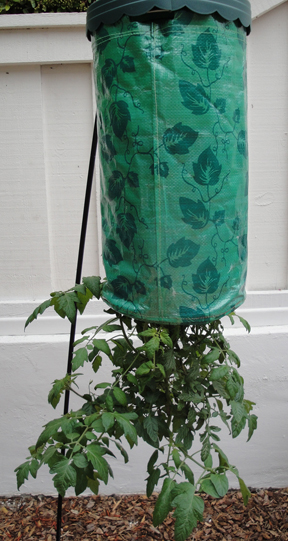 The picture on the left was taken on its first day. The one on the right taken two weeks later. Supposedly we'll have those grape-sized tomatoes, and lots of them, if you can believe the hype.
May 24th        
We've been watching as all of the racquet courts being resurfaced (4 tennis, 5 paddle/pickle ball), removing the red and green look and going to a much more updated look of green outside and blue inside (the yellow ball really sets up great against the blue). This is a paddleball court. Pickleball is played here, also, but for pickleball the last white line is the back line; everything after that would be "out."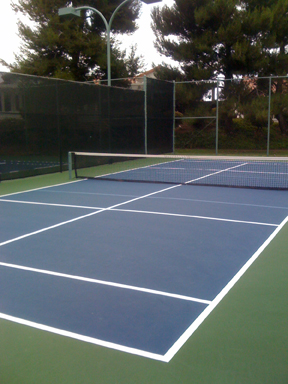 May 25:
You may remember that the community has a large lot that can hold 100 RVs. There is a fairly large space for turning around, and that's where the Spring RV Lot Party was held. Everyone helped put up sun covers, our awning was out, and members gathered for a pot luck. There was music as well, but not much dancing (every try it on cement?). Since I write about the RV club for one of the community's three monthly newsletters, this is what I said about the party:
June 1:
Eric called to say that he and two friends would be in the area visiting some craft breweries, so I invited them for dinner. Peter Hermes (left) came with Eric, along with Eric's friend from Portland. Eric went to Full Sail Academy in Winter Park, Florida with Kevin Nettlingham (right). They both were learning audio engineering when they attended school together.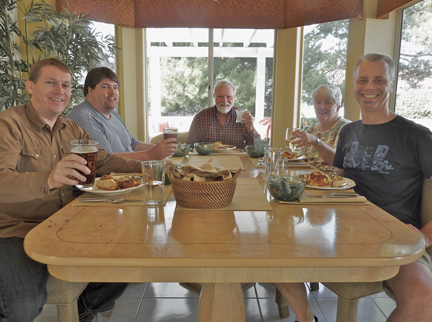 June 6: Rotating Dinner
80 couples belong to a monthly rotating dinner. Some brave soul matches couples and sends them around the community. You host once, go somewhere else two other times. The host prepares the main dishes and provides drinks, the guests bring appetizers, salad, and dessert. When we hosted, one couple brought a delicious salad, which I fixed when it was our turn to go somewhere else. I thought I would share it with you (definitely worth fixing). Download Spinach-Strawberry Salad. Let me know how you like it.
June 10: Second Annual Pickleball tournament
About three weeks ago Ken and I started attending the Saturday pickleball for new people. (It helped that we both played tennis.) Pickleball is growing quickly in areas that have hard courts. It's played with a flat paddle, like ping pong, and the ball is a whiffle ball. The court is a little shorter than a paddle tennis court, but the net is 3 inches higher. So, the paddle tennis courts here work fine for pickleball. We screwed up our courage and signed up for the annual tournament (played just over our back wall, so we just have to hop over and walk down a gentle slope). We were both placed in the beginners group, of course. Surprise surprise, Ken placed second in the men's group, and I won the women's. Ken thinks I'll be a better pickleball player than a tennis player, although I'm getting slowly back into tennis — and badminton — as well.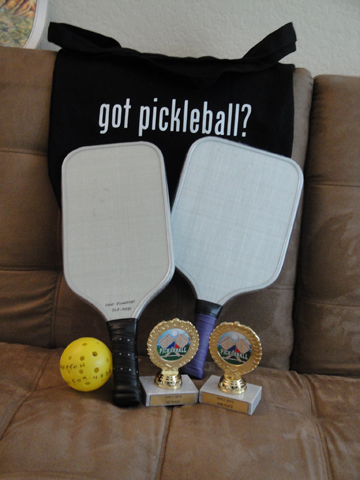 Ken likes the longer paddle (all they have to have is same square-inch surface). You can see our newly-acquired trophies and the whiffle ball.
Oceanside Article
If you're not already bored to tears, you can read about our community in this article from a retirement magazine. Oceanside.
The Popcorn Movie
If you've seen Ken's popcorn movie, you may not know that the macadamia nut oil we use is from Oils of Aloha in Hawaii. I just got another note from them asking if they could put a link to his movie from their website. The YouTube movie has had 370 hits as of this writing. Perhaps their link will help it go up even more.
Our First Visitors
Next week son Ken, wife Lisa and boys Thomas and Ryan arrive. They will stay in the Moose hotel at a beach RV park. The next letter no doubt will be filled with stories of that visit.