Learning to get around
Despite (or perhaps with the help of) Harold (our GPS), I am finally learning my way around this area. Ocean Hills — where we live — is really a finger stuck out in the eastern part of Oceanside, and is between Vista and Carlsbad. Having been comfortable with streets that are straight and typically go east-west and north-south, travelling around here is a real challenge. Streets curve, suddenly moving from a fairly straight east-west direction, then zooming south, or any other direction for that matter. I saw early on that because of all the hills (are they mountains or hills?), roads must traverse a multitude of directions. This is a view of the street as we exit the village, looking down toward shopping.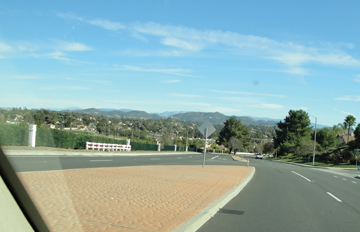 January  16
Once a year all of the sixty Ocean Hills clubs set up booths in the large auditorium in order to attract people who wish to join them. The advice is to join many, even those you may not want to participate in.  Since the fees run about $7.00 per year, it's not a big loss.  So, we both joined golf, bocci, racquet, aerobics, journalism, rotating dinner, and of course the RV club. Ken also joined billiards and I joined the sewing club.
Letter to Florida friends on the 21st:
We are still getting used to the weather here.  This whole week has been almost like a hurricane week in Florida: heavy rain, wind, thunder and lightening. Today the fourth big storm (today is biggest) has moved in. There have been 6-8 hours between storms, when it seems as if it's over, but no.  Our area is high and dry, however there are lots of mudslides from hills that were stripped of ground cover from previous fires, especially in LA. So we are snuggled in, reading, watching the Australian open on TV (as long as the electricity lasts; some areas have been without), and reading/writing emails. We're happy to have purchased covers for the porch furniture.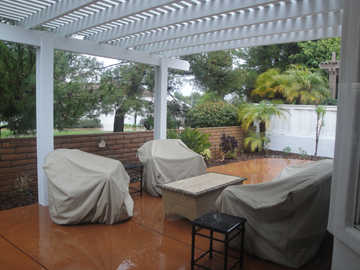 We sat in the kitchen at lunch, looking at what is a very old pine tree waving its branches at us.  Not really worried about anything, just feeling put out that we can't get out to play golf, tennis, or walk. It's supposed to be over tomorrow, with Saturday and Sunday drying us out. Eric is going to bring the dogs on Sunday so we are ever hopeful that the grounds will dry before then.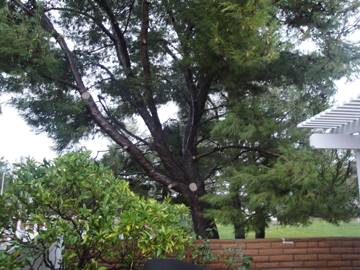 After a week of heavy rains — when various areas of the state were dealing with mud slides and had no electricity — we emerged unscathed, having neither floods nor outages — until Saturday afternoon when all the rains were gone. The lights went out at 4 p.m. and didn't come back until just before 10 p.m. It was COLD. Since we had no candles and only two puny flashlights, we bundled up in our heaviest coats and sat out on the patio until about 8 p.m. Then we used our two puny flashlights lights at the kitchen table and played backgammon, which we haven't done for years. (I learned later that we had set up the board incorrectly, but it was fun anyway.) Having had generators since 1998, this was a whole new experience.
We decided not to make too much of it. Thinking of what the people in Haiti were going through kind of put things in perspective. We did end up, however, buying a butane heater. Ken is all snuggled in with his heavy coat and ski cap.
Friday January 30th:
While sitting on the patio, two men came by to look at our pine trees. It turns out that all nine of them are scheduled for destruction. I was shocked. They essentially cover both the tennis courts and pickle ball courts, plus the back end of the club house. They not only make a nice cover, but help with sound as well. The men encouraged me to get the neighbors to sign a petition to save the trees (can't believe it, but I did.)
February 1:
I tried the aerobics class twice and gave it up. The lady on stage has been doing this for years and most of the audience as well. It's frustrating to clomp around while everyone else seems to be dancing. Decided it wasn't my thing, but Ken continues.
February 2:
Finding doctors in a new community is always a challenge. We've been doing pretty well so far. Found a good general physician, and I had a colonoscopy as well.  Now the dentists. Turns out I needed two new crowns and a re-gluing of my implant crown. The new technology for crowns is amazing. The dentist took photos of the tooth before, then again after his work of trimming it down. Within 20 minutes he had the new crowns ready, and installed them. He has a kiln that bakes the new porcelain teeth right on site. I was blown away, having been used to getting a temporary and all that.
February 10:
We finally took our new clubs onto the Oceanhills course, which must be walked and is up and down hills on every hole. We played 9, both of us scoring w-a-a-y high. My body has totally forgotten how to play, despite the lessons I've been taking. The picture below is a view of the Shadowridge Country Club which we joined (still haven't played there), from top of a hill that has two greens, several traps, and is used for practicing chipping, putting and getting out of traps. This practice area looks back down to the driving range.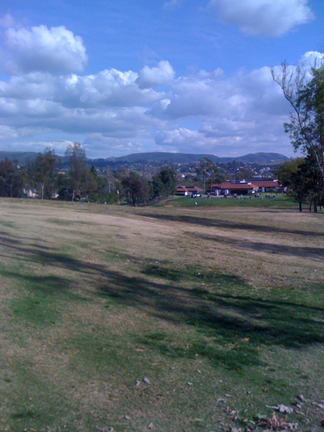 February 14:
In the morning, Ken and I visited the monastery in Escondido to see the traveling Budha. The monastery is built into the side of a very steep hill, which prevented lots of older people from visiting. The Budha is making a world tour and believe it or not, Escondido was its first stop all the way from Australia. It's made from a single gem-quality piece of jade, and weighs 4,000 pounds.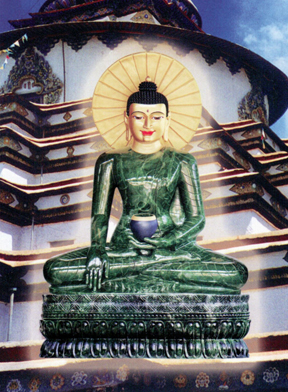 When we arrived at the monastery I felt as if we'd stepped into a foreign country. Almost everyone visiting was Asian; many women were dressed in beautiful flowing gowns and men in robes. Everyone greeted us  as we passed on the paths (doesn't happen in this neighborhood). Don't know if that's an Asian custom, or was special about the monastery itself. They were serving lunch (free) to anyone who wants it. I saw lots of people enjoying noodle dishes (we had just had breakfast).
Glad we went and made a small contribution to "The Great Stupa" that's being built in Australia and that will house this gem.
February 27:
Eric and Andy, along with two fellows named John and Mike have started to a new project. Their goal is to sell the idea of a video series about beer. As I've mentioned before, the San Diego area is really the heart of the custom brew community and there are lots of micro breweries around here. They are going to produce a pilot and hopefully sell it to one of the food shows as an ongoing series. The crew came to San Diego for the week end to shoot. We invited them to have dinner at our house on Saturday evening. Andy was not able to join them.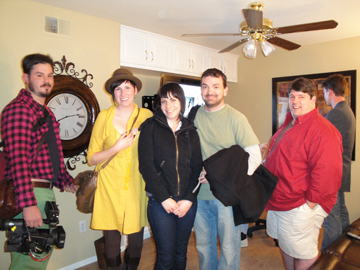 Left to right above: Mike, technical person and camera man, Page, beer expert, Jade, audio, John, producer, Eric, sound track editor, and Brian (watching Ken using his big computer screen), talent. Below, Brian tries to take a walk on our fake beach, and Page and John pose for the camera.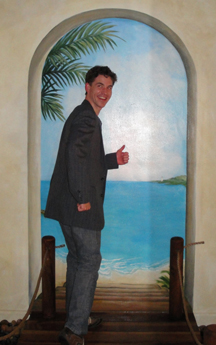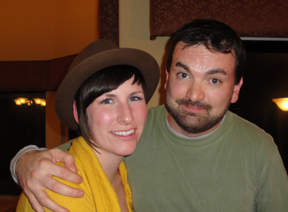 RV trip to Palm Desert, March 8-12, 2010
The trip to the Emerald Desert RV Park was our first trip with RV Club members. We were to all convene by mid-afternoon on Monday the 8th. You may remember that Ken and I were at this park in early December, partly to see if we liked it well enough to come again this March with the club. We did like it, so we came. We did not caravan, and needless to say Ken and I stayed on the major roads this time. I'm always taken by the rolling hills and mountains. This photo on the left is one of the views North of Escondido. The rightmost one is coming into the Palm Springs area, with the windmills. Look at the top left of the photo and you can see the mountains covered in snow. Imagine that. The day was sunny and warm and yet people can ski in the mountains.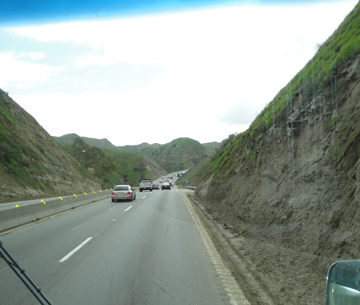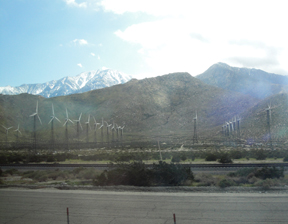 The park arranges for dinners so that groups like ours can gather for cocktails and dinner without going out of the park, so our first gathering on Monday was at the clubhouse.
Tuesday — a highly windy day — had been set aside for golfers. This would be my first time actually golfing on a full golf course (Ocean Hills is an executive course and not nearly as long). We struggled with the wind, and finally called it a day after the 10th hole. You can see Ken has his ski cap to cover his ears, under his golf cap. Our foursome included Judy and Bob White.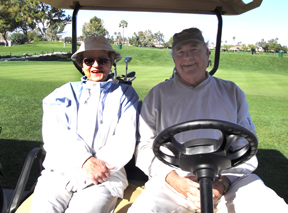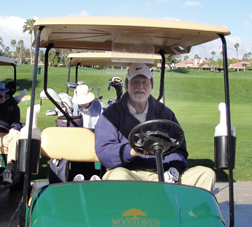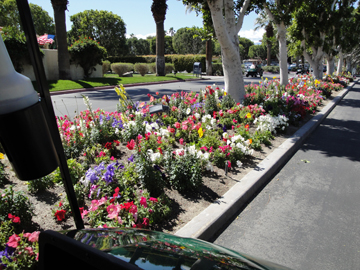 The paths from hole to hole wound through a beautiful community. The above was taken at one of the road dividers.
Wednesday was "Follies" day. The Follies is a show in Palm Spring put on by retired "hoofers," both men and women. It's a famous show and has been ongoing for over 25 years in a theater that used to be for movies, but is now an historical monument. Some of our members had seen the show for the past 16-18 years, so we were pretty sure it had to be good.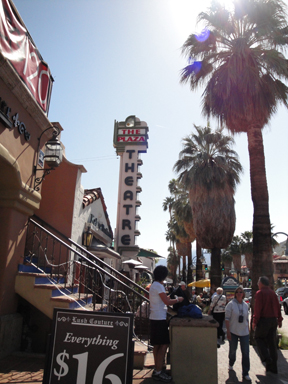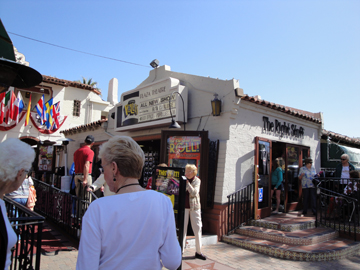 Parking was interesting. You picked your spot, then walked to a board with slots in it, and pushed $5 into the slot.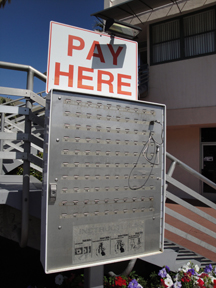 Of course the theater had popcorn and it was very good. The inside of the theater was quite ornate and showed old black and white movies made during the 40's and 50's, as the theater filled.
.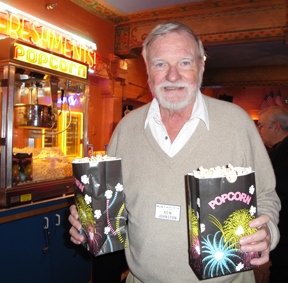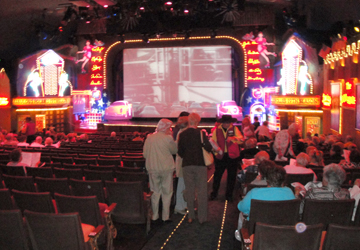 During the show, each cast member introduced himself/herself; the ages ranged from 55 to 86. The 86-year-old was a woman who is the oldest living showgirl in the nation. I believe she is the same one you may have seen on uTube, dancing with her grandson. Actually, she was the most flexible and best dancer of the group. Amazing. She put us all to shame (actually, they all did). Just shows what you can do if you exercise.
Rita Coolidge was the headliner. I didn't know she was a full-blooded Native American. She helped write one of her best known songs "Superstar" for Eric Clapton. She said she was crazy about him.  The song is probably better recognized from the version by Karen Carpenter. (It's not the "Superstar" from the Jesus Christ Superstar show.)
On the way into Palm Desert we saw an ad for the Indian Wells tennis tournament, a very big tournament indeed.  So, on our free day (Thursday), we purchased seats in the main stadium. It turns out that this stadium is the biggest tennis arena in the country, except for the Arthur Ashe stadium in New York. Since it was the first week and in the daytime, the "big guns" weren't out yet. We saw Carlos Moya play, and watched Federer on the practice court.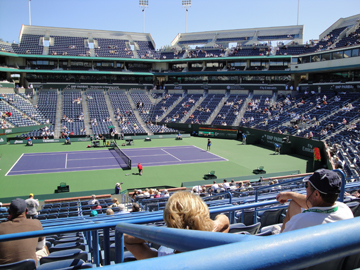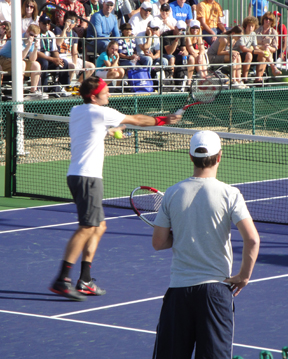 It was a cool day, but very sunny. Ken used his hat to protect his face. I was happy to have had my jacket.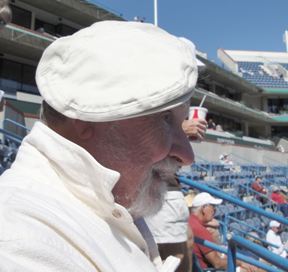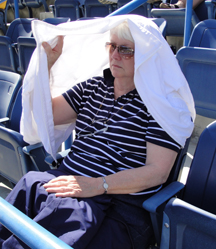 There was a huge area for lunch (few people as you can see), plus a space for watching matches on a big screen.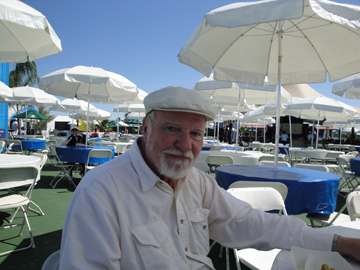 Friday was a group breakfast, then return home. Some of the group went on to Arizona to see three pre-season Padres games. Since we're not fans (yet?), we didn't join them in Peoria, Arizona. Our only disappointment for the trip was that our Aqua Hot water heating system didn't work and we had to take showers at the pool.
Flowers
This is the time of the year that flowers are in bloom everywhere. After the rains, the hillsides explode in color. Even our patio has flowers on pretty much every plant, including the succulents. The orange tree is in bloom and floods the patio with that wonderful orange-blossom smell. On the left are some oranges that are just ripening; the right two that have hardly grown beyond the size of a lime.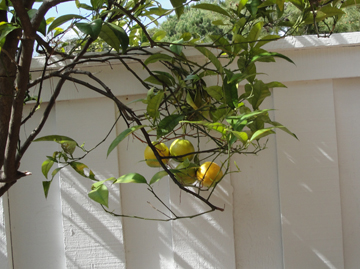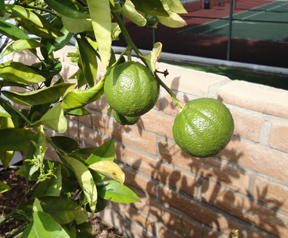 | | |
| --- | --- |
| | I'm fascinated by the fact that our pine trees are carrying three seasons of pinecones. In the center you can see an old brownish pinecone that hasn't dropped. In the upper left a new one for this season, and in the middle lower are the tiny new ones, just forming. |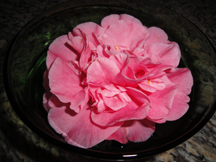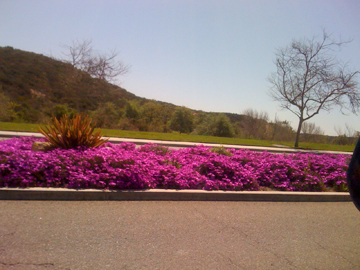 Above, a camelia from our garden. Camelia bushes are everywhere and are in full bloom in February and March. The photo on the right is a divider in a local street. The fuscia color is so bright it's almost da-glo.
Borrego Springs, March 19, 2010
Bill Jenkins, who has done so much wood work on our house and motor home, suggested we take a trip to the desert in Borrego Springs, to see the desert flowers in bloom, a once-in-a-year sight and special this year because of all the rain. We plotted the trip by Google (don't trust the GPS around mountains anymore). In any case, we were going by car and leaving the Moose at home.
I started the trip and drove to Pala, where Ken picked up the more difficult roads. The views are always spectacular, if you're not used to mountains (that's us). There were signs everywhere warning motor homes over 40' and large trucks to stay away. The Western side is always greener than the other. The road up: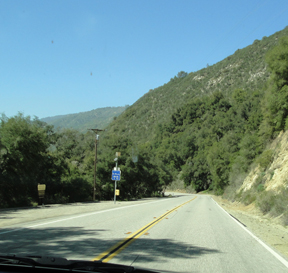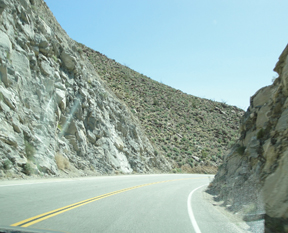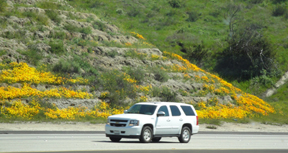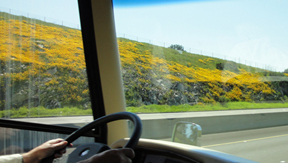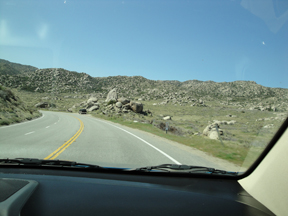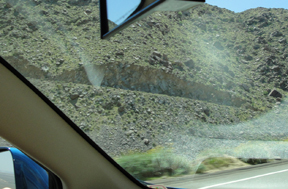 Once we reached the "down" side toward Borrego Springs, moving the car into manual out of automatic seemed to work well. Some of the "S" curves were interesting. They literally made 180-degree turns back toward the direction we came. In the photo above you can see where they cut into the mountain for the road ahead. The last difficult piece is on a road called Montezuma and you all know what that means.
It took about 2-1/2 hours and we arrived just in time for lunch. I had spilled coffee on my favorite t-shirt while sipping it in the car and was determined to find a small shop to get one that I wouldn't be embarrassed about. At the same time Ken found an interesting hat for his water aerobics. It feels a little like felt, but when it's wet, it keeps your head cool (Australian technology). Picture on the right was a bush in "downtown" Borrego.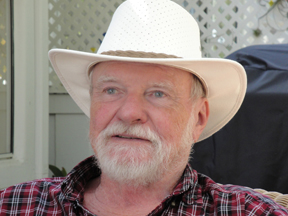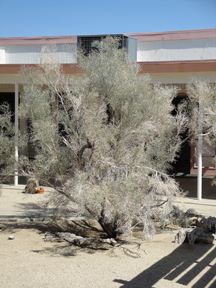 Now it was time to take a trip further into the canyon to find the flowers to a place galled Galleta Meadows. On the route to the flowers, we saw many steel statues. Dennis Avery (think Avery labels) owns 3 square miles of desert he calls Galleta Meadows Estates. He got the idea of adding 'free standing art' to his property when he saw  original steel welded sculptures created by 'Perris Jurassic Park' owner/artist/welder Ricardo Breceda based in Perris, California. There must be a ton of them; there will eventually be 100. We only saw a few. If you're fascinated by these, you can see more at http://www.galletameadows.com. Or, you can read about the sculptor at: http://ricardobreceda.com/news.php. You can see the statues start out looking like steel (just below and right), then rust as time goes on.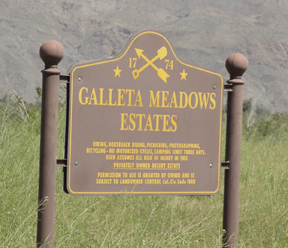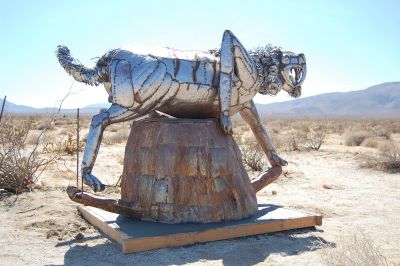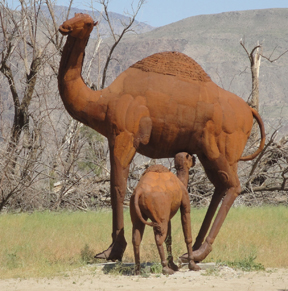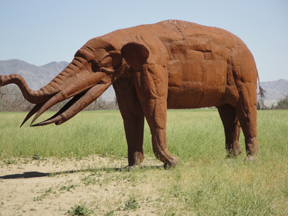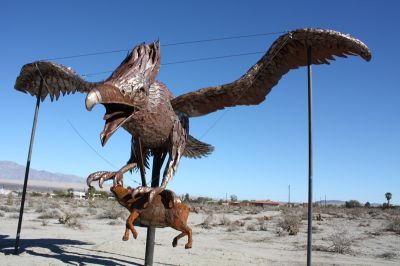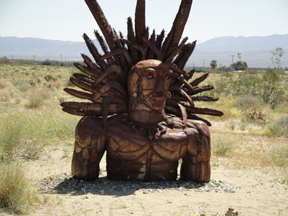 The road finally gives out to dust and dirt,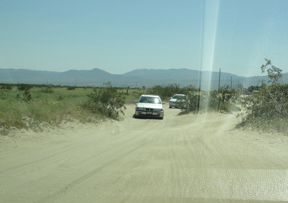 but we did see fields of yellow and purple flowers that will disappear soon as the desert heats up.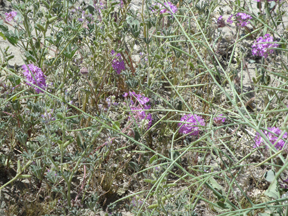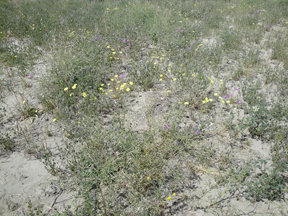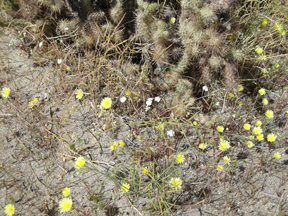 We also bought our first piece of outdoor decoration that became a planter for basil and cilantro, both of which I love and use often in cooking. It's called talavera and is supposedly a very high quality pottery.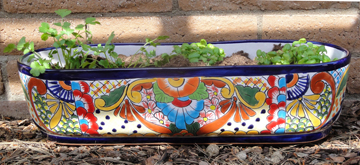 Time to go home. Poor Ken got the tough driving back to Pala, which is one of the homes of the many Indian casinos in California. We would switch there. We stopped so he could stretch, have a beer, and throw away a little money. Those of you who know Ken, know his luck with the casinos. Of course, his $20 that he planned to lose turned into $40 in a very short period of time. These casinos have lots of penny machines. I stuck in a dollar and just couldn't get rid of it. I finally gave up the machine to someone to play with (72 cents left), so I could watch Ken.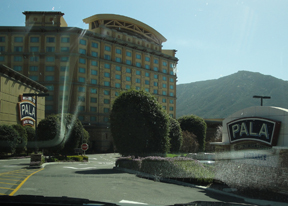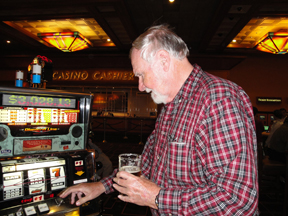 Going and coming we passed Lake Henshaw, unusual in that it resides in a valley 3000 feet above sea level.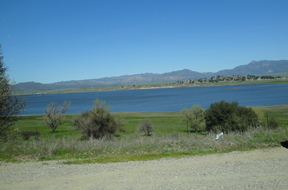 The trip back was uneventful but seemed long. I think driving 2-1/2 hours for lunch and sight-seeing is probably a little more than we would take the next time. That's like driving from here to Palm Springs for lunch. Hmm. Maybe that's not a bad idea.
Saturday
On Saturday we drove to Carlsbad to have lunch at our favorite restaurant: PF Changs. It is directly across from "The Flower Fields," at the Armstrong Garden Center. I have no idea how much land the nursery has, but currently it's showing 20 acres of color. I understand that at Christmas time, it's truly incredible with all the pointsettias. We bought what we needed in order to plant our talavera pottery.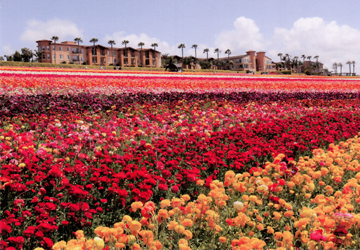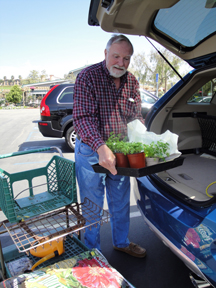 March 27-28 Visit to Los Angeles
We had decided to drive to LA to have dinner with the boys, stay over one night then return home. Someone in Ken's Aqua-aerobics class suggested we try the Amtrak train, that there was a station in Oceanside. So, we did. Parking was free, even for long term. We're always early, so we had time to eat at Burger King (ugh) and sit out in the sun awhile.
Turned out to be a longer "awhile" than we thought, since the train was 45 minutes late. Lots of the track is single, so trains must communicate and plan the places where they may pass each other. That also sets up some delays.
But, the "Pacific Surfliner" finally arrived. We had upgraded to business class and were directed to the last car on the train. Everything was two story; we chose to go up for the trip to LA, and find seats on the West side, for viewing the ocean as we traveled.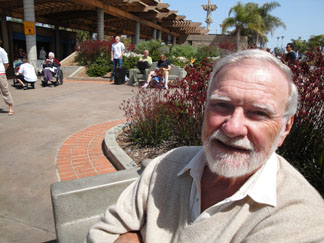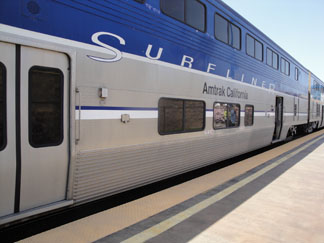 The service is a bit like flying. Nice lean-back seats, free drinks and snacks, and take-on luggage. You could check the luggage, but after reading about it we decided to do it ourselves rather than being held up once we reached Union Station in LA.
The early part of the trip paralleled I-5 and the beaches. We quickly passed Camp Pendleton, heading through San Clemente. Large waves and scads of surfboarders were everywhere.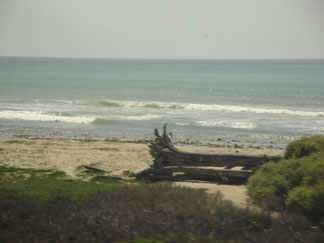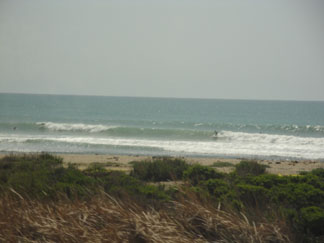 We passed the San Onofre nuclear power plant near San Clemente (below left), and lots of homes and parks right on the beach, much like Malibu (probably less expensive).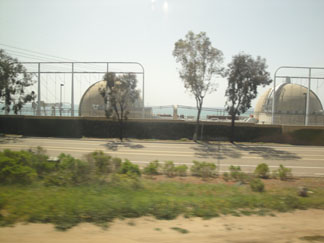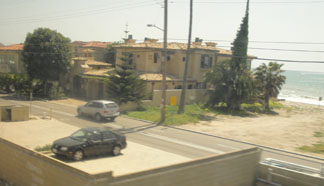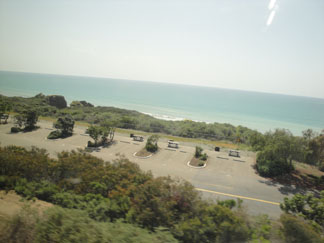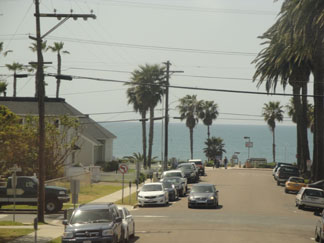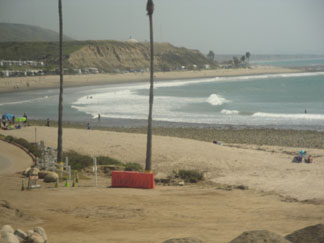 Above left in the upper leftmost corner of the photo you can almost see a motor home park, with the power plant just peeking over the hill. We'll have to chase that place down. Looks like a good spot for a mini-vacation.
We finally moved inland and the scenery became a bit dull. Anaheim (above right is the Anaheim stadium), was the final stop before we were to get off in LA. Didn't see any sign of DisneyLand, though.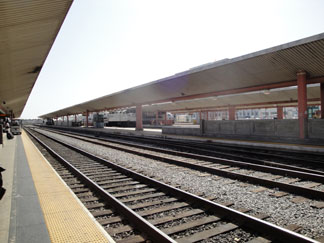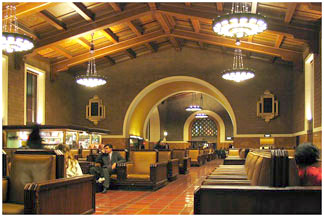 Having arrived at Union Station, we quickly headed to a cab to take us to our hotel. It's been awhile since we've been in a big city.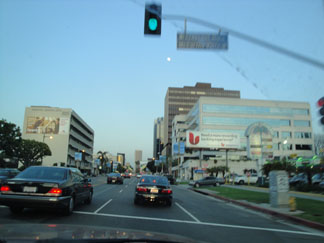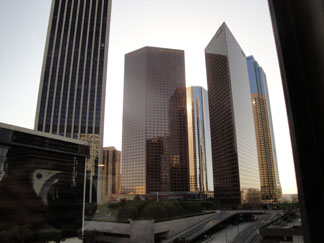 It wasn't far, and we got there about 3:30, only to find our suite was not ready and we'd have to leave our luggage for later.  Eric picked us up in front and we went to Scott Martin's apartment to ostensibly have a beer, but really to meet his darling cats. Here's Scott with "Rad." Peewee is resting.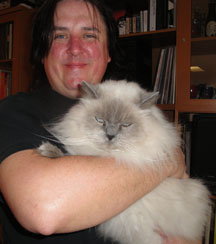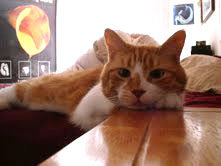 At Scott's apartment (below).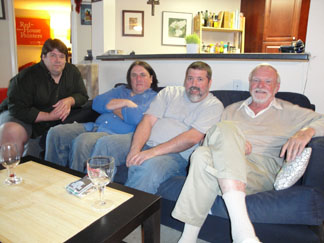 Scott had made dinner reservations at a restaurant that served its meat "Brazilian-style," i.e. on very long skewers hoisted by waiters who walk through the restaurant with their offerings. Its name is Fogo De Chao Churriascaria, a chain in major cities around the US. It seemed as if we tried it all. The salad bar was also amazing. (I seemed to have caught folks with their mouths full at the tables.)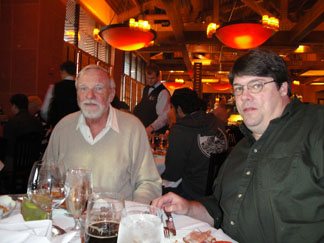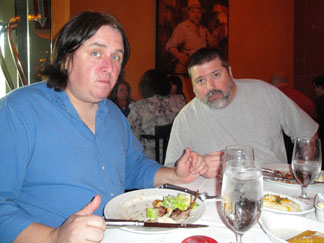 Eric dropped us back at our hotel where we claimed our baggage and headed up to our room. The picture below is from the Westin Bonaventure hotel lobby, where we stayed. Beds and pillows were wonderful. Partying neighbors were not.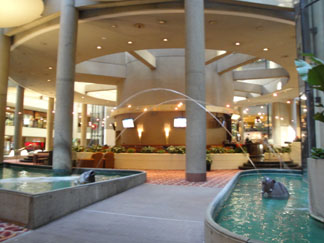 After breakfast we headed back to Union Station by cab. We were stopped by a red cap who offered to take our bag to his riding cart while we exchanged our tickets (we were moving to an earlier train). He brought us and three other people directly to our train car. Nice service!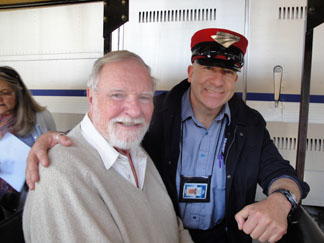 As seniors we (and disabled people) were entitled to occupy the lower level of the car, so this time we did, taking what would be the East side and a different view going home.
At the first stop out of Union Station (Fullerton), the engineer announced there would be a slight delay. Because we were on the ground floor we got to see what happened. Evidently a woman on the top floor above us got into some kind of skirmish (the conductor called it a "situation"). The Fullerton police were summoned. The police boarded the train, raced upstairs, returning with a blond older lady whom they escorted off the train. Never did find out exactly what she had done, but it was an interesting drama. (I blotted out her face.)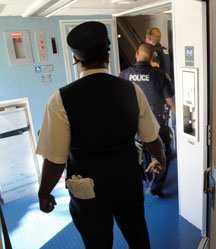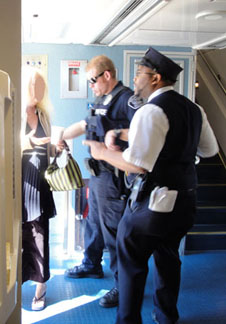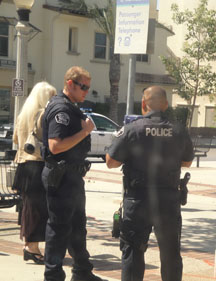 The rest of the trip was uneventful, although the scenery was quite different: mountains toward the East and odd rock formations. It looks as if the house on the top of the rocks in the right picture, could slide right off.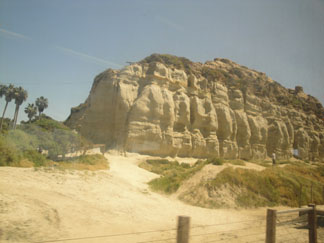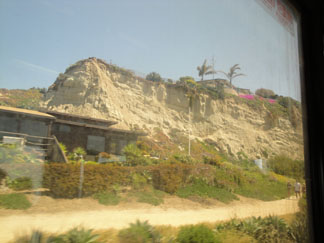 We arrived back in Oceanside 24 hours after leaving, feeling rested and having enjoyed a good time in LA. We'll probably do that again.
Next stop: Chapter 28 a trip to Tampa and Sarasota