In case you want to reach us:
Land address is:
4708 Galicia Way
Oceanside, CA 92056
Land line: 760•509•4832
Wow. It's been almost two months since I last wrote. I have no excuse except that the house has really kept us busy.
Here's the story
We learned July 29 that the escrow was completed and that the house was ours. Now the work was to begin. During the following four weeks while we stayed at the RV park in Escondido, we hired folks to:
• kill the termites (which weren't as bad as expected)
• take down all the window coverings and repaint the holes.
• pressure wash the outside and deck
• paint the inside of the garage
• paint the dividing wall and replace some wood
• replace the wooden baseboards in the atrium
• replace all the aging door handles and locks
• replace both shower heads
• re-pipe the water system
• install the tankless water heater
• replace the attic air handler and got a new control
• replace the toilets with Toto toilets and washlets (yes, warm seats)
• scrape and paint the old-fashioned popcorn ceilings and create the newer look (orange peel, I think)

The Painting Operation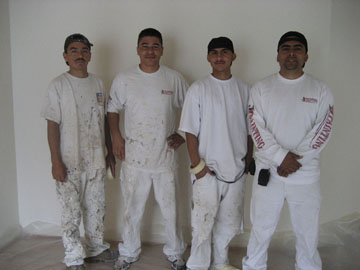 All the walls were covered in visqueen while they scraped the ceiling. Spooky looking.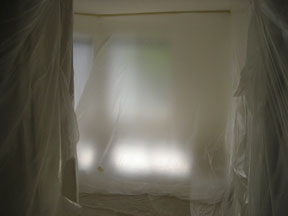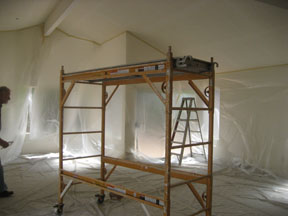 Reading Books
While this was all going on, we supplemented our busy time by reading a series of books by Lee Child. His main character is a fellow named Jack Reacher, who has retired from the military and has chosen the life of a vagabond: no home, no suitcase, no car, no credit cards etc. We got hooked with the first book of the series, and couldn't quit until we'd read all thirteen books (he evidently writes one each year). If you're looking for some fun reading, pick up his first book: "Killing Floor."
All New Cabinets
In mid August we decided to get rid of all of the 25-year-old cabinets. I didn't think we could ever get them clean and nice looking. We got a bid from Lowe's, but the fellow who built the cabinets for the Moose offered to do it for less, so, having some available time, he started ripping them out right away. We would eventually replace both bathrooms, laundry, linen closet and the whole kitchen. (As of this writing they are now complete. If you'd like to see some before and after pictures, go to: before and after.
Bill Jenner and son Miitch, our cabinetmakers.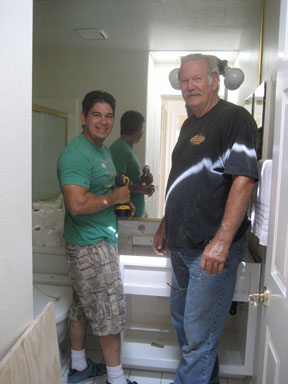 Appliances
While this was going on we purchased all new appliances: gas stove, refrigerator, dishwasher, disposal, insta-hot, washer/dryer and a freezer for the garage. By the way, it's been some time since I had new appliances, and they are amazing. The best I've ever seen in terms of function and operation. Well, that's not quite accurate. The Samsung washer and dryer both were lemons and Lowe's graciously replaced them with Whirlpool after I took in a movie with sound of the washer, let the manager listen to it, and he executed the switch without complaint.
The refrigerator was too big to fit through the kitchen door, so they had to remove its front door. Fortunately, Bill was there and he also removed all the wood around the kitchen door opening itself.
Furniture
We also needed furniture. We shopped on the "cheap" and bought two matching couches for the living room, an electric recliner for the TV room, some tables and lamps, a dining room and a kitchen chandelier, a kitchen set, a patio set, a couch for my office that will make into a bed, and a bedroom mattress (no bed yet).
I want to stop here to make an observation. I recall many years ago saying, "It would be fun to start a home from scratch. Someday I'd like to do that and get everything new." I now know that the slogan "Be careful what you wish for," is ever so true. It wasn't fun. It was work. If I had known I would have put lots more in storage than I did. (And no, I don't want anything back.)
The Patio and some flowers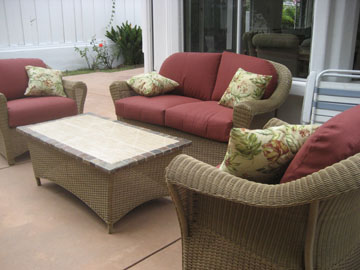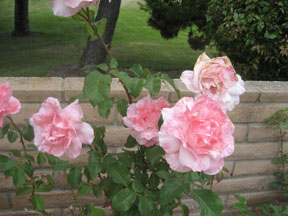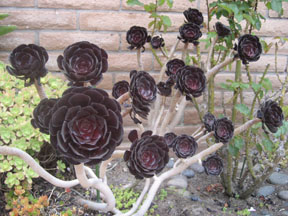 I have no idea what this is, but it's very interesting looking.
Ken's Office and TV room: the electric couch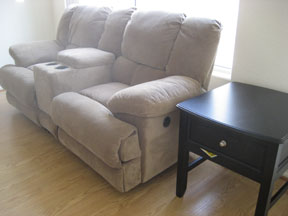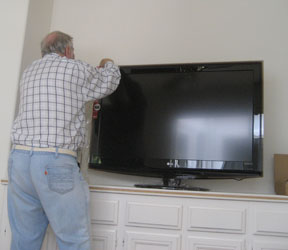 Ken is using the new 47" LG wireless TV screen as his monitor.
The Living Room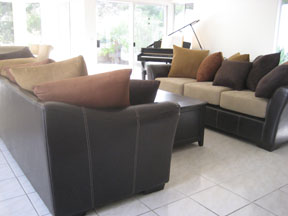 Shan's Office Couch and Bed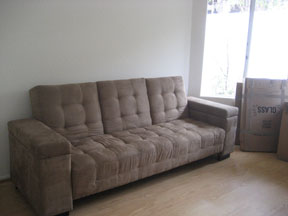 August 20 Sarasota Furniture Delivered
Our stored furniture arrived. We put the boxes in the garage, since there was no real place to unload them yet. The team from the movers was very nice and helpufl. It was a man and his wife, their two dogs, and a friend. The dogs were not friendly! I took a couple of pictures of their room in the van where the couple slept.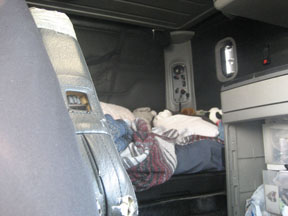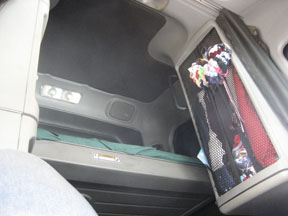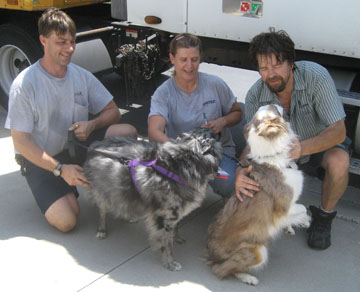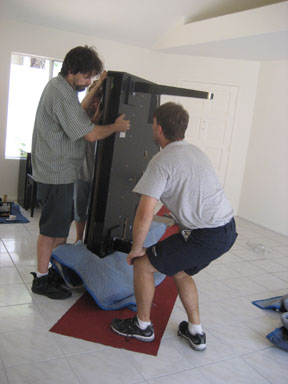 I finally got them all unpacked a month later. There were some weird things. For example, with the Christmas stuff came the stand, but no tree. Wonder how I did that. If you saw the centerpiece on my dining room table at The Glenridge, you'll remember that Sue Hokamp made it for me. I treasured it so of course it was one of the things I saved. It never occurred to me what the movers would do with it. Instead of wrapping it for storage, they pulled out all the silk flowers and dumped them in a plastic bag. I took the pieces to a Michaels near here and had it put back together. Needless to say, they had to throw away lots of pieces but added some new. It doesn't look as pretty as when Sue had her hand in it, but I'm happy to have the color.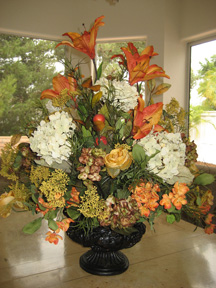 Fish Fry August 22
We were invited to a "fish fry" at the pool. The fishing club here had made a huge catch and wanted to share it with the tennis club. We decided we would stay over, though our only water was in one of the bathrooms, so we'd have to go back to the Moose for breakfast and showers.
The weather is warm during the day, but the nights are cool so we slept with the windows open. You probably remember that the sounds of a new house can be unsettling. So, I woke often during the night to any little noise. A dog bark. A door slam. The newspaper being thrown up on various driveways. The freezer in the garage seems to run a lot and I can hear it through the bedroom wall. (Getting used to it now.)
A Beer Run with Eric
Eric asked if I'd like to go with him to pick up some beer at two craft breweries near San Diego. He brought Tatum along. I asked Eric to write up the trip because he knows most about what we were doing. He said:
The First Brewery we visited was Ballast Point in San Diego: http://www.ballastpoint.com/
One a handful of small craft breweries in California, Ballast Point is one of the best, having a great variety of styles. We got a growler glass jug (U.S. half gallon; 1,890 ml/66.5 imp fl oz), used to transport draft beer in the United States. They are commonly sold at breweries and brewpubs as a means to sell take-out beer. Once you purchase a growler, you return it to that same brewery for a refill (each brewery has its own bottles and won't take one from another brewery).
We purchased a wonderful IPA (India Pale Ale) called "Sculpin" and a growler of "Reef Rye Brown Ale" which is an American Brown Ale with a touch of Rye. Also picked up 12 "bombers" (22 oz. bottles) of my second fave beer this year — "Dorado" — a Double (or imperial) IPA — very hoppy and floral. 2 of those went to Ken, who is quickly developing a craft beer palate.
The Next stop was Alpine Beer Co: http://www.alpinebeerco.com/
A smaller brewery in rural area about 30 miles East of San Diego, it is my current favorite. Picked up 2 growlers of their Double IPA called "Exponential Hoppiness" and 2 growlers of the best beer I've had this year — Nelson Rye IPA — a really striking rye flavor. Also snagged a tie-dye t shirt.
Then it was back to the RV for Lunch and home to LA. A great way to spend the day with Mom.
Shannon's note: I think they must have coined the term "growler" because that's what your innards do the next day! Eric also educated us on the fact that India Pale Ale (IPA) was call that because shipping beer from Great Britain to India caused a loss of most of its flavor unless they doubled up on the hops. So IPA means very hoppy. Not sure Florida is getting any of these custom beers, but if you like beer you might look for Sierra Nevada Pale Ale and get an idea of what's here.
August 27: A Trip to Ikea
At the end of August Ken and I made a trip to San Diego to the Ikea store. If you've already been to an Ikea and know how it works, feel free to skip this. (I understand there is a new one in Tampa; check it out.)
My son Eric had volunteered to put everything together once we got it.
Ikea is a very large store with multiple floors that display their wares. You "follow a yellow brick road" around and around (there are some shortcuts), find what you want to buy and then locate someone to help. That person will create a pick list of the items you'll need to buy to put your stuff together (furniture comes in boxes), along with the prices and the bin location for the pieces. We were shopping for my office and there were about 10 pieces involved. You then take that list to the first floor ware house, locate a big rolling palette and start to load up. Some of the stuff was pretty heavy so we got help. You take your stuff to checkout where you pay, bring up your car and they load it up. Easy, right?
Hot and sweaty we arrived at checkout where the person said the price he came to didn't match our list. He said we were missing two pieces and had one that we didn't need. The process would require us to pay for what was accounted for (we did), leave the checkout line and go to the exchange department to turn in one piece. They would call for the missing ones. Ken got a number at the exchange department (yes, we were lugging our moving palette with all the pieces), and found ourselves 10 people away from being served. I was sure we had the missing pieces, checked and they were there. But we did have an extra one. We decided to heck with it and leave.
Ken brought up the car and a nice fellow put all the smaller pieces in. Of course the big piece from the center of the desk wouldn't fit in the Saturn. We would have to remove all the little pieces and start over, hoping the big one would go in on an angle. It wasn't an appealing option since there was no guarantee. So I took the big piece, leaving the rest in the car. I went to delivery and they arranged for a fee of $80 to deliver it the next day.
Here was Ken's reaction to the day: "I WILL NEVER EVER EVER GO TO AN IKEA STORE AGAIN. YOU COULDN'T DRAG ME THERE." Understandable, I think.
Creating the furniture
Eric worked mightily to haul the big pieces around and get them together. There was a curved desk, two file cabinets and two bookcases.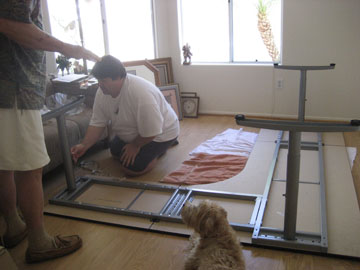 I neglected to get any drawers and ended up buying something from Staples to go with it. Andy meanwhile was putting together several Lowe's special bookcases that we put in our master closet. So, the fellows have been enormously helpful.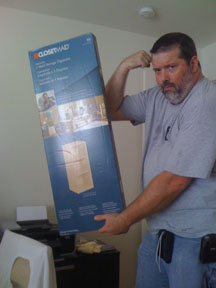 When they come they bring both Tatum and Gabe. They look so different Eric thought maybe Tatum wasn't purebred. However, after some research, it turns out she is an Irish Wheaten and Gabe is an American Wheaten. They are both darling and they supervised the whole thing. They are so attached to the guys that when Eric went to the bathroom, they stood guard.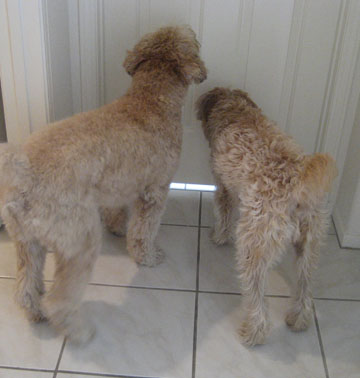 Some Observations and Learnings (So Far)
Weather
It's been interesting to make the trip from Escondido to Oceanside, practically on a daily basis. The car registers the outside temperature and we could see it dropping the minute we left Escondido. One day it was 100 degrees there, and by the time we got to Oceanside it was only 90. Evidently we will always be cooler than inland or desert. There is a great breeze on the patio, bringing the west wind from the ocean to us. We have our pre-dinner cocktail there and enjoy the sound of the pine trees whispering, and watching the hummingbirds flit about.
Bail Bonds
Maybe someone can tell me why there are so many Bail Bond outlets around. Crime can't be that rampant, can it? I don't think I ever saw one in Sarasota, but every town around here has several.
Bedding
I finally understand about bedding. I mentioned a "puff" in a previous letter. I now know that the correct term is comforter and that a duvet is like a huge pillowcase that you put your comforter in (I bought a duvet and took it back; what a pain that was to try to insert a king size comforter in a duvet)
The Myth of Bugs
You always hear that they don't have bugs in California and that's why no one screens in their pool deck or patio. Balderdash, I say. True, I haven't seen any mosquitos, nor any of the black palmetto bugs, but there is everything else. In fact there are more flies. There are also gnats, spiders, bees, wasps, and lizards (I know, they're not insects). And let me tell you about ants and snails (I also know they are not bugs).
There is such a thing as an "ant season." Our RV park management said it was coming soon. We were all advised to pour Comet around all the tires, and to use vaseline at all the connections (water, electric, cable etc.). We did that and avoided them up to when we left for Vegas in early August (Chapter 24). Upon our return we were not so diligent and did we get ants! Streams of them up the walls. A few in our bedroom that we continued to brush from our arms at night. Ants while we watched TV. Ugh. We did get rid of them with ant baits, though.
There are also lots of snails. In the Ocean Hills community there one set of mailboxes for every four homes. What I really like are the round tubes below that can be used for community or personal mail. However, the snails have often selected these tubes for their homes. If I'm not observant and leave a newsletter a little too long, the snails have at it. Here's a picture of a notice that was posted, after a few days of snail snacking.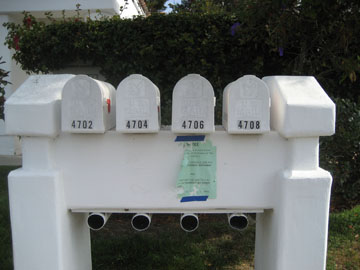 Hygiene
Most grocery stores have the anti-bacteria wipes at their doors. Not sure if you're supposed to use it before, or after shopping. Plus, it must be a law that all bathrooms have seat covers. I like that. And despite the problems with the state budget, you still see government people on the roadsides, picking up trash and keeping it look pretty.
Politeness /Friendliness
Did you know that it's a law here that if someone steps into a marked intersection, oncoming traffic must stop? So, drivers are very watchful of pedestrians and they are not rude about it. I've also observed that people generally return their shopping carts to the cart area set aside for them, rather than just strew them about. Clerks in stores are generally very welcoming and smiley. At Vons grocery you're stopped often and asked if you are finding everything you want, and if not, they escort you right to the item.
Lest you think that all is paradise, I've noticed a big difference in our neighborhood, over those in Sarasota. In Laurel Oak and The Glenridge, people passing on the street by car, golf cart or walking always wave, smile and say hello. Not so here. I do that, but generally I find that people keep their heads down and don't make eye contact. Ken says it's because 1600 homes are squished into a small space (pretty much zero lot line), and people are respectful of others' right to privacy. I don't know; what do you think?
Driving
You've probably heard that driving in California is like no place else in the world. The freeways are packed by 3:30 in the afternoon, so if you want to get somewhere quickly it needs to be done between 10 a.m. and 3 p.m. Plus, one system has flummoxed us more than once. On almost all the main roads there are two left turn lanes. Think about that. If you take the leftmost lane you can't make a right turn soon after. And if you stay in the rightmost left lane, getting back left is a problem. Plus, the lights are different. When you sit in a left turn lane, the only time you can move is on the green arrow. In other words, if the traffic on your right has a green light and is moving through the intersection, and there is no one else coming at you, you still can't make the turn.
11 a.m. Saturday October 3
Yikes! Ken just walked in here with a notice of traffic violation. One of us made a right turn on red without coming to a full stop — evidently a law in California — maybe also Florida. They actually took a little movie and invited us to look at on the internet. If you're as fascinated as I was with that, you have until September 18th to view it. Go to http:www.photonotice.com. Our citation number was: V46267A, our license is: N39OLJ and the community is: VST. Then you'll be asked to interpret one of those difficult to read set of characters (took me four times). When that's done you get to see a video of (drum roll) — yes — Ken making the illegal move. I was so relieved it wasn't me. I have no idea what this will cost us, but I'm impressed with the sophistication of the system.
Tennis
I still haven't caught on to the tennis thing. There are four courts (hard, of course) and lots of regular foursome players, but no teams. People learned early that Ken was a good player and he's invited to sub a lot. He has decided not to become a fixed part of any specific group but he will sub. There are some really good lady players who also seek him out.
One of the big changes along with a hard court is that your tennis shoes don't pick up clay. I was always getting clay from my shoes in the house. Now, no clay, no problem.
The first time I played I tried to back up and discovered it doesn't work the same way as clay and I ended up flat on my back. I think little steps on your toes is the answer, but I'm going to take a lesson at the local tennis facility next week just to work on footwork so I'm not so cautious about falling.