(In case you don't remember, a 'toad' is the affectionate name for a 'towed' vehicle)
Note: Shannon has made some comments, and they will be in red. Photos by Shan
On June 10 we traded our Smart Car toad for a Saturn Vue that we will pull behind the moose. We had to drive to Yuma Arizona to do it. It turned out to be a really exciting experience, and some of you may find it funny.
As you know, we're determined to build new neural pathways to thwart any future dementias. Here are some of the things we learned.
• California is going broke and seems desperate to collect taxes.
When a car is sold in California, the state charges taxes on the full price of the car being bought and ignores the trade in. We traded in our 2009 Smart Car and got a good trade in price. In Florida one would only pay taxes on the difference between the cars, not on the entire price of the new car.
California also charges abusive amounts to title the car and to perform an absolutely unnecessary fee for "smog" testing or something. Virtually all new cars are manufacturered so they will pass the smog test, allowing them to sell cars in California. The state charges the fee anyway.
• I wanted to title the car in Florida, but California wouldn't let me.
I guess California doesn't want its dealers selling cars to people from other states. If I bought the car in California, the dealer has to collect the sales tax, the registration fee, and the smog test.
I told the salesmanager, Brad Eggum, that I would keep my Smart Car and trade it in when I got to Nevada. He explained an option that I never would have thought of. If I really wanted to title the car in Florida, pay sales tax only on the difference plus keep my Florida tag, I could take possession of the car in a different state. "We'll just all drive to Yuma, and turn the car over to you there."
• Yuma was the closest town in Arizona, about 200 miles from Escondido.
Just a 3-hour drive, see a notary, sign for the car, and drive home. If we received the car in Yuma, we would save about $1,400. I divided 6 hours we would spend, into $1,400 and thought that was a pretty good hourly wage and worth our time. We're retired, and have nothing pressing to do.
We made a date with our salesman, Cliff Laymon, to ride to Yuma, get the car notarized at a Wells Fargo bank, have lunch and be back in time for dinner. (Below: the toad, Cliff and Ken; wind was up.)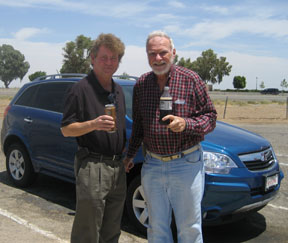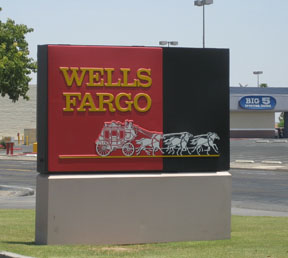 • A person could be born in L.A. and know little about the roads in Southern California.
Cliff was born in L.A. and had never driven East on I-8 or Ca 78 to Yuma, so he looked forward to the drive. He drove the brand new Vue and it rode like a dream. The plan was that I would drive it back from Yuma, when we owned it.
• There are 4 different micro-climates between San Diego and Yuma Arizona.
San Diego — right on the Pacific Ocean — has a marine climate and temperatures stay in narrrow band all year around. They also have "the marine layer" which means many mornings often are foggy until 10 or 11 when the layer lifts. So, our first micro-climate was cool and foggy.
Leaving San Diego going east on the 8, the road begins to climb higher and higher topping out at 4300 feet of altitude, but we climbed through clouds, had visibility issues, and couldn't see what was below the bridges we crossed. Sometimes we couldn't see the car in front of us.
Finally, we broke out into sunshine and we saw the green growth that comes from the rains dropped by clouds as they climb up the West side of the mountains. The verdant green was beautiful.
The third micro climate came when we crested the mountain where the brown rocks of the east side of the mountain attested to both the absence of rain and the warmed winds pouring down from the mountain tops drying everything in its path.
The fourth micro-climate was the desert back at sea level, as we descended from the heights. Much of the rest of the trip to Yuma was below sea level desert.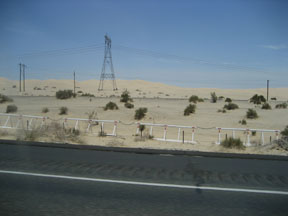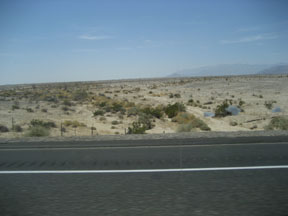 Cliff told us that his friends used to come to this area to ride their dunebuggies. You can see how high above the road the piles of sand were. The picture on the right doesn't do the scene justice, but there are swirls of sand.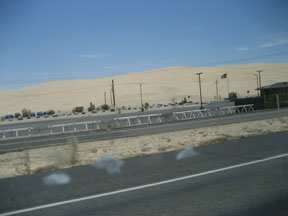 I was astonished at the fact that much of the arid land around Yuma had been watered and planted. So there were huge fields of corn, hay and other stuff I didn't recognize. We saw part of the resevoir that evidently feeds the dessert there. (Look for the little blue pond at the top of the pictue.)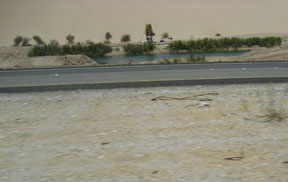 • Never let a flatlander plan the route in mountainous terrain.
Shannon (the flatlander) plotted out different routes for the trip from Google maps. Cliff had never traveled on any of them, so he couldn't help choose. Since on the return trip we were all concerned about San Diego rush hour traffic, we chose a route that was only a few miles longer and used California 78 which went right to Escondido.
We were stopped three separate times by border guards. Of course they just looked at us and passed us through. However, one of the stops was right at the place we should have turned West. We totally missed it but caught our mistake and turned back. California evidently takes its borders seriously. We also saw helicopters that we assumed were looking for strays.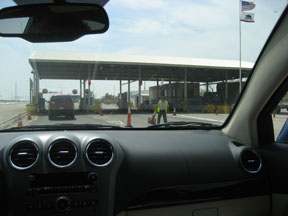 As we neared the beginning of the mountains at the edge of Anza-Borrego state park there was one of those temporary blinking signs that indicated Yaqui pass would be closed ahead, and sure enough there soon was a detour sign. We stopped, not knowing quite what to do: stay on 78 or take the detour. Would we be prevented from getting home on route 78? Cliff activated our On-Star system (free for one year), but they were no help. While I called the California Highway Patrol on my cell phone, Cliff went to the roadside to use one of those roadside phones. Afterwards, having no luck with information, he said the winds were terribly high; perhaps that was the reason for the closed pass. My call to Highway Patrol indicated they had no information on problems with 78, so we decided to go ahead. Just about then Ken realized that the sign had said that the "Yaqui Pass ROAD" was closed. Well, we weren't going to take any side road, so we were okay. And soon enough we encountered Yaqui Pass Road and ignored it.
What we didn't know was the route was a two-lane climb into mountains even higher than those out of San Diego. The entire route was a series of switchbacks and hair-pin curves higher and higher into the mountains. At one point we saw a deer munching on something at the side of the road. Yikes, we could have hit one.
After we returned home, I looked up a piece of 78 on Google Terrain, and this is what it looked like. You can see one of the hairpin turns at the little red arrow at the top of the map. I also noticed that the regular Google map had shown lots of little squiggly lines (meaning turns). Believe me, I'll look for that again when we plan a trip.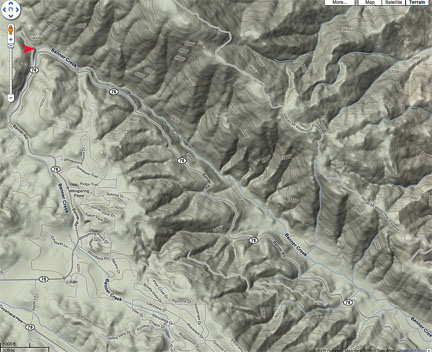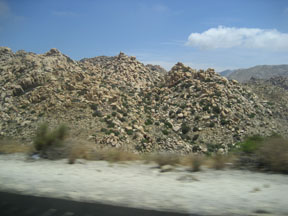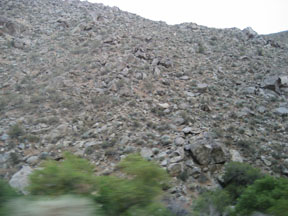 • The Saturn Vue can handle hairpin turns at high speed.
To say I was somewhat nervous about the drive up, along, and then down the mountains would be an enormous understatement. I was jerking and twitching the whole way as Shannon whined and mewled from the back seat. Cliff drove the entire mountain leg and kept comparing it to other thrilling mountain roads above LA, on which he use to ski. He also suggested that this path would be a great route for a Grand Prix race (except for the fact that there would be no place for a crowd to watch; one step back and you were dead meat).
Cliff was very sensitive to my discomfort and slowed down as much as he could, considering the growing lines of drivers that would build up behind us. Every couple of miles Cliff would pull over to let the stream of cars pass us.
On the downside there were two towns: Julian at 4,000 feet and Ramona at about 2500. I learned later that Julian is used as a summer place for San Diego county folks. This was the Town Hall on the main drag of Julian.
We arrived home at 7 p.m., having taken 90 minutes longer than the trip to Yuma. Maybe we'll risk the rush hour traffic next time.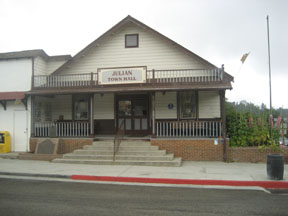 Conclusion
• You are never too old to change your car buying habits.
Ritually, every couple of years I would buy the latest big car. First big Buicks, then Lexuses, and finally, in a fit of US loyalty, a Cadillac.
When we moved to the Glenridge, we only needed one car and a golf cart. We bought the Scion XB, because it seemed to fit both of us well. Most people thought it looked like a "milk truck." More adjusting. More neural pathways.
When we decided to buy a small car we could tow (the Scion wasn't a tow car), we bought the smallest car that is towable. What we didn't know then was the importance of road clearance. That is why knowledgeable RV drivers tow Jeeps, trucks, or Saturn SUVs. So, we bought the Saturn Vue because of it's excellent road clearance.
• If you are thinking about buying a car, take a look at a Saturn.
My car buying habits had been in deep mental ruts for years. So, it never would have occurred to me to look at a Saturn. After the Scion and the Smart Car, I had jumped out of my traditional ruts. I was impressed with the cars at Saturn. Soon they'll be out from under GM and I predict great things for them.
• If you are car shopping in California, see Saturn of Escondido and ask for Cliff Laymon.
You know the saying about someone going the "extra mile" in customer service. Well, Cliff went an extra 400 miles to get the sale. He seemed to think that was pretty normal customer service, but I thought it was above and beyond. He didn't get anything for taking a day off to ride to Yuma, except he did what it took to make a sale.
Remember the penny stories? When Ken got out of the car after the Yuma trip, a penny greeted him right at his door. Also forgot to tell you that when we first arrived in Escondido and I went to a store, there was a penny waiting for me on the counter. I promise, no more penny stories.