June 11 - 23
Have you ever cooked a 90-second microwavable package of rice (did you even know there was such a thing? I didn't). Well, if you do, just be sure when you remove it you take it out holding the open end, not the bottom. Rice everywhere! What a mess.
I'm cooking lots more and learning how to do it in a very small space. We've become enamored with the outdoor grill, enjoying our late afternoon cocktails with snacks, then something yummy on the grill. We're especially enjoying the vegetables. We've discovered "Lunchables," not that they weren't always there. But they make a great snack with cocktails. Easy to open, easy to eat, and not bad.
Furniture
Since this is our only home, we're making some changes to the furniture so that it more nearly fits our living style. We seem to watch a goodly amount of TV, so Ken decided we should have a bigger one and he would also use it as his monitor for his laptop. We have been fortunate to have a really wonderful RV specialist who seems to know how to fix anything. He moved the wiring from the old TV to Ken's workspace. Here's Ken with his new TV/monitor. That's a 42" TV and makes a huge computer workstation. Considering the fact that we view regular TV just 9 feet from it, it also makes a very big TV! We're presently really enjoying Wimbleton — can even see the blades of grass.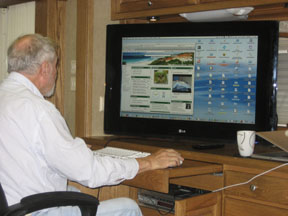 The second thing we've done is buy a love seat from LazYBoy that sits across from the new TV. That way we both have comfortable chairs. We often eat in front of the TV.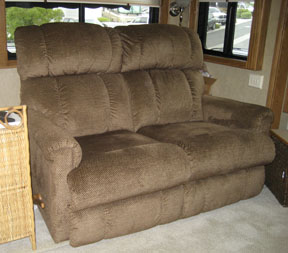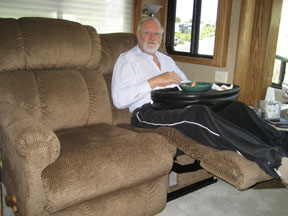 We're also going to replace the dining table with a cabinet. More to come on that in the next six weeks.
Towing
The new car, of course, had to be outfitted for towing. Our new friend David put the plate and tow bars in so that it can be towed. In late July, when we leave for a two-week hiatus to the RV park in Mailbu (right on the ocean, can you believe?), we will stop at Colton, a town about an hour and half north of here, to get the brake system installed in the motor home and car. It's a system that operates off of the Moose's air brakes. I will be happy to get rid of the Brake Buddy. Know anyone who would like to buy it?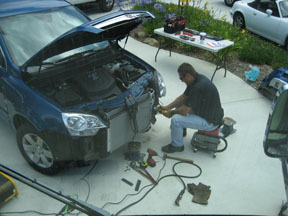 Mountains
Remember the complaints about driving the curvy roads from Yuma? I got a response from our daughter-in-law Lisa's mom (Nancy and Tom Borman) who lives in Colorado. She said: "Living in Colorado, I can appreciate someone from Florida having second thoughts regarding some of the two lane hairpin curves on the Highways.  Colorado is full of them, however ours are at 10,000 to 12,000 feet.  At least you have an idea what we have to drive when we travel.  I-70 isn't bad as it is an Interstate and 4 lanes, but the majority of Colorado Highways are 2 lane and the drop offs are extreme."
I sure am a wuss compared to Nancy.
Kit Carson Park
Lest you think the only thing we do is make improvements to the Moose, we took a side trip to Kit Carson Park, which houses 10 tennis courts and a wonderful place where a sculptress named Nikki de Saint Phalle has created what she called Califia's Magical Circle. It's a huge circle of statues and trails that is completely filled with walls, floors, and sculptures made of cut glass and tile. Seen from the air it would be a huge circle with the "queen" center sculpture in the middle. At a distance it looks like this.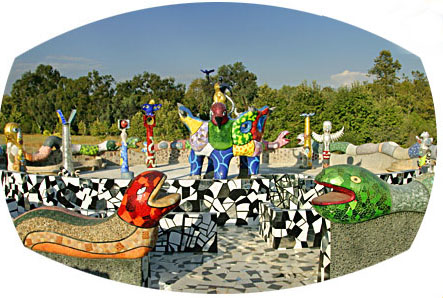 If you want to read about it go to: http://www.ci.escondido.ca.us/events/califia/index.html. Here are some close-ups.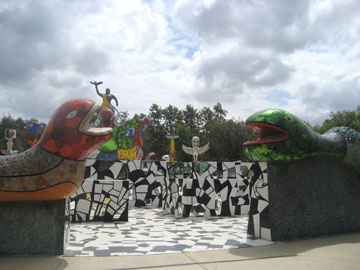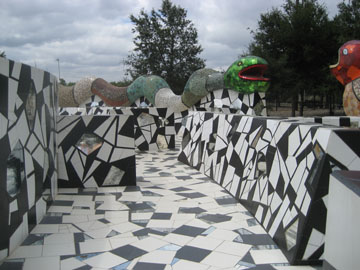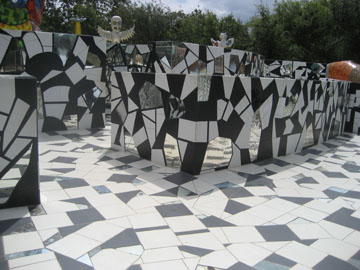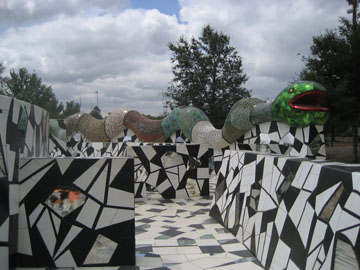 The pathways and floor are mostly black and white tile.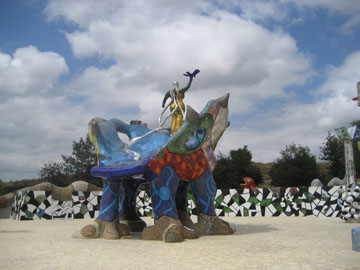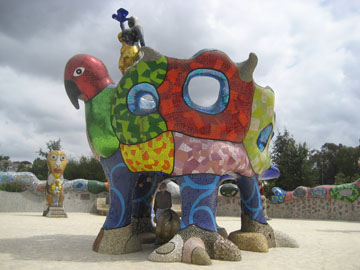 In the middle there is a very large sculpture of an eagle, with Queen Califia in the middle. In the picture on the right you can see Ken standing underneath it, to give you some idea of its size.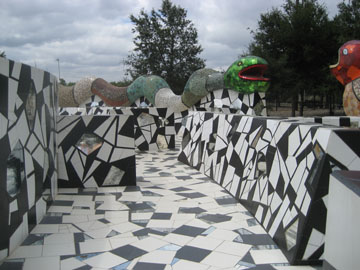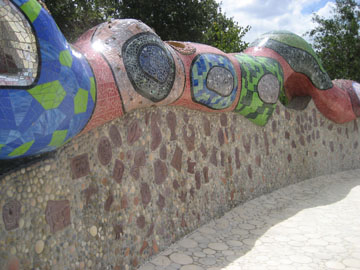 Around the outside are very colorful snakes.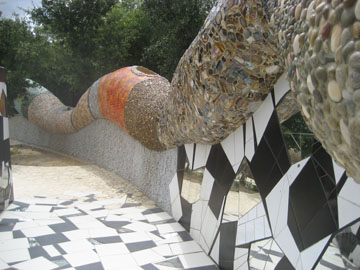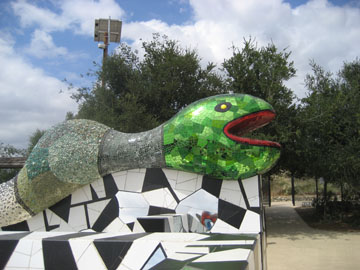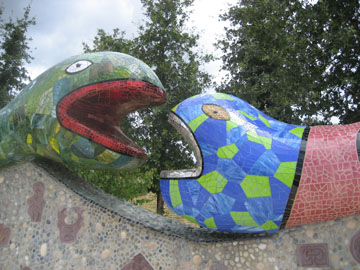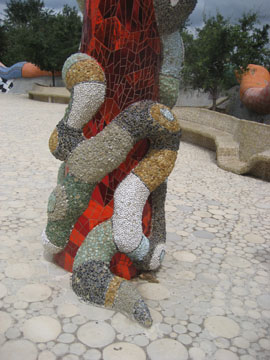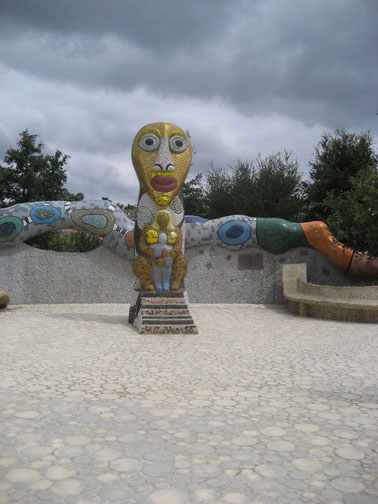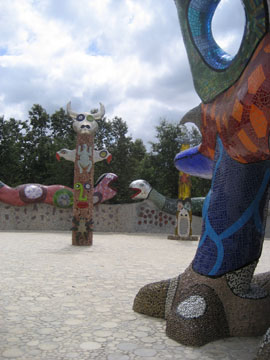 Near the center are some totems.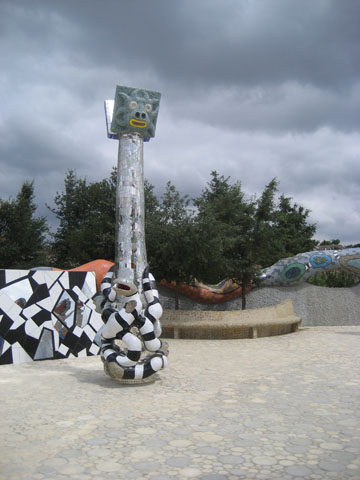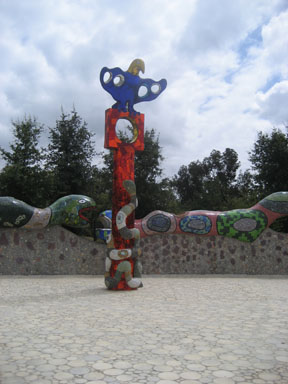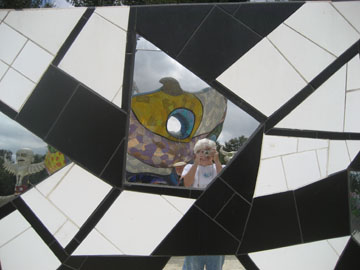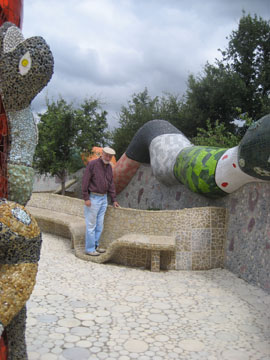 I took a picture of a piece that has many mirrors in it (me taking a picture of me). Ken is standing in a dip that makes it look like he's so heavy it caved in.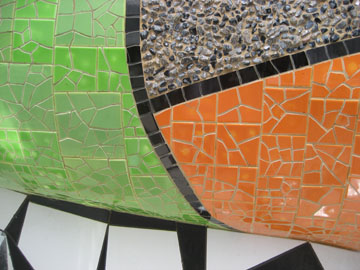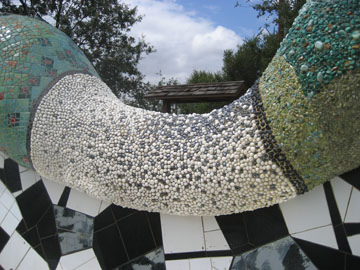 These are close-ups of some of the stones and tile. This is a wonderfully colorful garden that will last through storms and rain. On the way out I took a picture of a home on the edge of the park that has a perfect view of Queen Califia's Magical Circle. Looks like something you might see in New England.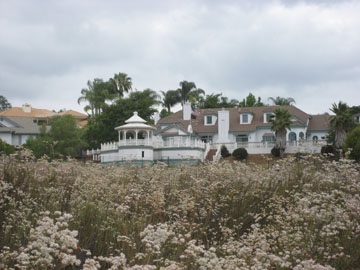 Enough for now. I hope all this "home fixing" will be done soon so we can make more side trips to interesting place.