Friday May 29
There were a couple of questions via email after the last two entries. I thought I'd answer them here in case you also wondered. Lois Meredith asked "Did you ever figure out the Brake Buddy?" The answer is "no" and we don't want to. We've instead chosen a system that will use the air brakes from the motor home to connect to something to do with the master cylinder. It won't require putting a big red thing on the floor and connecting it to the brake pedal. It will all be done inside the hood of the car. That's my technical answer, but if you just have to know more you can go to the manufacturer's website at: http://www.mgbrakingsystems.com/
You may ask "why didn't you start with that system in the first place." The answer is "The Smart Car couldn't handle it." Now if that makes you curious, keep reading.
Our cousin Ruth asked us where in the world did we store those large chairs we use in the patio. We told her they folded up much like the playpens do, so they don't take up much space.
Here's a question for you
Does anyone know about this tree? It looks as if it has barnacles on the trunk. Sharp points. Certainly they must protect the tree leaves from being eaten by a predator. Do you know?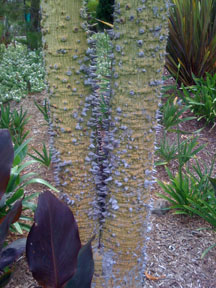 Here's another question. This is a picture from our Von's neighborhood grocery store. I was astounded and just had to ask who would buy huge bags of carrots. They must weigh 20 pounds. Want to guess? Do it now before you read on.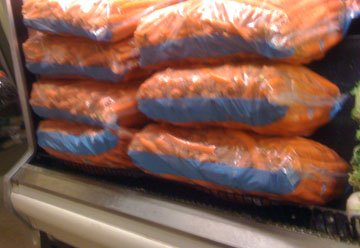 Yep, it's for people who have horses.
Saturday May 30
In the last story I talked about wanting to find under-the-counter appliances. Well, we measured and then shopped. Turns out the cabinets aren't deep enough, plus when you add the drop down size, we lose the counter space anyway. So, skip that idea.
Sunday May 31
We are loving the variety of grocery stores here. You heard about Trader Joe's, and today we went to Henry's, which as it turns out is now owned by Whole Foods. Wonderful produce, which we find everywhere here.
I spent part of today having fun with iGoogle, learning to put gadgets on my browser home page. I have written the instructions below, in case you want to learn about them. If not, just skip it. You have to want Google to show up anytime you open your browser, to even care about what else you can do with that page. I wrote this to Anne Lunghino, who loves cats, and haven't heard from her since. I must have ruined her day.
Monday June 1
We're really enjoying the outdoors. Sitting out late afternoon, sipping our cocktails is a real treat. However, we have an uninvited, unwanted guest (guests?) that appears during the night to leave presents all over the rug. Sometimes he/she has eyes on Ken when he leaves early morning for a walk. Sweet, but it meant I had to buy a broom and sweep before we can sit out. Maybe a blower would be less trouble. Or, I read about a frog that croaks when something passes in front of it and supposedly scares the bunny away. I just may order one to see if it works. I loved the bunnies in the backyard at The Glenridge, but I didn't have to clean up after them. If you have ideas, let me know.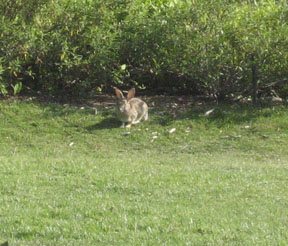 Tuesday June 2
Rememeber the motor for the step cover? Our new best friend and handyman, David, came to install it. Of course you know what's coming. The motor needs a gear on top; the old one is missing a few teeth (see below). The new motor did not come with one and when I called the motor company I was informed that the gear must come from the maker of the motor home — which is out of business. I contacted Lazy Days to see if they could rustle one up, but I'm not holding my breath
.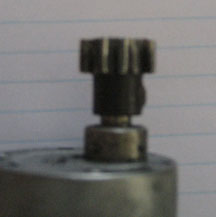 Oh and yes, Ken got a personal call from a fellow who tried to talk him into going back into Internet marketing. Fat chance.
Wednesday June 3
You may have already guessed what would happen when we found out the braking system we wanted would not fit on the Smart Car. Yes, we started car shopping. (By the way, neither of us have enjoyed driving the little car on super highways, nor much in town either.)
Since Jeep and Saturn are the most popular "Toads," we started with them. We really liked the Saturn and they had a 2006 they could bring in from another dealership. But here's the interesting thing. In order to keep a Florida tag, we must pick up any car we want in another state. California has a law that if it's purchased here it has to be licensed here and a full 8% has to be paid on the total price of the car (as opposed to the difference between the trade and the new car as it is done in Florida). However, if you pick it up outside of California you can tag it anywhere you want. So, we'll have to drive to Yuma, Arizona sometime next week, no matter which car we select. Ever been to Yuma? I can hardly wait.
Thursday June 4
You remember my friends Ruth and Betty? Thursday is creative day at their house, where any of their friends who wish can come together, talk, make things, share a lunch and generally have a nice time. I was invited and went. Ann, Joanne, Ruth, Betty, and Betty, all wonderfully artistic. The two drawings came from Betty. She chooses something out of a magazine that suits her fancy, then draws intricate patterns around them. So, all the background lines you can see were done freehand. She has lots of these and we all thought she should put them in a gallery.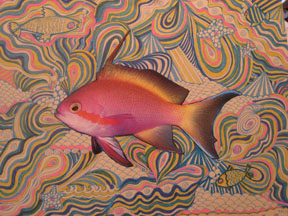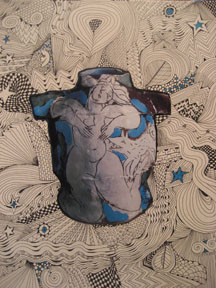 After lunch Ken and I went to see the 2006 Saturn, and much to our dismay it had already been a tow car and did much lurching about. So our Saturn sales team — Cliff, Brad, and Antony — went to work to find us another.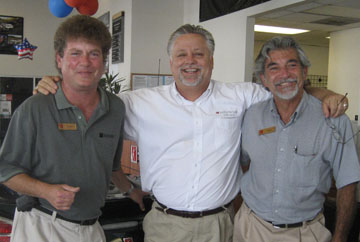 We looked at 2009's. Ken did not want the 4 cylinder nor did we need anything terribly fancy, so they found us a 6-cylinder that works (not keen on the color, but what the heck, it's blue like our Moose).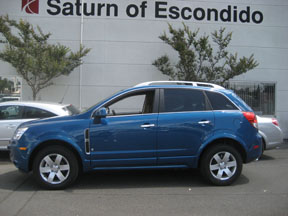 We haven't really hooked it up yet, but this is what it will probably look like (thank you Photoshop).

Friday June 5
We sealed the deal on the 2009 Saturn. They kept the Mouse and gave us a loaner until we could drive to Yuma (one of them, probably Cliff, will drive us; we can drive home). It's great to have 'real' car to drive, even if it isn't the one we'll end up with.
Saturday June 6
Sons Eric and Andy drove to their favorite spot in Escondido — Stone Brewery — to meet us for lunch. Their friend Scott Martin and an old friend of his from childhood — Missy Nungesser — also came. The beer is evidently world class (try Stone Pale Ale sometime if you have the chance). I was designated driver so Ken enjoyed his beer. So here are some pictures.
Left: Eric, Andy, Scott

Below: Ken, Eric, Missy, Andy, Scott

It was to be Missy's 40th birthday next week, and they carded her coming in. Wouldn't it be great to look 20 years younger than you are?

You can see all the "stones" around the property. They have lovely gardens and pools and outdoor fire pits.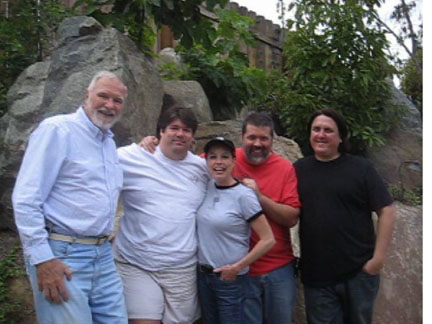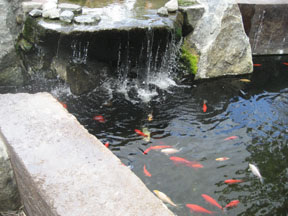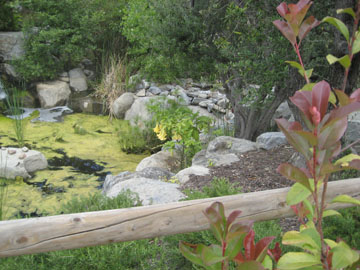 Sunday June 7
Ah, a day of rest. No news. Just reading books and the newspaper. We did cook out a whole bunch of veggies and a couple of steaks. Heavenly.
Will let you know what happens with the new car. Ciao.