Those of you who know us well, know that our computers are near and dear to our hearts and that (fast) access to Internet is key. Since we will be here for a couple of months, we had the opportunity to have cable installed. It took three days to have the modem shipped here, for Ken to decide he needed Cox Cable to come out, and for them to get it working. We had bought an Apple router but it wouldn't work. Fortunately Ken had also packed our old Belkin, so the Cox fellow put it in and voila! We have fast Internet. Sigh.
We had also ordered a Weber portable gas/butane grill. It came and we put it together (nothing comes together anymore, does it?).
Ken got both computers working with Apple wifi airport and set up the printer on a network so we both could use it. I finally feel "finished."
We also decided that now we had a grill we needed to set up our outside so it looked like the typical RV patio, rug and all. We typically have a cocktail outside on the patio before dinner.
Before we left Sarasota I had taken all of my printed photos (1,000 of them! for only $124) and sent them off to be scanned. The idea would be to have a DVD made and be able to throw away all those color photos that take up so much space, are going to die eventually, and instead have an electronic version. Since we were without an address I had them sent to Andy and he forwarded them to us here in Escondido. The website is http://www.scanmyphotos.com if you're interested. I want to look at the back of each one before I toss the originals, in case a date or note or two is important to keep. Andy also sent the step motor from Lazy Days (can you believe they really sent it? 'course we don't know if it works yet) and the debit cards from BOA (still don't work).
I have been working daily to try to learn my way around. There are two major highways through Escondido, I-15 and 78 and it seems all Google instructions use part of those to get me anywhere. I suppose that's the way I would do it in Sarasota. I certainly wouldn't take back streets to get to University Park, for example.
Big grocery shopping day. I started by myself at Von's (owned by Safeway). Here are a couple of pictures I thought were funny. The first is a set of shopping carts for little children. In case you can't read it the sign says, "Customers in Training." The second is of a grown-up's cart. Notice the special carrier for a coffee cup; all carts have them. A Starbucks' station is the first thing you see when you enter the store. Good to have a place to put your cup. Is that California-style or what? They also offer hand wipes upon entering (or exiting) for germ control, I guess. Very thoughtful.
My biggest laugh, though, was hearing ads being broadcast in the store by a Hollywod voice touting the health benefits — of all things — Florida orange juice.
After I returned home Ken and I went back out to shop at Trader Joe's. If you've never been to one, it's a real experience. You wouldn't have to cook again if you had one of these on your way home. We bought a bottle of chardonnay on sale for $3.50 and it was pretty good. See how much money we're saving?
Finding Things
One of the biggest disadvantages of getting ready to leave the house in The Glenridge is the speed at which we made decisions about what would go, or not. As a result, we are missing some things we would like to have had. For example, the cables to my backup disk. Or Ken's tennis shorts (can you believe?). And because we packed up the Moose in such a hurry, even if we might have it, we can't always find it. Our next big job is to pull in the sides and re-organize the basement.
Monday - Wednesday May 25-27
There is so much time to loaf that I'm reading about a book every other day. Thank goodness for Kindle; I have access to just about anything I want. However, it isn't always easy to choose. So I welcome any of your suggestions for good books to read.
At last. Back on the courts and a little exercise. We arranged to have a lesson at the Escondido Country Club from a nice young pro. It's mainly a golf club; it has two hard courts. Believe it or not we can still play. I did worry that we might forget. We asked about a summer membership, and they do offer it. Three months — no investment or anything — for $450 ($375 if you pay in advance), plus a $55 monthly food and beverage minimum. We're thinking about it.
Thursday May 28
I'm sure you remember me talking about my old friends from Escondido: sisters Ruth Kornhauser and Betty Castro, with whom I lunched last week. Ken had to say here to meet with a fellow who was going to fix stuff on our handman's list, so today I went to their ranch home atop a small mountain that used to be an avacado ranch. We had a spectacular salad — the vegetables and fruits here are amazing. The ladies have a built-in grill/fireplace right in the kitchen, where we ate. (Ruth on left, Betty on right).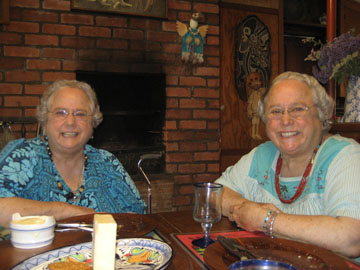 My first visit to the ranch was for the summer of 1952, then a visit 50 years later in 2002, and again today. Ruth had to leave to pick up a grandaughter, so Betty took me on a nostalgic tour of the house and grounds. Of course the trees are 50 years older and so is the house. But it still has the same feeling of peace and well-being that it had then.
One of the many things I love about this area, is the use of rosemary as a bush or a decorative. It grows wildly and adds to the delightful smell of the air. Rosemary is everywhere at the ranch.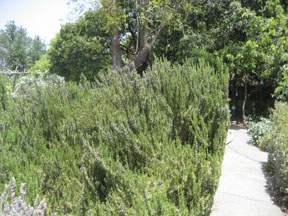 Ruth and Betty have run women's groups for many years. They changed the name of their property to Spirit Point, and have a website that describes what they've been doing. Take a look if you wish at http://www.spiritpoint.net/
Pepper trees abound. They are most interesting in their appearance.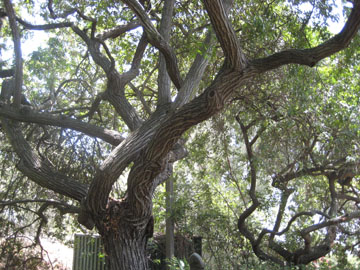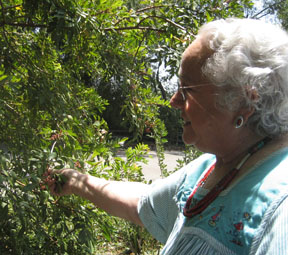 You probably know that California has always been careful about the use of water. When the girls' father built their pool, they first used it as a resource for watering the vegetation on the ranch. It soon became a gathering place for all the young people. You can see other mountain tops in the distance.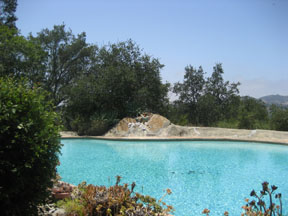 There are several of Betty's sculptures on the grounds. I missed taking pictures of some of Ruth's collages. They are both so artistically talented.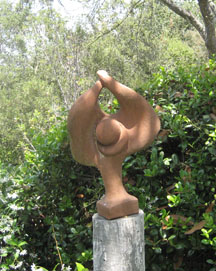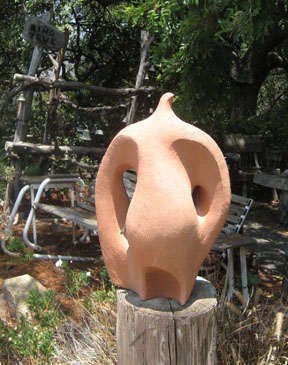 A friend of theirs created an archway where three paths converge, using old wood he found on the hillside. He hand cut it because when he took along his chain saw, the trees asked him not to use that. It's no surprise that spirits of people and trees hang out there. Their father's spirit used to visit with the gardener.
Here is the three-way path and the sign near it. If you can't read the sign it says: "Sacred Portals of the Spirit, where 3 arches intertwine. Hold a branch and make a wish. Draw energy from the center and harmonize body, mind and spirit."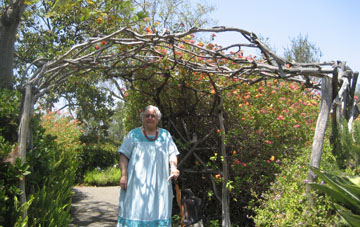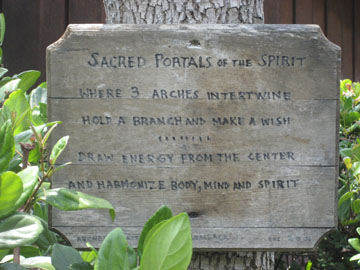 Friday May 29
Okay, so when's the last time you defrosted your freezer? I remember doing that years ago, but only dimly. Unfortunately, RV refrigerators don't have automatic defrost, and since the ice maker is no longer making ice cubes, we will be taking my (very small) hair dryer to the frost and hopefully restoring its ability to create ice. Ken and I differ about the method, so I'm leaving it for him to do.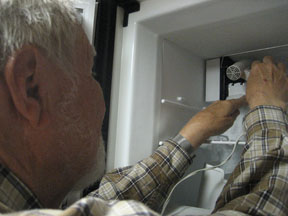 Counter space is at a premium, so we're figuring out how to put a coffeemaker and toaster oven under the cabinets in order to get them off the counters. That way I won't also have to put them in the laundry basket and then into the shower when we travel. We keep refining our space. (When it's done I'll include before and after shots.)
Weather
It's cold today and will stay cloudy and cool for the next week, they say. We were so used to the sunny days, that this is a real change. We actually turned on the heat this morning. That's an interesting thing. There are two ways to get heat. One is to get it via electricity (the heat pump) from either being plugged in, or if on the road through the generator. The other comes from our hot water system that feeds off the diesel gas. It creates continuous instant hot water and also acts as a furnace to quickly heat the cabin and optionally to heat the basement so the floors are warm (no, we won't use the basement heat because we have no intention of going up North in the winter, where that would come in really handy).