Escondido
May 17-20
After catching you up on where we've been and where we are, I'd like to comment on three things: weather/climate, landscaping, and hair, in that order (guys you can skip the discussion about hair).
May 17
I'd been here before in 1952 as a guest of a girl in my highschool who had been sent there for her junior year to live in Milwaukee with her aunt, in order to separate her from her twin sister. Not that they didn't get along, just that the parents thought their lives ought to be a little different from one another for a time. Ruth, my friend, asked me back to Escondido for the summer after my junior year. I gladly went. Her father had an avacado ranch on top of one of the beautiful Escondido hills. They had a pool, a horse, and what to me (a poor girl from Milwaukee), a fantastic life. My memories of this little sleepy town were shaken a bit as I discovered — now — that it's a city of more than 150,000 folks, with superhighways and stores of every kind and shape. You name it, they have it.
Sons Andy and Eric visited us with their long-time friend Scott Martin and Andy's house guest LeAnne Danielson, who had worked for us when we had our Tampa company, Kaset. They stopped in San Clemente to bring us (in their judgment) the best pizza in Southern California from a Pizza/Beer restaurant called Pizza Port. After sampling it, I would agree. They also bought what are called "growlers" of several kinds of beer brewed at the restaurant/brewery. Growlers are large bottles that are filled with the local micro-brewery tap beer, and can be returned in order to be refilled. You can see how big it is, compared to Ken's hand.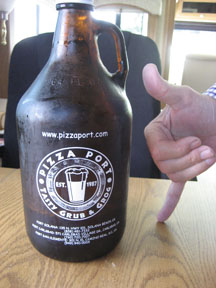 Andy informs me that this San Diego area has become the home to some of the greatest micro-breweries in the world.
We ate pizza and beer and caught up with their lives. (Thanks, Scott for remembering to take pictures.) Eric is an independent audio engineer, who mixes music and audio for film.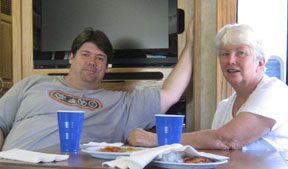 Andy is still working for Cameron Crowe — they are about to start a new movie that I can't say anything about yet (but should be able to soon).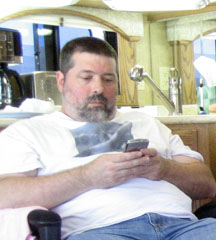 Scott is an independent producer. He is about to finish a documentary of a man named Mark Lane, who was never very well known but has had a fascinating life that includes being at Jonestown during the massacre (he was one of a handful who escaped with their lives). He also wrote the first popular work dismissing the findings of the Warren Commission, a book called Rush To Judgment. LeAnne works as a production supervisor for an independent production company that produces shows for the Discovery Channel, among others.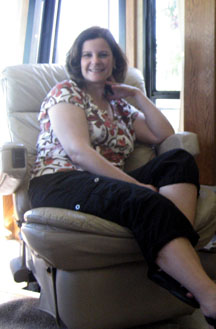 They all headed back home late in the afternoon for the two-hour trek back to Los Angeles.
I was pooped, so went to bed early Sunday evening, only to be wakened by a tremor. I suddenly remembered that California has !!!EARTHQUAKES!!! Nothing more occurred so perhaps it was just Ken turning over. However, the next morning when I picked up my iPhone there was a text message from Andy saying they had experienced a 5.0 and that one of his candleabra had bitten the dust. Windows were broken elsewhere but no one injured. So I hadn't imagined it after all.
Monday May 18
By now we're discovering what everyone who lives around here already knows: this is a beautiful place and the weather is outstanding. So, we talked to the office and extended our stay by a month. We moved to a larger site so we'd have room to sit out easily, and cook out. The left picture shows the view to the front of our lot and the right one how we overlook the hills in the rear.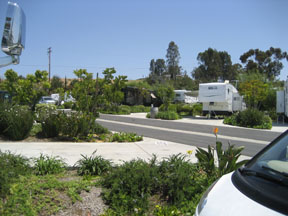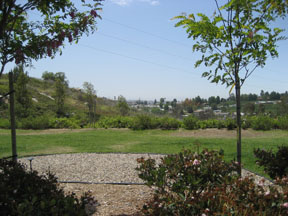 Tuesday May 19
I caught up with my friends Ruth and her twin sister Betty. We had lunch at a terrific Mexican restaurant. They gave me the low down on good places to eat and visit. Interestingly enough one of their recommendations for food was the Stone Brewery which is Andy and Eric's very favorite place in San Diego. Like a dope I didn't take a picture at our lunch, so here are Ruth, Shan, Betty and dog Teddy taken in April 2002 when Ken met them for the first time. Their home and lives are very interesting, so I will do more when I visit them next week.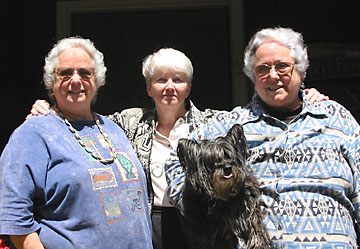 We cooked brats for dinner on one of those disposable charcoal grills (one use and it gets tossed — when it's cooled, of course). That convinced us to buy a grill. We'll get a small portable Weber butane/gas grill for future cooking.
Wednesday May 20
We decided to extend another month, so we'll be here through mid July. That's not to say we won't make some side trips, perhaps renting a car that's a little better than the Mouse on the highways. At the same time we contacted Cox cable to provide an internet service that works better than the present wifi which behaves like the old telephone-modem set up (remember those days?).
Now, on to: Weather, Landscaping, and Hair
So here's the scoop. You know how the weather reports go during the summer in Florida: 70 for the low, 93 for the high and possible afternoon showers. Unless there's a sign of a possible hurricane, TV stations could probably tape the weather and repeat the same every day. Not so here. There are four distinct climates in one small area: the ocean, inland, the moutains, and the desert. All four have very different weather patterns, so the weatherman has his hands full describing them. Plus there are micro-climates, e.g. land between moutains near the water). I remember summers in Sarasota when the temperature in Wisconsin would typically be 20 degrees colder than Florida. Here there can be a 20-degree difference in temperature within 20 miles. Escondido is inland but it is also filled with gentle hills (I say that, knowing I wouldn't want to drive the Moose on any of those "gentle" hills on a regular basis).
Here is a chart of the average temperatures in Escondido.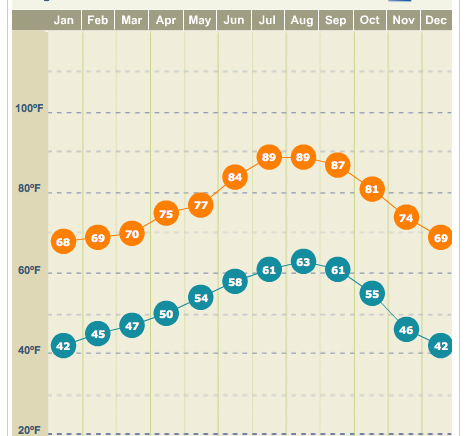 So far all the nights have been cool, the mornings chilly until about noon, a nice 80-degree afternoon, and a wonderful breeze off the ocean in the mid to late afternoon. Then cool again at night. Always sunny. We haven't used the A/C since we got here. How nice is that? If you lived on the ocean it would be overcast (foggy) most of the morning and very cool. Not my cup of tea. If you live in the desert, the current weather is over 100-degrees every day. Still not really enjoyable in terms of being able to be out all day. As a result we are both very happy with the weather here.
On to landscaping. First of all, no matter where we go, the air smells wonderful. Jasmine everywhere and in bloom. Other flowers I don't recognize add to the mix. Every side road has plantings that are beautiful, either bushes, trees, or groundcover. Not much grass anywhere, but the ground cover is great. Hills that would probably be mostly dirt with some weeds, are planted with lush low-growing plants. Maybe I'll learn their names. Remember dandelions? Even a few of those.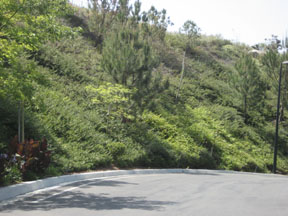 Okay fellows, skip this paragraph. I have been obsessing about where I would get my hair cut, ever since we left home. I had my hairdresser of 15 years cut me really short so I wouldn't have to worry about it for awhile. Of course Ken says I should just go to one of those walk-in places and take my chances. Not on your life. He did, though and it turned out pretty good. I waited until my friend Ruth could give me a recommendation, which took me beyond the time limit, but oh well. Today I bit the bullet and met a nice lady named Jennifer who did a really nice job. (No I'm not going to take a picture and show you the before and after.)
I think the story entries will go slower now that we have settled for awhile. Ken has been writing something that I haven't yet read, so his entry may be the next. I still love hearing from all of you and hope you will continue our connection as friends and family. I'm planning to do a little sightseeing, so will update you when that time comes. In the meantime for those of you in Florida, I hope the hurricanes hold off and you stay safe. And for everyone I wish you a wonderful summer.