Midessa, Texas
May 5-8
Tuesday May 5:
We got up very early Tuesday and were on the road at 6:30 for a long day of driving. We planned to leave Shreveport LA and travel to Abilene Texas. Instead we went past Abilene, and settled at a campground between Midland and Odessa, a trip of 523 miles. Our previous days had been 215, 363, 421, and now 523. You can see where this is going. I do think we hit our max. A ten hour day is plenty.
I-20 is a very nice road and except for a small patch around Dallas, smooth and easy. Ken drove around Dallas Fort Worth because of the traffic. As we got closer to Midland, the signs of oil began showing up. First a few of those funny things that look like a horse dipping its head for water (didn't get a picture), and then a refinery.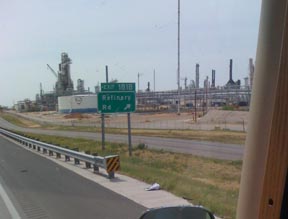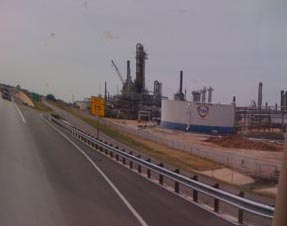 And of all things there were scattered signs of windmills. Who would think Texas would have windmills (not many, though, not like the fields of them I saw in California several years ago). These are hard to see in the background.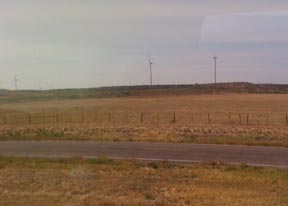 When we arrived at the Oil Patch Park in Midessa (think between Midland and Odessa), it was 101 degrees. Wow! And it's only early May. The disadvantage of staying outside of a town is access to groceries and stuff. Today we have to drive into one of the towns to get a form notarized (still dealing with Ken's mom's stuff). The great thing is that this is the best internet connected we've had since we started. It's as fast as cable. What a treat.
I'm getting a little anxious about the Mouse, since we've had two incidents of damage already, but nothing today. Here you can see what it looks like when the rear TV is on, following nicely.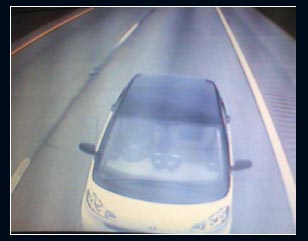 We also have a mystery. I brought along two stuffed animals, one a Bugs Bunny, the other a small bear that was Missy's favorite. I kept them on a shelf next to the bed except when we travel; then I put them on the bed. Last Tuesday when we put out the bedroom sliders, the bear was on the floor (I had forgotten to put them on the bed), and the rabbit was nowhere. It still hasn't turned up, and we have looked everywhere. Maybe he decided to stay in Shreveport for a little gambling.
As a footnote: I finally found the name of that very long bridge in Louisiana. It's on I-10 and is called the Atchafalaya bridge, and runs 18.1 miles over the Atchafalaya Basin.

Wednesday-Saturday May 6-9:
Thank goodness for a portable GPS. We have moved it from the Moose to the Mouse and back again everywhere we go, and it has made it possible to get around in absolutely unknown places. We needed to get something notarized (went to a UPS store in Odessa), then added some bank checks (needed a branch of our bank), then mail the stuff. GPS got us around splendidly. On our little side trip we ran into some very large rabbit statues. The teller at the bank had no idea what they were, but a customer said that Midessa celebrates the West Texas jack rabbit and so these colorful bunnies have been erected all over the city (we continued to notice them).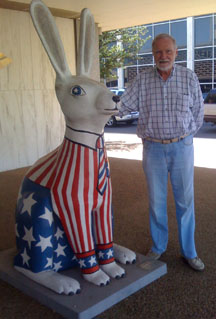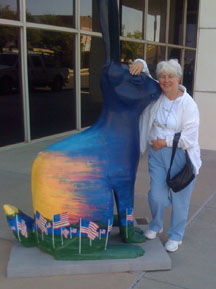 On Thursday we had someone come out and wash just the windshield (you need a fairly tall ladder to read the top and we don't have one — yet — maybe never). There had been lovebugs all the way from Tampa to Shreveport, but none in Texas. Thursday was also a red lettter day for me, because Apple helped me connect to the printer in Ken's "office" wirelessly. Up to this point I had to cut a CD, take it to his computer and have him print it. Thank you Apple.