Midessa, Texas to Las Cruces, New Mexico
May 8 - 11
Friday the 8th
Another travel day. We got up early and were on the road at 6:40. However, police were blocking the entrance to I-10. There had been an accident (truck totally laying on its side) just past this exit and the police were having all traffic exit the road. Because of our poking about on Wednesday, we knew there was a frontage road that ran all along the highway. We found it, traveled to the next exit where we paused to get gas and avoided the blockage. In fact the road was quite empty going West for a very long time.
In our old RVing days the RVs did not have the ability to take gas from the pumps at truck stops (which pump very fast and let you set the handle so you don't have to hold it). The newer RVs have the right-sized receptacle. Now stopping for gas is pretty efficient. If you want the diesel discount however, you have to pay cash — in advance of course — or leave your driver's license until you return with the money.
When we pulled up there was a line of 18-wheelers, all in a row and with drivers' asleep, we assumed. It's amazing that they can back those very long trucks the way they do. New standards allow 6 more inches of width, and with lengths that can exceed 50 feet, it is truly mind boggling.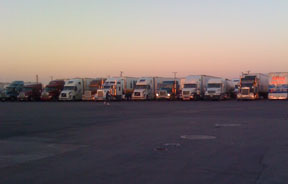 We were next to a nice fellow also pumping gas. He said he had worked for an electric company 100 miles north of Odessa for 18 years and that it had gone out of business. It was an old gas-operated power plant and was out of date. He was grateful to have a job delivering chemicals to a nearby oil facility.
Back on the road we plotted the day. If you ever travel by road you must get a copy of a book called "The Next Exit." It details (for all major highways) what's at each exit: food, facilities, gas and/or diesel, hotels, etc. It has a system for telling you whether a big rig can turn around. All truck stops have plenty of room. All rest stations are marked in this book. It lists each of these by mile markers, so you know exactly how far it is from one to another. So when either of us is driving the other is looking to see what would be the next easiest place to switch.
After Odessa the speed limit jumped to 80mph. When's the last time you saw that? Needless to say we got passed a lot. When the big rigs go whizzing by, it gets a little windy. The terrain finally turned pretty much to desert, with almost always a frontage road and railroad alongside.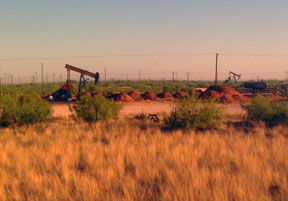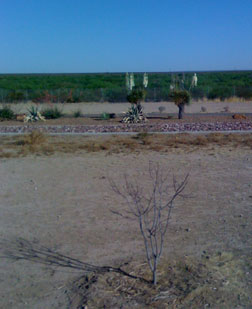 Ken said that in the early days the trains came first, then roads followed. The trains had chosen the easiest way through the passes, so today the roads aren't too up and down (at least in this part of our trip; I understand they get a lot more challenging).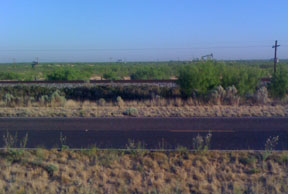 As for mountains, so far all we've seen are what they call "sierras," which are low, jaggedy mountains. I'm comforted by the fact that our rig has a "Mountain Master" Spartan Chassis. That should be good, right?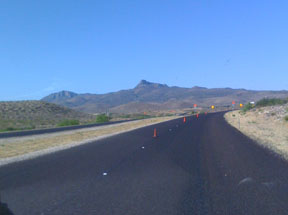 Both of us burst into laughter at mile marker 107 near Sierra Blanca. This is what it said:
Prison Area
Please do not
pick up hitchhikers
I wasn't sure why we were so tickled about that. I'm still not. The only thing I can guess is that the word "please" (politeness), seemed inappropriate. It should have said:
Prison Area
For God's sake
don't be dumb enough to pick anyone up!
We arrived after 340 miles (easy after a 523 mile day) at what is the prettiest campground we've been in so far. It's called Hacienda RV and it's in Las Cruces, New Mexico. They had a free Margarita cocktail party for everyone, so we got to chat and exchange "how to's" with more experienced folks.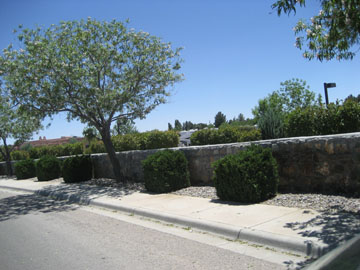 Texas was hot, but New Mexico is hot and also dusty. Even the face of my iPhone (which I keep in my pocket), is gritty. Eyes are dry. People around here complain when the humidity gets about 17%. They can't imagine how we survive in Florida. Altitude is 3500 feet, so I was feeling a little lightheaded early on.
Saturday the 9th:
Saturday was a lazy day, but because of a time change we were up at 4:30 a.m. I used to fight jet lag after flights, but got over it pretty quickly. This one-hour change every two or three days has got me stumped. Had to have breakfast at a Denny's because yours truly bought a bag of coffee beans at the last shopping day, and we have no grinder. I considered a hammer but thought Denny's was a better solution. We saw "Earth" around noon in order to get our popcorn fix. It was pretty good (the popcorn, that is).
Tonight it's a cookout under the awning and watch some golf on the outside TV, if it's not too hot. (You can see how the TV pulls out.) The second picture shows how big the tires are.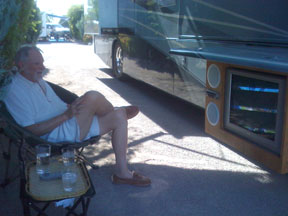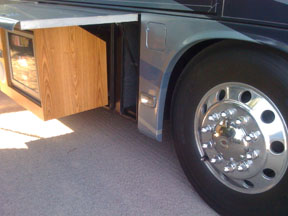 Sunday - Monday, May 10-11:
On Sunday we decided to check out a small town near Las Cruces called Masilla. It's interesting in that it used to be in Mexico, but after some of the land was sold to the US, it became the capital of New Mexico.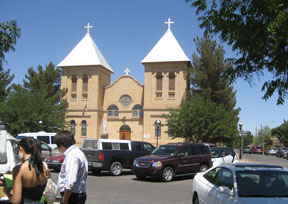 It was also one of the stops on the Pony Express. There were little adobe shops everywhere. The sign below (sorry about that) explains how this piece of land was where the Pony Express stopped.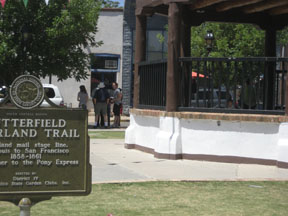 Pecans are a big thing. We had seen acres of beautiful trees as we came into Las Cruces and then found out they were pecan trees (evidently they don't need much water to survive; everything else was scrubby and small). Turns out Las Cruces is the capital of the pecan industry in New Mexico. Imagine, I always thought only Georgia had pecans.
There are many old buildings.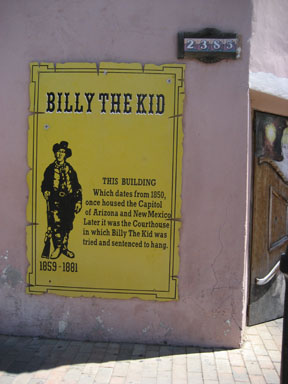 We asked about a good Mexican restaurant, went to a place called "La Posta," and in my judgement had the best Mexican food ever. I learned a few Spanish words, e.g. "Feliz dias de las madres" was being said everywhere. Of course you know that means "Happy mother's day."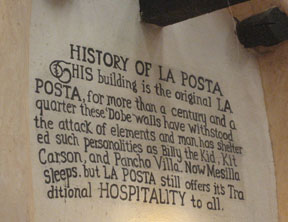 Returned to the Moose and watched Tiger's wheels come off. Sad.