Shreveport
May 2-4
Saturday May 2:
On the road again, Biloxi to Shreveport. We were able to get ourselves together and be on the road at 6:40. We left via Beach Drive and again were struck by how barren everything looks. The beach is beautiful, with stacks of sand waiting to be spread. But so many empty lots. The cabdriver the previous night said that Biloxi had been hit worse than New Orleans, which got all the media attention because of the dramatic flooding. But Biloxi got hit by all of the high winds in addition to flooding, and so many homes and businesses were blown away.
Ken took the first leg and it was pretty smooth sailing. We stopped in Slidell for gas. I guess the pump wouldn't let you take more than $100 because it stopped cold exactly at that (we got 48.1 gallons of diesel). Since the odomoter read 14,173, this would be the first time we could get an mpg reading (7.4).
On one of my legs we started onto a bridge over small streams, swamps, and little lakes that I swear went on for 30 minutes. I have yet to find the name or length of it on Google. However, for whatever reason (maybe the governor's brother was in the sign business), there was a sign perhaps 100 yards in front of every bridge, big or small. It read: "Bridge May Ice In Cold Weather." There were perhaps 3-4 signs every mile, so that would be at least 600 signs on I-49 as we headed to Shreveport. I'm a sign reader and it was so hard not to look time after time after time.
I had used Google maps to see what the campground would look like in Shreveport. It was called Tall Pines and looked better than this arial map.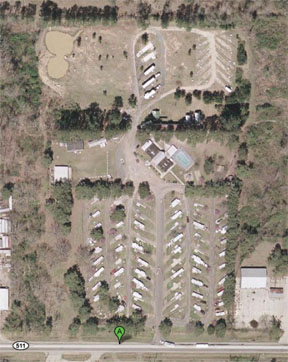 Arrival in Shreveport at 3:15 allowed us a little time to hook up then crash. I have found so far that on a driving day I have no interest in cooking dinner, so we'll have to figure out something about that. As we pulled into our site, a neighbor stopped us and pointed out that something was loose underneath the Mouse. Oh boy, hope it's not serious.
Sunday May 3:
Thank you Wall Mart Super Center for being open on Sunday. We took the Mouse to them. They saw the (probably) oil pan had broken loose. They jury rigged some kind of fastener, so it's back in business again. The roads must be pretty hard on that poor little baby. I would give Florida I-75 and I-10 and A+ compared to the roads in Mississippi, Alabama, and Lousiana that we've traveled so far. Sometimes they are smooth, but often so bumpy it rattles my teeth.
Our neighbor to the South stopped in for awhile, and since he is also a "full timer," Ken peppered him with questions about what's it's like, why they do it, how they do it, etc. Turns out his wife doesn't like to travel more than 200 miles a day, and they've been doing it almost two years now.
Monday May 4:
I had a funny thought while doing the dishes this morning. In my "old" life I used a dishwasher that took about 40 minutes to do a light load. Now it takes me 5 minutes. Were my dishes any cleaner in the past? Am I endangering our lives with dishes that aren't perfectly clean? Oh well, we have to make some adjustments somewhere. It is too easy, however, to eat out and so we are looking warily at the RV crowd who are generally a bit (maybe a lot) overweight.
Monday, as you may have figured out, I caught up with the blog. I may not make a daily entry, as you can see today.
Ken has been working at his computer with one of the dining room chairs, and it was very uncomfortable for him. So we bought a real desk chair and yes, assembled it ourselves. None of the pieces fit perfectly, although they touted "easy assembly." After sweating and some swearing, we finished it and he loves it.