Biloxi
April 28-May 1
Tuesday April 28: 
Today Ken drove two rest stops and I drove one. Here are some pictures of the inside of the Moose as we travel. You can see how little space we have to walk from the front toward the refrigerator or the bathroom. The left picture is kitchen, the right is the dining room.
We left our Tallahassee camp at 7 a.m., crossed into Central Standard Time and after an hour it was still 7 a.m. That got us into our Biloxi camp by 1 p.m. Lovebugs had been everywhere and our windshield was looking really ugly. I had picked this camp, but if you can believe it, they had NO wifi. We decided to move the next day. We got the Moose and Mouse washed before we switched campgrounds. 
Wednesday April 29:
Hard to remember when we get up just exactly what day of the week it is and what is the date. We must be really getting into this retirement thing. We switched camps to one that is right on Beach Drive, so we can see the gulf and feel its breezes. We drove the Mouse West on Beach drive and could see so much of the damage from Katrina. Of the old houses that used to line the road, probably 3 out of  4 lots (no houses) are for sale.
The houses that are there look pretty new, except for those that have still not been torn down.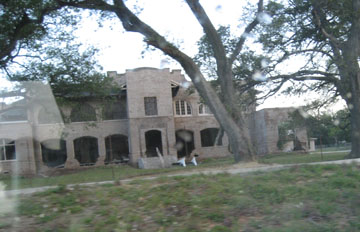 And of course all of the gambling joints that had been on barges off the beach are totally gone. Many have been rebuilt further inland.
Thursday April 30: 
Yesterday when we had the Moose washed, the fellow said two of our awnings that come out to cover the sliders were pulling away.  So, we called a local fellow named Steve who came out to look. They evidently will need replacement, but since their job is just to prevent leaves and stuff from coming back into the house when we pull in the sides, they aren't critical, so we'll wait until we get somewhere that we'll have a week to spare.  He answered some other questions we had. For example, the hot water system that provides continuous hot water runs off our diesel fuel.  Didn't know that. Wonder what that does to the gas mileage, since it turns itself on every hour or so.  It also explains why the basement has the faint odor of diesel. 
He also explained something about our satellite, which is that we must call Direct TV whenever we settle in, so they can point the local channels in our direction (we've been getting Tampa local channels both in Tallahassee and in Biloxi).  Ken called to say we were in Biloxi and the fellow asked if that was in North Carolina. "No, we're in  Mississippi."  So much for that.  Of course our news last night came from North Carolina. 
Steve said that this campground had been taken over by FEMA after Katrina and that he wouldn't even drive his truck through; said it was just an awful place. After the trailers were gone the owners leveled the property and started over.
We had our first cookout for dinner, brats and baked beans of course. The park is filling up for the week end so we finally have some neighbors. I guess people are making trips for gambling.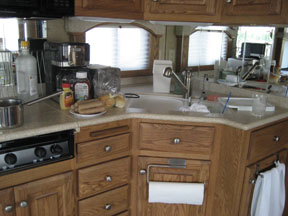 Friday May 1:
We woke up at our usual 5 a.m. (6 a.m. our old EST). Since it was our anniversary (38) Ken suggested we take a small adventure, use the coupons I picked up at the state line and claim our free $10 in gambling money, then eat in the 24 hour café. We used the GPS to get us there, but it was a little scary since it took us right through what I would consider a really poor part of town. Luckily there was no one on the streets that time of morning. We finally arrived at "The Boomtown Casino" (sorry that I moved my iPhone taking the picture). We found out that you had to come a second day to get the $10. We had breakfast then won $10 on the slots. Ken felt better about getting his promised free money anyway, we left.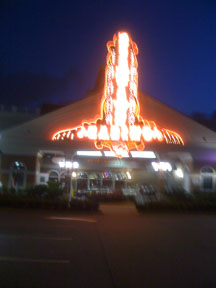 Ken looked at the weather map today and suggested we not stay on I-10 through Texas because of the heat. As a result, we're going to turn North tomorrow and head to Shreveport on our way to Oklahoma City. We had an AAA trip ticket which is now obsolete, so I went to Google Maps to plan the trip. It is simply amazing. Not only did I get really good maps and directions — once Ken had chosen a park for us — I could zoom in on the satellite maps and see exactly the layout of the park to be sure they have pull-throughs (we can't back up when towing).
It was our anniversary, so Ken made a reservation at a Ruth's Chris at the Hard Rock Café.
We got "all dressed up" and took a cab. This was the third casino we'd been in and it is such a surprise to see that a majority of the slots are penny slots (you couldn't find those in Vegas, I think). It's a typical Hard Rock in that it houses lots of rock memorabilia. The picture here is a dress worn by Nancy Wilson (son Andy's boss Cameron Crowe is married to Nancy).
Nice dinner a Ruth's Chris. It was a little more pricey than the one is Sarasota, if you can believe. But the real surprise was getting out of the cab — and right there as we stepped out — was a penny. They are still following us around.