The Trip Finally Begins
April 23 through 30
3:00 p.m. April 23, 2009 ...
...was a big moment. It was, as Ken says, "The day and time we got out of prison," meaning WE COULD NOW LEAVE. EVERYTHING WAS DONE AND WORKING. (Well, almost everything.) They still don't have the motor for the step cover, which was the only real item under warranty. Chuck Schnitker in service says when it comes in he will ship it anywhere we want; we are to have it installed and send him the bill. Son Andy has graciously allowed us to have it sent to his office so that we can get it when we arrive in California. What are the odds we'll ever get it? Want to place bets?
We gassed up both vehicles, and marked the odometer on the Moose at 13, 527 for the start of the trip. This is what we look like on the road.

Friday April 24:
I found a penny in my purse in a place I don't keep coins. It was hard to read so I used a magnifying glass.  One side says: 2001 URACA and has a profile of what might be an Incan, the other side says "UN CENTESIMO DE BALBOA" in the middle, and Republic of Panama on the edge. Must be that mom is taking a round the world trip. We've never been to Panama.
We took today off and stayed at Rally Park to do laundry and plan more of the trip. While emptying the laundry tub, the water backed up into the shower. If I hadn't been right there we might have had more wet rugs. Caught it in time, but the lesson learned is never set up a load then leave the RV. As it turns out, our grey water holding tank (for all but toilet water) was not open to the sewer and it filled up. Another lesson learned: always keep the grey water side open to the sewer.
We had lunch at PF Changs (my favorite Chinese restaurant), I dusted and cleaned some, then we met Chip and family at the Brandon Mall to have a last dinner (Cheesecake Factory and I forgot to get some cheesecake, which is my favorite dessert).
Saturday April 25:
8:30 all hooked up and ready to roll. Ken drove first, but I got to run my first leg at 9:30. When we stopped at the rest stop to change drivers, Ken checked the Mouse to be sure all was okay. He found a penny at its side on the ground, and on his way back to the Moose found another one. I think he's starting to believe.  We changed drivers once more and got to Tallahassee fairly easily (215 miles for this first day).
Unfortunately, during one of my stints I saw the typical semi-trailer-rubber-in-the-road stuff, and rather than going around it (would have taken me into another lane), I just put it between my tires, not thinking all about the Mouse. When we got to Tallahassee we saw that the rubber had taken off one side of the front bumper. Poor Mouse. It worked fine that way, but was rubbing on its tire.
.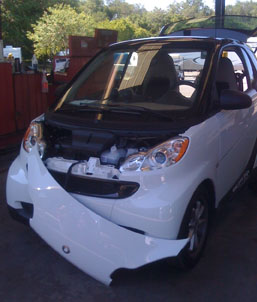 Sunday April 26:
Did more laundry and vacuumed (it's a new in-house system we had installed and the hose is really tight. I had to have Ken hold it out or it pulled me back to its source). We did our grocery shopping at a Super Wall Mart (I like Publix better and will miss it a lot).
Well, we surely do miss Comcast. Most wifi is about as fast as the old dial-up.
Monday April 27:
Can you believe I spent most of the day filing? We bought some cardboard files at Wall Mart and I'm in the process or organizing our house files (insurance, banking, cars, RV, etc. etc. etc.). I'm still not done.
Today was the day to pick up our checks and debit cards for our new Bank of America checking account.  You may remember that I had written a check for this account from a bank account that was closed (throwing all our checks in a packing box was not a great idea).  So, we took care of that and they were very nice about it.
Next was a stop at a little body shop where for a $20 they fixed the Mouse bumper. Turns out it wasn't broken, just needed to re-attached.
Ken had read a recipe that he wanted me to try.  So I made enough that when we get to Biloxi (a driving day), there would be easy leftovers.  In case you want to try it (very easy and delicious), here it is:
Motor Home Stew
Fix a package of Knorr's Leek soup according to directions (I only had skim milk but that worked fine).
While that's simmering, cut up a pound of kielbasa sausage (or use cooked chicken or whatever). Add that to warm up.
Drain then add two 15 oz. cans of white beans.
Add a bag of baby spinach and simmer until it wilts.
Done! See how easy?