Living in Tampa
April 18 through 23
Saturday April 18
We left Sarasota (sigh) and headed back to Lazy Days to finish up everything (we hoped). Ken decided that we should have an HD DVR Satellite, so that no matter where we were we could get all the programs and record them much like TIVO (another delay?).  Ken got the ceiling stereo to work (there is a very nice surround sound system associated with TV, DVDs, CDs, and radio). 
Our nephew Peter Mitchell and his wife Chris are going on a motorcycle rally called "Rolling Thunder," to Washington in May, with 500,000 other bikers to honor the Vietnam Vets. As part of the "get ready," they drove the cycle from their home and met us at the Cracker Barrell for dinner.  It turned chilly and we felt sorry for Pete, who had no jacket and a long ride home.
Monday April 20
Since the RV was at Camping World being worked on, we had the day free. Today would be the day to change the addresses on our driver's licenses, before we leave Florida. The DMV was a nice place, had a good system and friendly people. We had been told by the insurance lady at Lazy Days that having a PO box was not a problem. Ken and I had separate DMV reps and had no idea what the other person was saying. We each individually learned that Florida does not accept PO Box as an address on the license and that you must have a "real" address. My guess is that's the way they are trying to prevent people from claiming Florida residence to avoid income taxes. So, I gave Chip and Lisa's address and Ken left his at Kilmory Way. We talked later and decided that if we were stopped by the police and they saw these two different addresses, we would tell them we had split up and that this trip was our test run for a new relationship. We then also learned that when we change our address in the future we will need two envelopes with our name that that address on them to prove we really did live there.  So, if any of you want to help me out, please write to Shannon Johnston at 2905 Manor Ridge Place, Valrico, FL 33594 (even if it's an empty envelope). I'm asking Lisa to hold onto a couple of these until we have an address to which she can send them. Thank you in advance, Lisa.
With the afternoon free, we saw the movie "17 Again," and enjoyed it.  Light stuff but probably what we needed. 
When we got back to the RV the new satellite was in and working: the HD and DVR are great.  However, having been shown that our 6-year-old tires had some splits, and having safety as our major concern, Ken decided to get all new tires.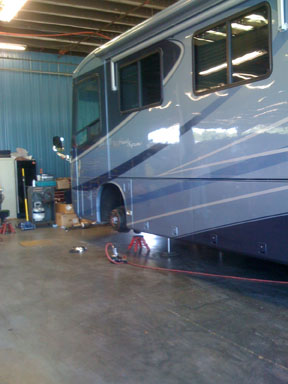 He had already ordered Tyron for the front tires (in case of a blowout it keeps the tire able to run on the road; used extensively in Iraq so that soldiers can continue to move after their tires are shot out).  We also wanted Nitrogen for both the Moose and the Mouse. (Another slight delay?)
Pennies from Heaven
My niece Lori says that when people whom we love die, that they can reach us by dropping pennies (or other coins) for us to find.  We were skeptical, but ever since mom passed, we have been finding pennies. One in the motor home where none had been before, and today as I went to wash my hands in a Starbucks restroom, there was a penny in the sink.  What are the odds of that?  (More penny stories later.)
Tuesday April 21:
Camping World sits on Lazy Days property and supposedly do not compete. However, they have some overlap in services. Even though LD sells RVs and services them, they also sell tires, Safe-T-Plus, and Nitrogen. Camping World has all the RV supplies (chemicals, toilet paper, regular camping stuff, chairs, etc. etc.) and also sells tires, Safe-T-Plus and Nitrogen.  Lazy Days decided they didn't want to split the orders, so they arranged to buy the tires from Camping World (keeping our price the same), and install all the other stuff as well.  After a full day of hanging out at the Pavilion, their employees had to drive the Moose to Rally Park (we could not get out without proof of payment and the work wasn't complete). Are you getting the fact that the Lazy Days Pavilion was our second home?
Wednesday April 22:
We took the Moose and Mouse back in so the work could continue. This was the day we scheduled for driving lessons: first a two-hour class in the morning that gave lots of hints for turning, parking etc. The instructor gave us a page of colored dots to use. For example, when the Mouse is pulled up behind the Moose and hooked up, I put a dot on the inside of the windshield at the point where it matches some identifiable spot on the rear of the Moose. That way, anytime we are going to hook up, I can drive the Mouse to the correct distance for accomplishing the connection. Make sense? We learned that to make a right turn you need to align your hip with the curb on the left. If you do that, and turn the wheel like heck during the turn, you won't send the rear wheels over the curb on the right. For a left turn it's just the opposite, aligning your hip with the right curb.
In the afternoon each of us got to drive one of their Class A motorhomes, with the instructor riding shotgun and us practicing using the dots he had placed, for turns, parking, etc.  Since rest stops are important, he showed us how to be good citizens and end up in the middle of the white lines that truckers and RVers use for stopping. Good class. The instructor has been doing this for many years and he has lots of funny stories to tell. My favorite was of one of his students had a wife who had been sleeping in the bedroom. Sometime along the road he was stopped by a state police officer who informed him that his wife was back some three hours. She had exited the motor home when he stopped for gas and he hadn't noticed.
At 4:30 we went to service and discovered that the brake lights on the Mouse still aren't working with the Moose. We also learned (especially me), how tough it is to hook up.  My hands simply aren't strong enough to pull apart the arms and get them aligned with the Mouse. We are discovering how many things require two people. It's a team effort, but that makes it fun.
Thursday April 23:
Took the Moose back to Lazy Days and practiced more hook ups. This time all lights are working. We took the Mouse to the Brandon Mall where Ken bought a 17" Macintosh laptop. He was not satisfied with the way the big 23" iMac had to be put away and how much space it took up. So, it now resides under our bed until we decide what to do with it.