Loading up the Moose and Moving Out
April 1-17
Wednesday April 1
Made an appointment with a Sarasota moving company to give us a bid to store all our furniture, dishes, extra clothes, etc.  We sent a fax to The Glenridge, notifying them of our decision to leave. I also wrote everyone on our email list so no one would be surprised. After reading an article about a system called Safe-T-Plus (it stabilizes the drive so the house doesn't feel so mushy), we decided to add that, so we'll have another delay to our leaving Tampa. We told the California sons Andy and Eric that we wouldn't be there when we first planned, and they both encouraged us to take all the time we want and to be safe.
Thursday April 2
Left Orlando and drove the Moose to Tampa to pick up the car.  They showed us how to hook up the car. Unfortunately, it wasn't going to work. It turns out the Smart Car shouldn't be towed unless the batteries are disconnected. In addition, in some states the tow car has to have what's called a "brake buddy" installed. It's a device that fits over the brake pedal and brakes the car when you brake the motor home. And of course it requires battery power to do that. So, a dilemma arose and we left the folks at Lazy Days to figure that out. Fortunately, they didn't need the car so we both drove separately to return to Sun 'N Fun.
Friday April 3
I didn't sleep well with all the creaks and groans from the winds (I don't mind lightening and thunder, just wind). Laurel Oak friend Linda Habif stopped in to see us in the morning.  In the afternoon I returned to the house to meet the movers and to get the bid. They wanted $6,000 to move everything out, $450 plus insurance each month to store, and at least $6,000 to move it out after we finish our trip.
Saturday April 4
Over breakfast Ken and I talked about the cost of storing everything and made the decision not to do that. We would get rid of (sell or give away) everything except things to which we had emotional ties. That meant keeping the dining room set, the black side table with the paneled picture, my Santas and rabbits, a few books, and some clothes we didn't want to shuck. I called the movers to say we had changed what would be stored and arranged for them to come back.
Sunday April 5
Chip, Lisa and boys visited us at our house in Sarasota and "shopped" for furniture. They wanted most of it, so that was good. They would arrange for movers to pick it up. Marion and Phil Nelson loved some of the wall hangings and decided to take a few. Marilyn and Guy Berner bought the golf cart.
Monday April 6
Friend and Laurel Oak tennis buddy Sue Hokamp decided she could use the freezer. I continued to sort things, putting anything that would either go to the Moose, needed to be stored, or could be given away. My niece Lori Dunford drove over late in the afternoon. She would stay for a couple of days and help me sort. I stayed with her at the house.
Tuesday April 7
Cousin Ruth knew someone who would buy our king bed and armoir; Sue Hokamp knew someone who would buy the refrigerator. The one that belonged to the Glenridge was in the garage. Unfortunately, we had not asked them to preserve the washer and dryer that was removed when we bought new ones, so we had to leave the new ones.
Wednesday April 8
I had taken a lot of clothes to the Moose, then decided there were too many and took some home again.  Clothes would either fit in the Moose, be saved for some day in the future, or given away.  I had lunch with Sue Hokamp, Nancy White, Nancy Kaltenbach, and Linda Habif at Millies, while Lori decided to continue with the clothes sorting job (thank you, Lori). Cousin Ruth, Lori, Ken and I had dinner at Café L'Europe since it was close to the home where Ken's parents (Edythe and Ken) had lived for forty years.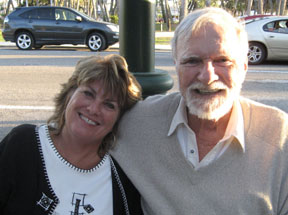 We had both their ashes and decided we would walk to the end of the sea wall near their apartment to distribute them to the sea (at least that was our plan). We calculated the wind and were pretty sure it would work. When we took them out of the boxes we discovered they were in sealed containers. What to do? Well, we had come to send them out to sea, so that's what we did.  As we watched in amazement, the two boxes floated toward each other, then began to drift. We hoped they had not been totally sealed, but apparently so, because they continued to drift off into the sunset. I do hope they sink, for if not, some boater is going to get a rather odd surprise.
Thursday April 9
This was the — literally — "free for all" day in the garage. I invited as many friends and neighbors as I could and had a great time as each of them selected some things to remember us by.  Some even added a few things of their own to the array.  This was also the day I scattered the ashes of our beloved dog Missy and cat Krikit.  At the end of the day folks came to pick up the refrigerator.  I'm not sure how it got into the kitchen in the first place, but it took them one and one-half hours to get it out, including removing two doors of the house to do it.  I shuddered at the thought they might give up and I would end up with the refrigerator stuck somewhere. But they did it.
Friday April 10
The movers returned for a new bid. I don't think I've ever seen anyone as shocked as they were about what had transpired in the past week. They really couldn't believe we'd divested ourselves of so much in such a short period of time.  Anyway, they made a much modified bid.  Irene Wise continued to help pack up stuff for Salvation Army (they won't take loose items). I went back to the Moose at Sun 'N Fun. Ken and I were still learning about everything, and decided to store my winter coats under the bed. We picked it up, put in the coats, then couldn't get the bed back down. We laughed at how difficult it might be to sleep at a 45-degree angle. Finally it went back down to our relief. Sue and Herman Hokamp invited us to have dinner with them at the Laurel Oak Country Club. It was nice to be with them and to bid the club goodbye.
Saturday April 11
More packing and trips between the house and the Moose. I still had lots of work to do in my office, to be sure I took what I needed, packed for storage what should be kept, and tossed the rest.
Sunday April 12
Brought my big screen iMac to the Moose, and it fit! So did my ergonomic keyboard. I changed my email address to gmail, and notified people in my Comcast address book. My office was originally meant as a vanity, but it works great for my computer.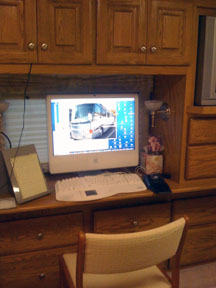 The key, it seems, to living in such small space is to consolidate everything. Example: we bought a DVD binder and put all our movies into it, thereby dumping all the jewel cases and saving tons of space. Since it was Easter, I cooked a small canned ham with butter and brown sugar and made a four bean salad. We had been invited to Chip's mom's for Easter, but making another trip to Tampa was more than we could imagine. We found ourselves pretty exhausted by the end of every day.
Monday April 13
Moving day and everything out. It went really well, only took two and one-half hours (there wasn't that much going to storage).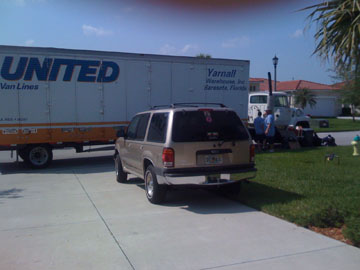 Cousin Ruth made room for our electronic piano in her home and said she would keep it for our return. I hope she loves it. While at the Moose I threw a bunch of stuff into the laundry. Ken would dry it. You can tell how frazzled I was because there was a fairly new pair of my navy blue shorts in it (my old ones never would have done this), so when I returned everything was a beautiful shade of blue (bras, panties, even Ken's underwear). I guess that's inexperience for you.
I met my Glenridge tennis friends for lunch: Anne Lunghino, Marge Baruch, and Patsy Reynolds.
Tuesday April 14
Chip's moving company came for their selections, so now the house was totally empty. I turned in our keys and stuff to The Glenridge, had lunch with my friend Mary Fran Carroll, then went back to give a few things to Jennifer Faile, our housekeeper of 14 years.
Wednesday April 15
Irene Wise came back to the house to be there when Goodwill came for the leftovers (Salvation Army wouldn't give us a time when they could be there, so we switched). We changed our address at the post office to our mail forwarding system. Turns out that's a bit complicated, because, for example, when I called Geico (where we have our car insurance), they wanted to know where we would keep the car. I said "Behind the motor home." They asked where the motor home would be and I said "On the road, pulling the car." There was a lot a harrumphing and "I'll need to talk to somebody." I guess they worked it out because we haven't heard from anyone about it.
We also decided to open up a Bank of America checking account so that we could use a debit card across the country to access cash. Since we would be leaving before we could pick up the checks and cards, they arranged for us to pick them up in Tallahassee when we got there.  Unknowingly, I wrote the deposit check for the new account from an account that we'd closed. More on that later.
Since it was my birthday, Ken arranged for a car. We picked up Mary and Dick Manegold and had dinner out, to celebrate.
Thursday April 16
Had lunch with Ruth (by now you know it's "cousin" Ruth), and worked on organizing my new office. I have more drawers allocated for office stuff in the Moose, than I have for clothes (some of which are blue).  We also went to CVS pharmacy with the hopes of getting some prescriptions ahead of time so as not to have to do that on the road. They were going to have to take some time to make that happen. (We did get them the next day.)
At this point we were certainly realizing the complexity of not have a fixed base address. Mail, prescriptions, banking, insurance, the government and other organizations don't deal easily with just a P.O. box.  And you'll read soon about the difficulties with our drivers' licenses.
Friday April 17
Our motto in the motor home is "Watch your head." We have what is called a "basement," which is a series of storage compartments under the floor of the home. Some pull out, some doors raise up and some open sideways. However, many are under the slide outs when the house is set up for living. Imagine opening a basement door and trying to stand up. Ouch. Or, backing out as far as you think you need to, and hitting your head on the edge of the slide out. Here's a picture of the sides out.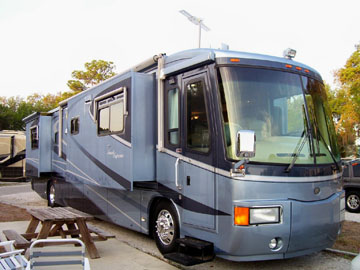 The inside, however, is a snap for me (shorty). Not so true for Ken. One slider in the living room lowers the ceiling by about 18 inches. So if Ken is walking toward that wall and isn't focusing, he walks right into the ceiling at about forehead level.