The Early Days
March 19-31
Thursday March 19
We closed on the motor home and Ken drove it to Sun 'N Fun in Sarasota while I took the Scion home on the highway.
It's easy to see what the front end of the home is doing when you move about, but almost impossible to know about the rear. There is a video camera that captures about 10 feet straight back, but doesn't tell you where your rear tires are going, only what's directly behind you. So on the way to park the Moose (that's what we call it), Ken clipped the bumper on a guy's truck. He was totally unaware until he saw a fellow running along side yelling "Hey, you hit my truck."  So, our insurance was less than 24 hours old, and we already had a claim. The fellow was very nice, and there was literally no damage to the Moose. But that's why I saw the police leaving as I arrived.
The second near-disaster is when we hooked up the water based on the instructions we were given (I checked the video I took during the walk-through and the fellow definitely told us the wrong thing). We ended up connecting to the port that rinses out the black water tank, and overfilled it, spilling toilet water throughout the floor of the home. We were fortunate to find a carpet cleaning service who would come out at night and clean up the mess for us. What a beginning.
Friday March 20
Cousin Ruth brought us breakfast for our first morning. When we regaled her with stories of our first mistakes, all of us had a good laugh.
I went back to the house to continue packing and Ken drove the Scion to Tampa to trade it in for a Smart Car. Unfortunately, we learned that the Scion would not be a good tow car; it was too low and would have required a platform. All the literature says to tow with four tires on the ground.  When he returned with the car, he got a lot of "looks" in the campground. Here's Ken with the new Mouse.
Tuesday March 24
Ken returns to Tampa to check into Rally Park at Lazy Days. When I returned to the Glenridge house (after two days in the motor home), the house had many blown fuses and there had been no bad weather. Hmm.
Wednesday March 25
We decide to replace the Moose's living room TV with a flat screen.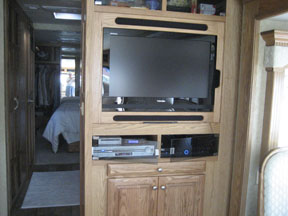 I drove it up there, then returned to Sarasota to have lunch with Diane Mahan, a long-time friend from Laurel Oak who has moved away but was back in Sarasota for a small vacation.  Nancy White also attended (we were all tennis buddies at Laurel Oak). After lunch I returned to the house and found a flooded garage. This house seems irritated that we're leaving, I think.  Then the microwave quit working.
Thursday March 26:
Turns out they can't really install the TV in the Moose without the remote, so I drove back with that, along with a lot of staples (food) and other stuff. We both spent the day in the Maintenance Pavilion at Lazy Days, while they worked on the Moose. This was Ken's third day in the Pavilion.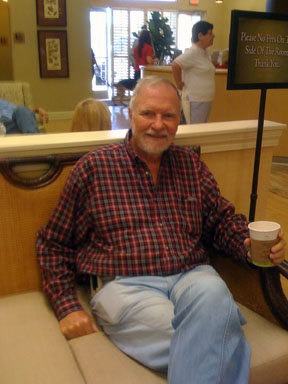 Lazy Days serves free breakfast and lunch to people who have bought their motor homes from them.  I stayed and cooked our first meal (hash and eggs).
Friday March 27: 
We decided to go a little early and replace Ken's hearing aids while we were near the Tampa place that he bought them. Ken's son Chip stopped by on his way home from work.
Saturday March 28:
Spent the day from 9 a.m. to 3 p.m. at the Pavilion. We couldn't go anywhere because Lazy Days was working on the Mouse (little car) to set it up for towing. We did a little shopping at the (walking distance) Camping World and bought two very comfortable chairs for outside.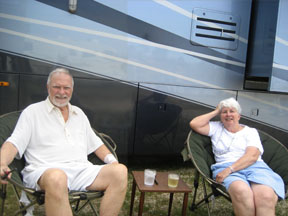 Chip, wife Lisa and sons Thomas and Ryan picked us up to have dinner at a wonderful Mexican restaurant in the Brandon mall. Thank you Chip and Lisa.
Sunday March 29:
Since the little car wasn't ready, we headed for our "free" days at a resort in Orlando, part of the Thousand Trails Park system. With only a 30-amp hookup (we never thought to ask), the AC kept blowing. We watched Tiger playing golf while I continued to read Shantaram (if you love stories about India, get this one; long but worth it).
We're getting more comfortable with setting up all systems. One important process is getting the Moose stable. There are four under carriage jacks that come down and then do a little dance so that the Moose is level. Of course, they have to come up before you leave.  
Monday March 30:
Interesting how some people make their livings at RV parks, traveling around and offering services. There seems to always be someone to tweak and fix anything that's broken. We saw a fellow who offers to make stained glass windows for an RV. Reminds me of a gypsy (maybe that's what we all are).  Also saw a fellow sitting in the shade with headsets, playing a keyboard. Nice life.
At noon we listened to a sales pitch about joining the Thousand Trails system (there is no free lunch). We were convinced, since 80 nights during our lifetime would pay for the whole membership. Of course, ever since then we can't find one of the campgrounds on our route. Maybe when we get to California. We called Lazy Days about the car and they said maybe three more days.
Tuesday March 31:
We had purchased a Lexmark printer (fax, copier, scanner, printer) and put that together. Can't get it to work wirelessly from my computer, so I will cut CDs and have Ken print. Did the laundry and changed the sheets. I fixed sauerkraut and sausage for dinner. (I've missed my own cooking.) Is our life beginning to sound a little dull?
Chapter Three: Loading up the Moose and Moving out of The Glenridge