January 1 - January 9, 2013
Barb arrived on the afternoon of New Year's Eve. We were invited to the Baker's home. There was lots to celebrate — since the end of the world did not occur. The San Diego paper declared it so.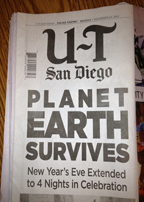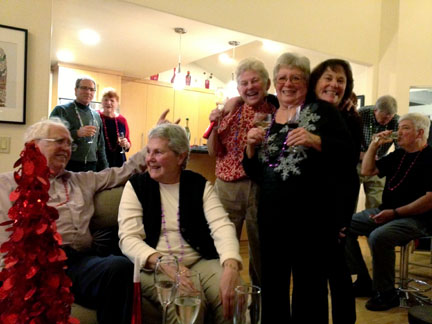 Barb's goal was to get in some relaxing time, though she still worked every morning at the dining room table, answering emails, doing some writing, etc. So we usually got together around noon time. I mentioned that I thought her email signature and picture were getting old, so we spent quite a bit of time re-doing it. We did find time to see a movie that was on the top of her list: Les Miserables.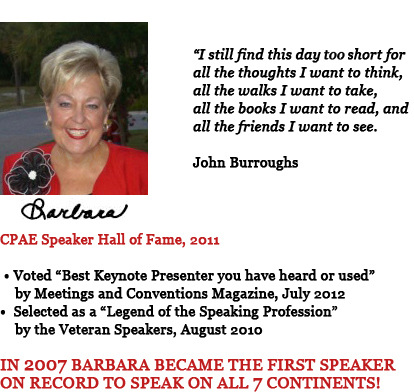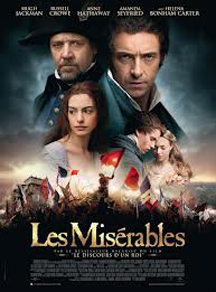 The highlight of her stay was a trip to Los Angeles to tour Paramount Studios. Andy has his offices at Sony, but a friend of his was able to get us into a tour on Friday, the 4th at 10:15 a.m. We were to meet up with Eric and Andy for lunch at Paramount and then would spend the afternoon at the LaBrea Tar Pits. We decided to take the train, and were on our way to LA at 8 a.m., confident our arrival at 9:30 would give us plenty of time to get there.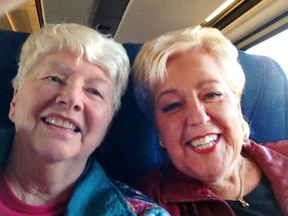 About seven miles short of LA the train stopped. A conductor got on the audio system, announcing that a "trespasser" had been on the tracks and was hit. We would probably be there for a couple of hours, and no one could get off the train. I called Andy to say we stuck and he arranged for afternoon tours for us (separate). So, no LaBrea. On the trip home we talked to a conductor who said that had the person been killed (she walked away of all things, but was taken to the hospital), we could have been there all day. Evidently they have to wait for the coroner, who does not respond to 911 calls, taking "bodies" in the order in which they happened.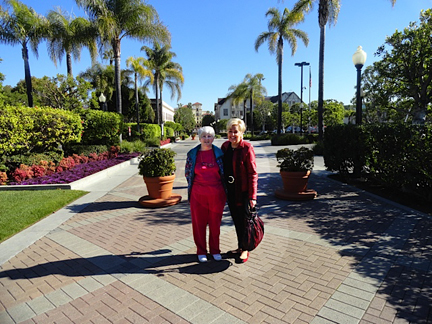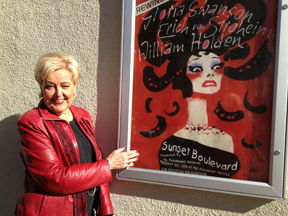 Left: the two of us on the main street in the studio, which gets used for making movies by moving some scenery around. Above: Barb with a poster from "Sunset Boulevard," which was shot at Paramount.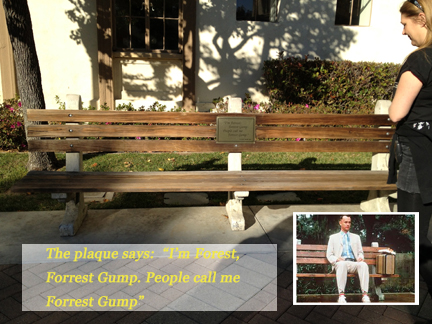 A favorite spot in the studio is the bench from the movie "Forest Gump." This wasn't the spot from the movie; they just moved the bench here. The plaque says: "I;m Forrest, Forrest Gump. People call me forrest Gump."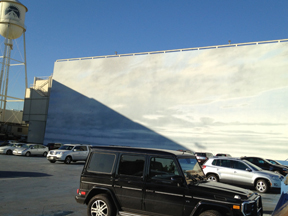 Another interesting spot is a very large parking lot that slants down to a huge screen that's painted to look like the sky (muted clouds). When they need a beach scene, it can be filled with water. The shallow end is then filled with sand. I guess this gives them better control than simply shooting at a real beach.Notice the water tower, a hangover from the time when they had their own fire department.
Below: the famous Hollywood sign can be seen from within the lot.
Throughout the studio there are streets and streets that look like any big city. They are only facades. There is nothing inside them except columns and whatever kind of structure it takes to be sure they don't fall down.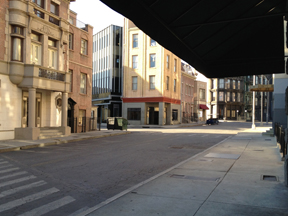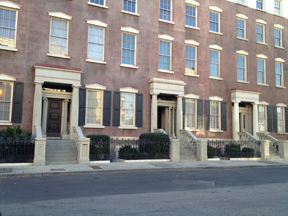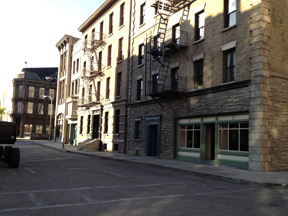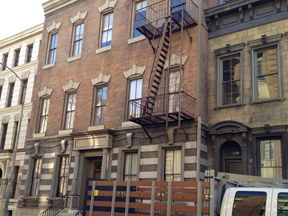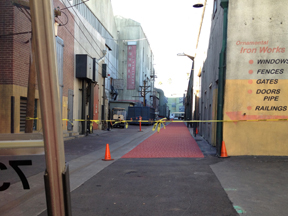 If you watch "Rizzoli and Isles," you'll recognize this alley, where they find the dead bodies.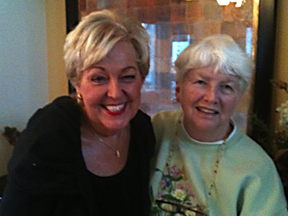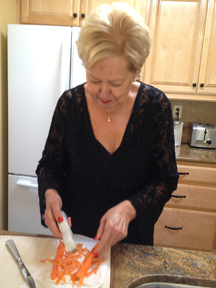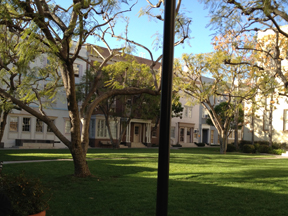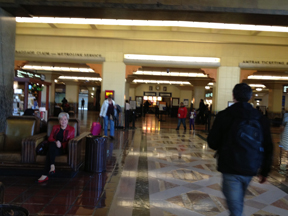 Above is a series of buildings like a campus quad that houses costumes, plus writers and directors offices. When Andy was working there on "Vanilla Sky," their offices were in these buildings.
Right: An area representing a subway. It can be changed to have a glass cover. Sometimes quick wardrobe changes are made there.
Barb got a big laugh out of using our electric carrot peeler.
Union Station in LA is a beautiful old historic place. Looks just like they did 50 years ago. We changed our tickets to a little earlier, and were home by 7:30. All in all it was a great week and the casita was a big hit (just wish the weather had been warm enough for Barb to swim in the pool.)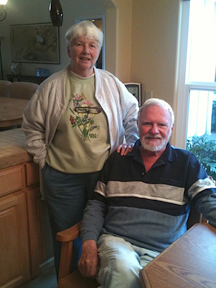 A group played a practical joke on Dr. Phil that he did not like and evidently walked off the set. As an apology the staff arranged for his very own souped-up golf cart which he seems to enjoy driving around the studio lot.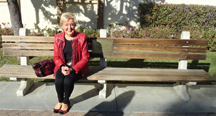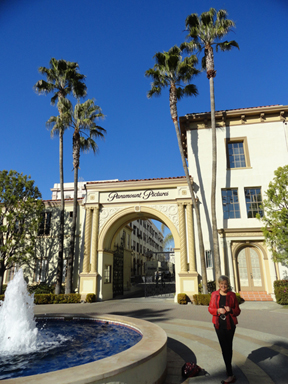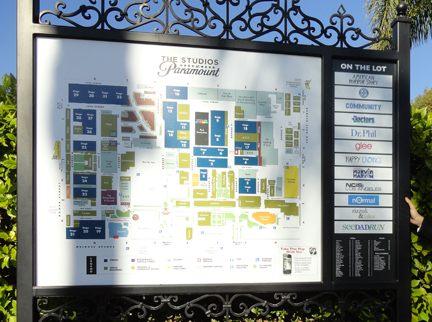 Paramount has a very large lot, having purchased RKO/DesiLu studios adjacent to it
This is the Bronson Gate, considered good luck by many who touch its gates. Charles Bronson took his name from this entrance.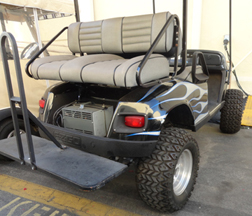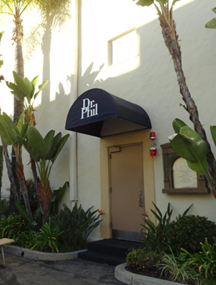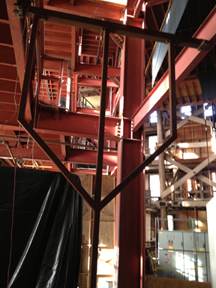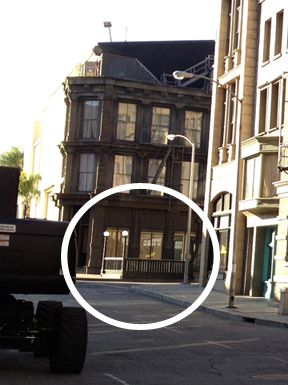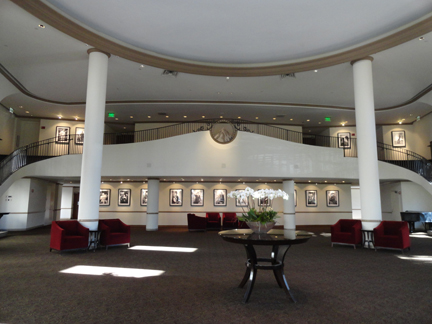 This is the lobby of a beautiful theatre that's used to screen movies. The photographs on the wall leading to the seating area are changed based upon what's going on at the time.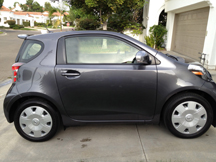 Barb spent the first week end with her aunt in a nearby retirement center. She drove Ken's new little Scion.