For the first time, one of these stories was written by the visitor himself. Here are Peter's words (when I added something, those comments are in red.
What an amazing experience I had with Ken and Shannon in 2012.  After years of stopping in for a drive-by meal and a few hours of fellowship before I made a quick departure to Foothill Ranch, I made a commitment to spend some quality time with my favorite and Uncle and their dear friends.
Heading out of Tampa on Tuesday morning, July 17th, Delta Airlines also decided they wanted to spend some quality time with me.  My original flight from Tampa to Atlanta to Orange County quickly became Tampa-Atlanta-Dallas-Salt Lake City-Orange County California.  But after 14 hours I finally made it to California, and it was a joy seeing the Pacific Ocean over my right shoulder as I headed south on the way to Oceanside.
I knew the travel had aged me a little bit, but I was somewhat surprised to learn that it had aged me exactly six years.  I became 56 on account of the fact that I had the great privilege of staying in Ken and Shannon's new guest home (ask Shannon about that). 
Here are Ken and Pete. His t-shirt mentions the half-marathon Pete ran in Sarasota. He runs those fairly regularly and plans to run the Boston full marathon.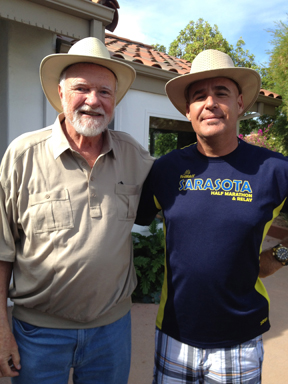 Highlights.  What are the highlights of the visit?
• The amazing weather: breezy, lower 70s, humidity in the teens
We took a walk through the canyon that has all new bushes and ground cover, a low-water solution to what had been all grass. There are benches throughout (we saw friends Art and Jan with their dog Chloe). The Western end has a catch basin for flood water (what floods??).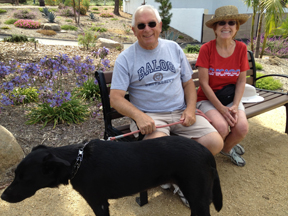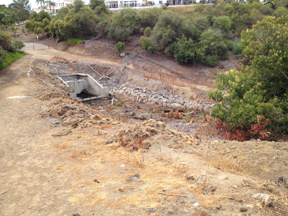 • Fellowship: stirring conversations on the back porch and kitchen table where the three of us attempted to solve many of the problems of the world … and I think we succeeded.
• Dinner Party with Ken and Shannon's friends.  It was an ad-hoc menu thrown together with good friends (two bratwursts for Pete) and amazing conversations that took us all over the world, from the Middle East to Afghanistan to the halls of Washington to the beaches of Hawaii.  Ken and Shannon have good friends!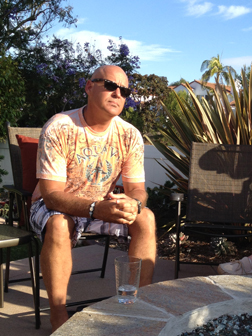 Pete joined neighbors at the fire pit after dinner, to answer many questions about his career in the military and insights into Washington.
• The Padres game, 18 July.  We went to Petco Park to see the Padres chase  Houston's Wandy Rodriguez off the mound en route to an 8-4 victory.  Yes, the Padres scored eight runs!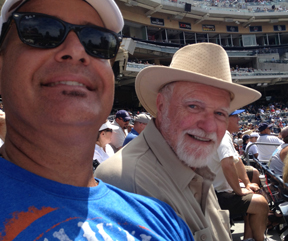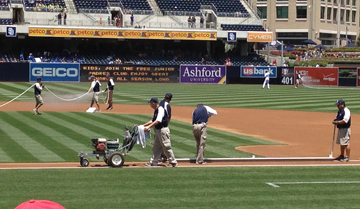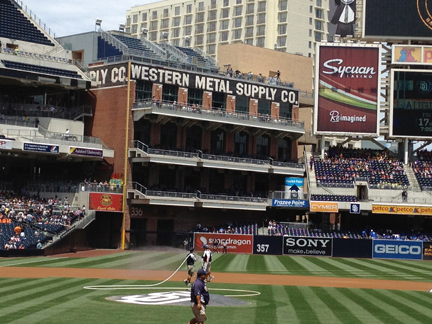 Pete was fascinated with the "Western Metal Supply Co." — a building that was considered historic and was right in the path of the new stadium. It was wrapped right into the design, and includes seats on the roof as well as on balconies on each floor. The building is open to the public on the street side but closes when the game begins.
• Breakfast with police.  Ken and Shannon took me to breakfast this morning in the middle of a Sheriff's convention.  There were eight police, and I felt so safe.  The food was plentiful and delicious, but I studiously avoided ordering pork in front of the police.  …  Just kidding!  I had a bacon and cheese omlette that is STILL keeping me full.
• Visit to the Clubhouse.  Shannon took me on a grand tour of the Clubhouse, which is immense, eclectic and filled with wonderful things to do.  I met Shannon's sewing friends and even posed with a lovely lady in a yellow dress who stood very still.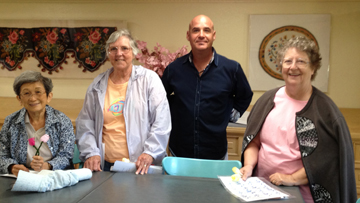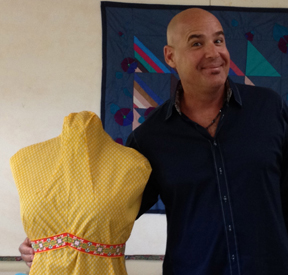 • The swimming pool.  The guest house had an awesome swimming pool that had a complete privacy fence which enabled skinny dipping.  Did I go skinny dipping?  I'll never tell.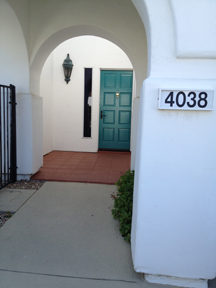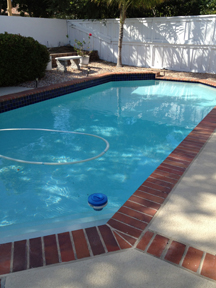 • Did I mention the weather?
In all, the visit eclipsed my every expectation, and I will miss them both a great deal.  And I'm sorely looking to come back next year.  I'll make sure I make it to a first Wednesday of the Month party, and I hope to see the lady in the yellow dress once more.
        -- Pete --  
I was taken with Pete's very large watch (I understand that this is the coming style for even women's watches).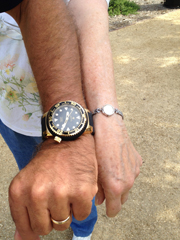 Pete's visit was marvelous for Ken and me. Pete treated us to the ballgame — the first time Ken had seen a game there — and it was a really good one. We also got to beta-test our guest home. Pete says the deepest end of the pool is about 4-1/2 feet and is 24 ft long, so it's not a big one. It's not heated so he was very brave to test it out several times. Come back soon Pete and next time bring Chris!