March 10-15, 2012
Chip, Thomas, and Ryan Visit in Oceanside
Ken III, aka Chip or just Ken, with sons Thomas and Ryan flew to San Diego on March 10th to begin a 5-day visit with us. We had a few plans made in advance, but just "winged" it on several days. The first full day here was a "jet lag" catch up. We invited Eric and Andy to come and share the day.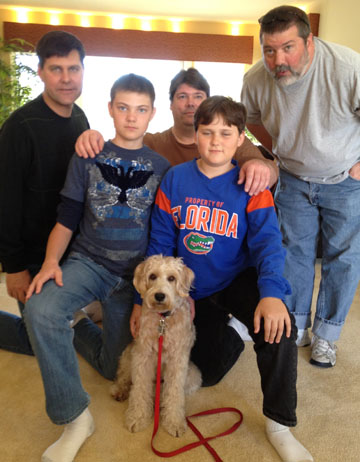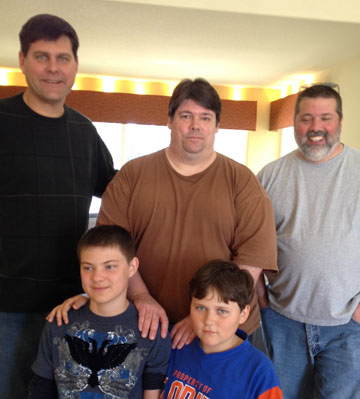 Woops, we forgot Tatum (the dog). Actually, she looks more wide awake than any of the rest of the guys.
Sometimes we ate out. Once a breakfast at a pancake house and once at a Mexican restaurant for lunch.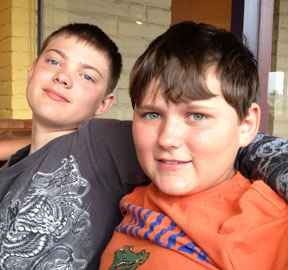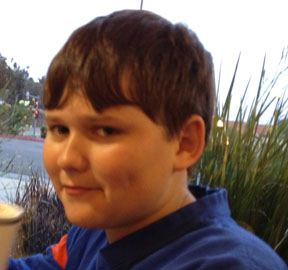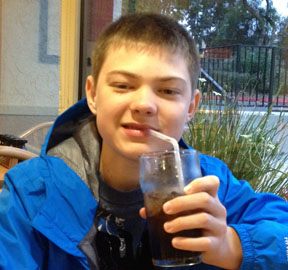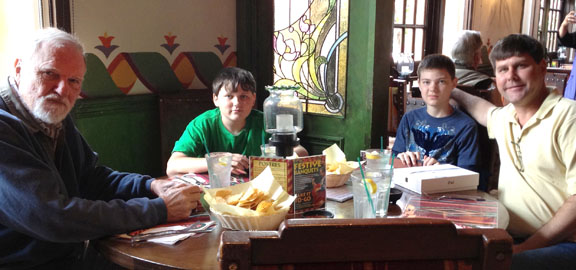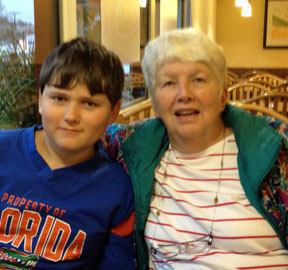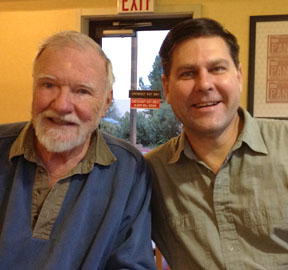 We were up-and-at-em early Monday morning, to get ready for the day-trip to the San Diego Zoo. The first thing we did was to take the two-decker bus tour around the park. Ken (Chip) had been there before when he was in the Navy and stationed in San Diego. However, we was quite surprised at how much bigger it is today.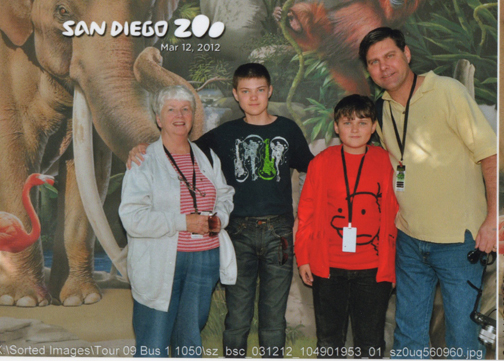 Backstage Pass at the Zoo
The Backstage Pass show was the highlight of the day. We were directed to a small outdoor theater, where some of the animals were paraded right in front of us, while trainers explained how they trained them and what they do. Then, in groups we were taken to see other larger animals close up and personal. My big problem is that I did not write down the names of all of the animals, so please excuse the lack of titles on some pictures. (Let me know if you know.)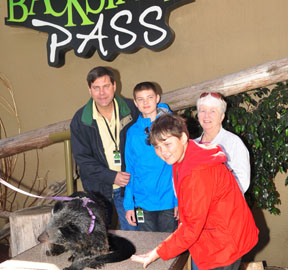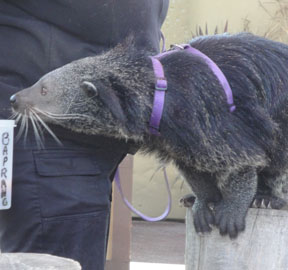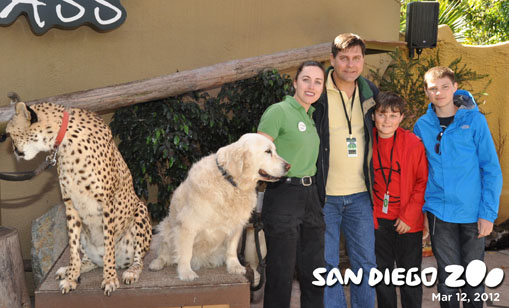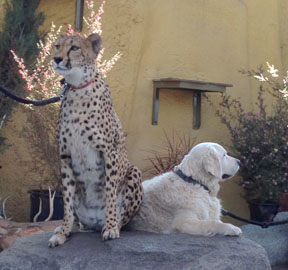 Cheetah's are shy animals, so each of them are paired (for life), with a companion dog (his was a beautiful golden retriever)å. They are together constantly.
Feeding a rhino: now that's an interesting experience. Turns out their noses are prehensile and are used for gathering food. In order for it to eat from your hand, you must rather "swipe" it under the protrusion, all the while the rhino is dropping slime on your hand. Yes, they had places to wash your hands afterwards. I declined the activity, but did get to pet it (feels like metal armor).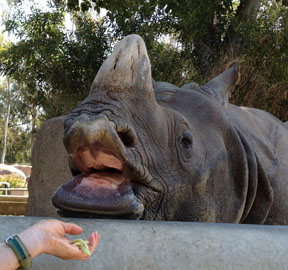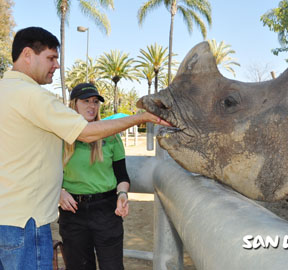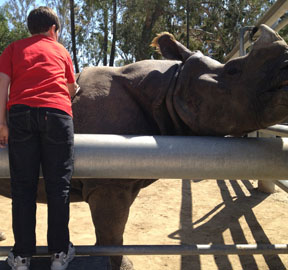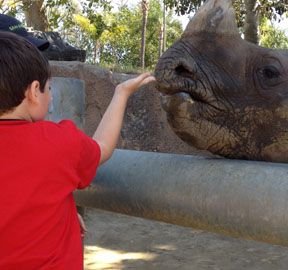 Asking politely for a snack.
Chip and Ryan brave it out, then washed their hands.
The kangaroos were darling, so soft and gentle. (They do walk funny; most people think they are injured.)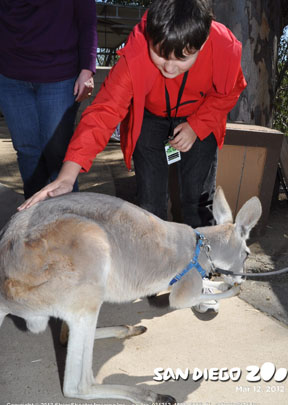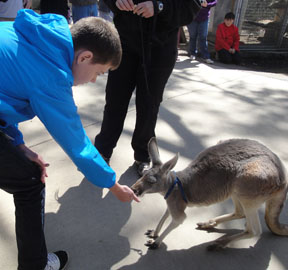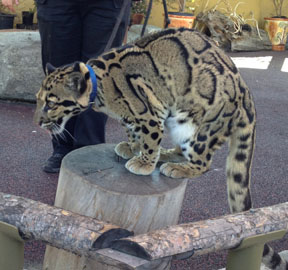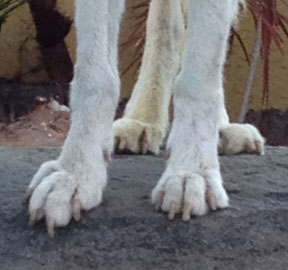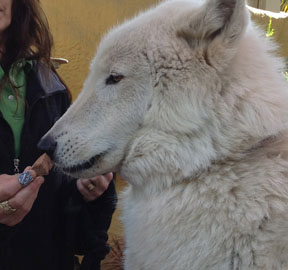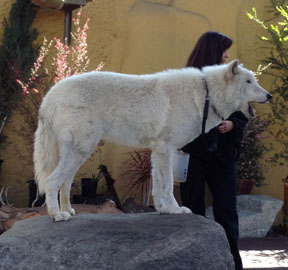 As you probably know, today's dogs as we know them are descended from wolves. This was a purebred wolf. His paws seemed huge. His face was lovely, and he even sang for us.
Surfing USA
Probably the next most exciting thing the guys did (not my guy) was take a surfing lesson at Oceanside Beach.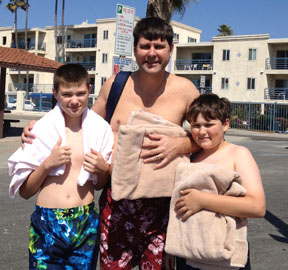 A sunny day (cool) and getting ready to get into wet suits, the three brave fellows pose for a pre-surf photo. If you'd like to see their adventure, there is a small movie you can watch:
The trip ended all too quickly and they were winging their way back to Tampa. It was great having them here and spending time with the grandkids (you, too, Chip).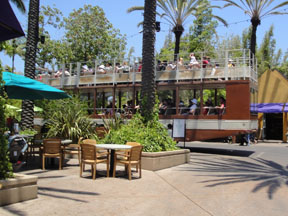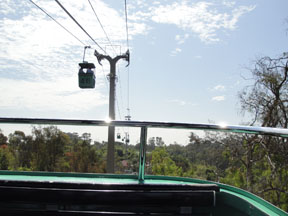 The zoo has a lift that took us over the tree tops.