The first time I met Edythe was Thanksgiving in 1975.  I was a freshman at the University of Tampa and was not able to afford to go home (Wisconsin) for the holiday.  Edythe and Ken invited me to their place in Sarasota, along with Shannon & Ken and the rest of the family.  I remember driving a friend's car on that "long" trip from Tampa to Sarasota, wondering what the Johnston family gathering would be like.  Edythe was so hospitable and friendly.  She made me feel as if I were part of the family and extended an open invitation to visit at any time.  I got to know both Edythe and Ken while I was in Tampa and looked forward to seeing them while visiting Shannon and Ken's throughout the years.  Edythe was always happy, smiling and simply enjoyed being around family.  I know she will be missed by all of us.
From Nancy Stearns
I have so many fond memories of Edythe that it is hard to pin point just one.

My all time favorite is the fishing story about Steven Mitchell.  He had just caught a very small fish off their dock on Longboat Key and he asked Grandma to cook it for him.  She went into the house pulled a fish stick from the freezer,cooked it up and Steven was never the wiser.  What ingenuity,  but that is what Grandmothers are all about.

Another fun story....Chip had just returned from a trip to Florida and Ken Sr. and Edythe had just moved into their condo on Ringling.  Chip asked me to guess where Grandpa stored his "booze" in their new apartment....having no idea I asked where?  In the bathroom over the tub was his answer and then he laughed as though it was the funniest place anyone would store liquor.  That is what a ten year old finds humorous.

She will remain my "other Mother" as she always treated me as a daughter.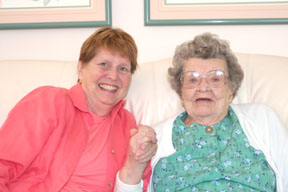 ---
From Shannon
So many of my early memories of Edythe were food related. We attended many holiday gatherings in her home. As small as the apartment was, she would somehow manage to get us all at tables, to share wonderful meals. Two of my favorite recipes were her typical Christmas gifts: a cheese-nut roll, with chili powder on the outside, and her peanut butter fudge. I still make her wonderful veal loaf as well. When we first moved to Florida, she would always have on her kitchen countertop a big jar of "boozy fruit" (fermented fruit), that she would serve over ice cream. That seemed to be a Florida specialty. 
Many times Ken Sr., Edythe, Ken and I would play bridge or gin or hearts after sharing a meal at their home. Everyone except Edythe would enjoy a cocktail or two, getting a little more animated and silly as the evening wore on. I don't know how she did it, but she would do the same. Her mood matched ours as the evening progressed — without the assistance of alcohol.
As they both aged, the holidays seemed to navigate to our home, where she would play the perfect role of matriarch. When we celebrated her 90th birthday, I thought perhaps there were not many years to come, so it had to be a big party. (If you weren't there you can still see the pictures on this website.) In any case there were 10 more parties to come, each one seeming to creep up on what could be the end. And still there were more.
My admiration for Edythe never ceased. I don't think there has been anyone I've every known who never criticized, never complained, and always was appreciative and grateful for anything anyone did for her.  That's why the people at her assisted living home in Venice loved her so much (she moved there in July 1996). They all called her "Mom."
She taught me so much. Because of her generosity I learned to needlepoint at her side, and was inspired by her beautiful work to learn how to quilt. Practically every family member received one of her quilts, until the time she had to give it up. We all had her scrubbies and kitchen wash cloths. (Fortunately she passed on the scrubbie skill to Jeanne Harris, who still makes them.)
It has been a privilege to have known and loved her. I hope she knew how much she was loved by all her friends and family.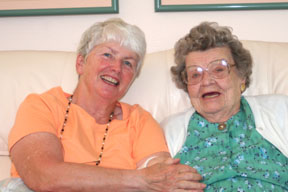 ---
Aunt Edythe and I had many, many happy times together. I shall miss her. Uncle Pleto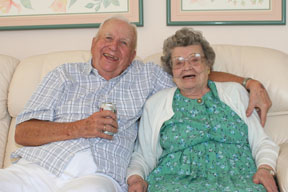 Roland Johnston, Edythe's brother-in-law
---
From Peter and Chris Mitchell
Peter says: My earliest memories of Grandma were when the Mitchell family traveled to Sarasota back when we were kids.  We were quite a handful for both Grandma AND Grandpa.  I remember being given a cane pole and encouraged to fish in the canal.  Thinking the pole  was like a rod and reel, I reared back and set a lure into their brand new porch screen.  I also remember Grandma wasn't too happy when one of the Mitchell kids wrote on a white Naugahyde bar stool with a ballpoint pen.

Grandma and Grandpa came up to visit us in New Jersey, and I remember doing something to anger Grandma.  She was EXTREMELY fast and could get very angry.  She was downright fearful.

But there was also a warm and loving side to Grandma.  I'll never forget how she cried when we honored her on her 99th birthday.  I was a master of ceremonies who read cards to Grandma, and she was so moved by the sentiments in those cards and letters. It will remain one of my fondest memories of her.  She was a humble, grateful woman of the highest character.

    Love, Peter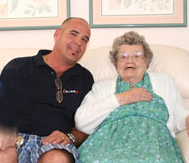 Chris says: I will never forget the warm welcome I received from Grandma (as she told me I could call her) when I married into the family via Peter. I was so drawn to her strong, silent grace and her warm smile that lit up her whole face, making her eyes twinkle.  As she was always sure to ask "How are you doing dear?"
 
I will always treasure what a great hostess she was and how she would always want us to leave their home with something she was making at the time. I was so grateful to have our children, Jessica and Thomas, be recipients of her quilt-making talents. Even when her quilt making days were coming to an end she quilted each of them crib blankets when they were born. However, I sincerely continue to regret the day she informed us she would no longer be making all those homemade "scrubbies!" Sometimes she would fill a grocery bag with them, telling me I should pass them on. My mother and sister's still look under my sink to see if I have anymore to share.
 
Grandma will be sorely missed, but all I have to do is look around to her family and see bits of her that have rubbed off onto all of us in some tender way, shape or form and be reminded of her.
 
Chris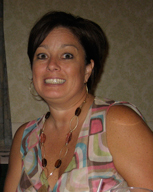 ---
From Lisa and Chip Johnston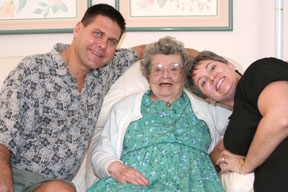 Lisa says: I think I fell in love with Edythe the first time I met her.  Chip and I weren't engaged, but I had moved to Florida, and he took me to visit his grandparents.  At some point, I asked a question or made a comment, and referred to Edythe as Mrs. Johnston.  And she set me straight, in the kindest, most wonderful way.  She told me to call her Grandma, just like the rest of the kids.  That was such a magical moment for me, because at that point in my life, I had already lost all of my grandparents, and Edythe had invited me into her family in such a simple way.  I told her how much it meant to me, as my own Grandmother had passed away only a few years before.  She said yes, Grandmothers had a habit of doing things like that!  That was the fall of 1994, and I'm so glad she put her habit off so many years.  I'm pleased to have known Edythe, and I'm honored to have been her Granddaughter.  Lisa
Chip says: I remember visiting in Florida. I really like their home. She was always there if I needed comfort and love. I remember after proposed to Lisa and introduced her as my finance the same weekend how proud she was that they were the first in the family to know. Grandma always the listened the best and never made judgements of her grandchildren. I was most thankful she met my children and my wife, that she realized at some level that the family she considered so important would continue after she was gone.
I miss my Grandmother but I am a better person because of her and my entire family.
Chip
---
From Bruce Beisler
Although I only knew her from age 50 to 100, I have many fond memories of my Grandma Edythe.
I remember...
watching JFK's funeral with Grandma Edythe in her kitchen on Woodbine
seeing color TV for the first time in her living room on Woodbine
many fun times at the Block Parties at her home on Woodbine
making ice cream on the 4th of July in her back yard on Woodbine
watching fireworks from her back yard on Woodbine
how proud she was to introduce me to her friends
going downtown Chicago with Grandma Edythe on a great adventure
driving with her to visit her friend in a Chicago area hospital
Grandma Edythe picking me up from Cub Scouts in a Taxi
Grandma Edythe telling me when to go to the end of the block to meet Powpow walking home from the train station
Grandma Edythe cooking wonderful breakfasts on Wedge Lane
going to the beach with Grandma Edythe
driving with Grandma Edythe from Wedge Lane to go shopping in St. Armands
walking down John Ringling Blvd with Grandma Edythe to do grocery shopping in St. Armands
Grandma Edythe showing great patience when she would take us kids to the condo swimming pool on Ringling Blvd
Grandma Edythe making wonder knitting and crochet crafts for everyone
Grandma Edythe playing cards with us at the dining room table
Grandma Edythe taking us to spring training baseball and the Sailor Circus
Grandma Edythe making wonderful meals in the Condo on Ringling Blvd
sharing fun times with Grandma Edythe at the Apple Festival
Grandma Edythe coming to our home in Palm City when Amanda Cynthia was born
Grandma Edythe as the matron of honor at many holiday feasts
Grandma Edythe at all her celebrated birthday parties sharing love and joy with the whole family
But most of all, I remember her smile.
Bruce Beisler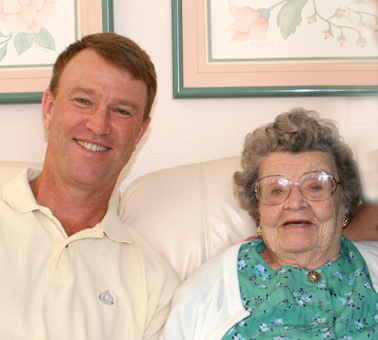 ---
From Ken Johnston Jr.
I've been deeply moved by the memories shared above. I've sorted through my own 75 years of memories of my mother and the ones I loved best involved Mom's laugh.

She loved to laugh. I loved making her laugh. She laughed easily and often.
In her final years, dementia took much away from her, but not her laugh. Shannon, Pleto , and I would join mom for dinner, and tell stories to make mom laugh. She always did.
Throughout my adult life, Mom laughed easily at me. I even began to believe I was funny. Mom had that effect on lots of people. She didn't like to draw attention to herself. She would, instead, draw out other people's stories, and appreciate them. People felt better about themselves after they'd been around mom. I think that was her secret. I think that's why so many people loved her.
She could be serious and wise as well. When we kids were growing up, religion was an issue in our family. Dad had been burned out on religion being raised by an itinerant fundamentalist preacher, so he stayed home on Sundays. Mom made sure we kids always went to Sunday school or church and went on Wednesday nights to hear others bear witness.
When I was 13, my teen aged friends made fun of me for being a "Christian Scientist."
I talked to mom and told her I didn't want to be a Christian Scientist any more. "Well", she said, calmly, "What are you going to be? You have to be something."
So, I went to the library to study comparative religions. With all of the insight of a 13 year old, I chose Buddhism. She took my choice seriously and said, "Let's look in the phone book and find the nearest Buddhist temple." There were no Buddhist temples in Evanston. She looked in the Chicago phone book and finally found one on the South Side of Chicago. "How bad do you want to be a Buddhist?" she asked. "I don't think Dad would be willing to drive you that far and wait for you. And, I don't think you'd be safe taking busses, elevated trains and streetcars each way for two hours."
"Maybe you could choose something else." she said.
Only years later did I appreciate how patient she had been with me. She never laughed at how impractical my choice had been. Instead, she validated me and acknowledged my right to choose.
To me, this story tells a lot about my mother. I revel in the confidence she had in me and conferred to me. She seemed to believe I could be anything I wanted to be in life. She helped me believe it as well.
Thanks, Mom, for all your gifts and your deep, deep love.
Ken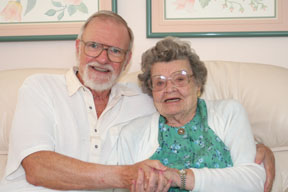 ---
To Edythe: Till We Meet Again
---
The "Descendants" page from Edythe's life story has been updated with current information. Some other dates for "Ancestors" were gleaned from books found in Edythe's belongings. Download the PDFs if you wish.