Edythe Johnston's 98th Birthday Party
September 30, 2006
Ken and Shannon Johnston hosted Edythe's 98th birthday party at their house in Sarasota. Family came from all over:
Marc Beisler, Chicago; Bruce Beisler, Palm City, Anita and David Johnston, Michigan; John and Jane Hursch and their children John, Ben, and Caroline from Jacksonville; Peter Mitchell, Tampa; Ed and Diann Kuzial, Lutz; Lori Dunford, Lantana, Clarence Sellers, Spring Hill, Don and Jennifer Golliher, Largo, Pleto Johnston, Venice; Nancy Stearns, Tampa (Did I miss anyone?)
Note: each picture has a number (albeit rather strange). If you want a printable version of any of the pictures, simply e-mail me the list of numbers and I will provide a 6x4 at 150 dpi suitable for printing. Also, I tried to use each person's last name only the first time they appear.
Shannon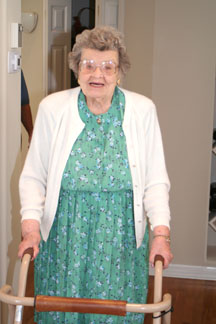 (1) The guest of honor — Edythe Johnston — arrives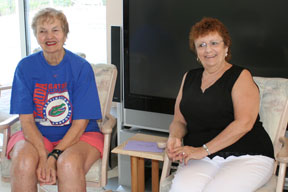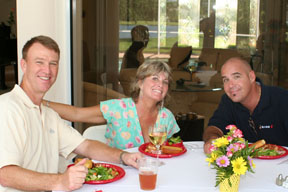 (4) Barbara aka Missy Mitchell and Barbara Rockwood
(5) Bruce Beisler, Lori Dunford, Peter Mitchell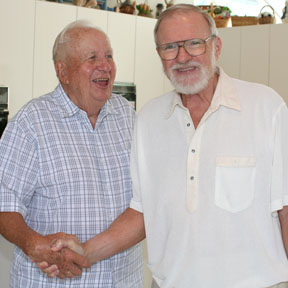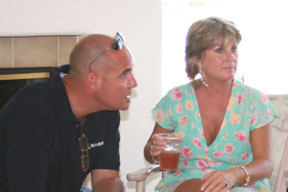 (5a) Pleto (aka Roland) Johnson evidently REALLY squeezing Ken's hand
(6a) Pete and Lori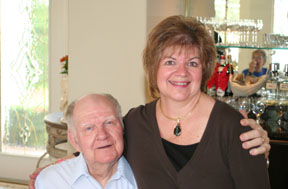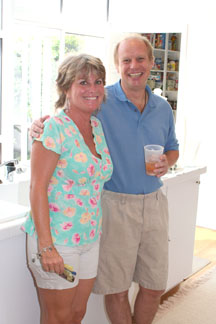 (6b) Lori and Marc Beisler
(6c) Clarence Sellers and Diann Kuzial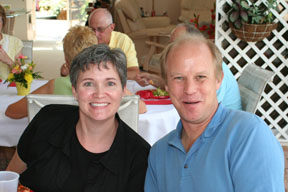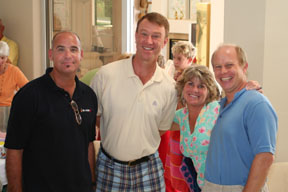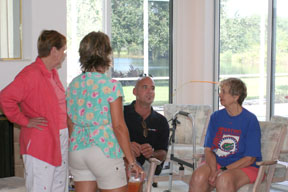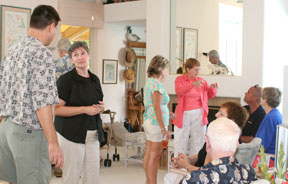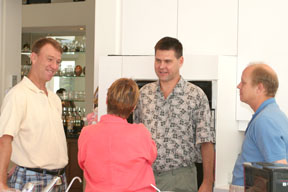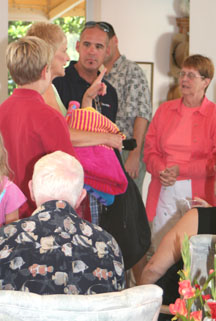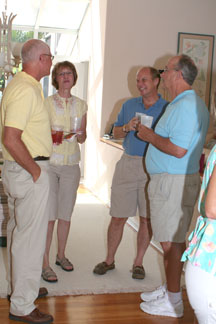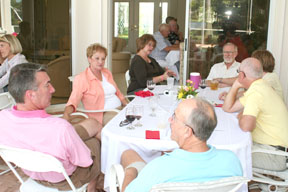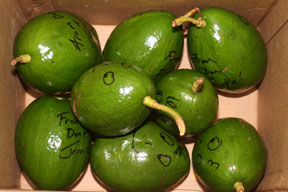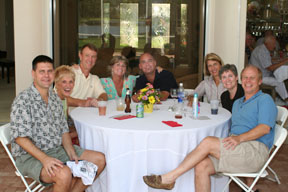 (8) Pete, Bruce, Lori, and Marc
(7) Lisa Johnston and Marc
(9) Nancy Stearns, Lori, Pete, Missy
(10) Ken III aka Chip, Lisa, Lori, Nancy, Pete, Missy, Barb, Harry Rockwood
(11) Bruce, Nancy, Chip, Marc
(12) Harry, John Hirsch, Ruth Johnston, Pete, Chip, Nancy
(13) John Hursch, Anita Johnston, Marc, Geln Walls
(15) John Johnston, Sharon Walls, Diann Kuzial, Ken, Anita, David Johnston, Glen
(16) Chip, Ruth, Bruce, Lori, Pete, Jane Johnston, Lisa, Marc
(14 top) Pleto Johnson, Harry, Barbara, Missy, Clarence Sellers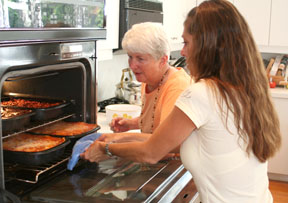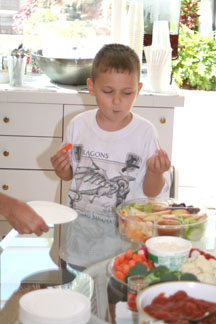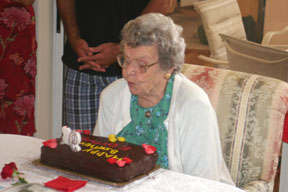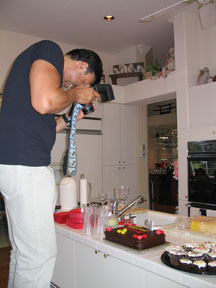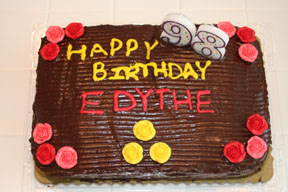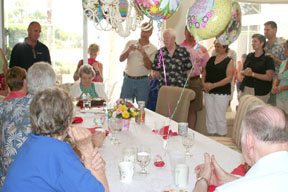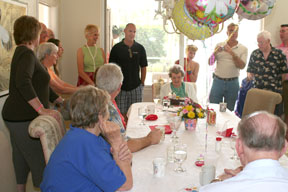 (18) Ryan samples the apples
(20) Edythe's birthday cake, made and decorated by Jeanne Harris and Jennifer Faile
(19a) Mike Vega, who graciously took the photographs, is taking a picture of the cake
(19b) Edythe blows out her candles
(21) the group sings Happy Birthday
(22) They sing it again!
Photos with Edythe
Each person who came to the party was photographed with Edythe. These pictures will be printed out and put into a scrapbook for Edythe, as a memory jogger for the party.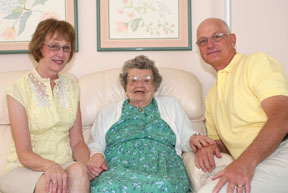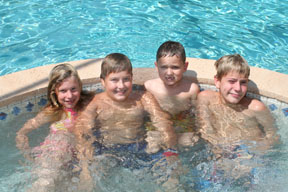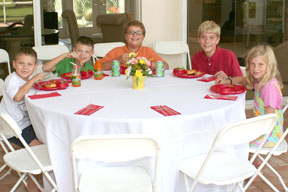 (23) Caroline Hirsch, Ben Hursch, Ryan Johnston, John Hursch
(24) Ryan, Tommy Johnston, Ben, John, Caroline
(16) Don and Jennifer Golliher brought these beautiful avacados from their back yard
(17) Shannon and Jennifer Faile remove the lasagne from the oven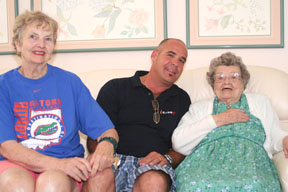 (25) Nephew David Johnston and wife Anita
(26) Daughter Missy and Grandson Peter Mitchell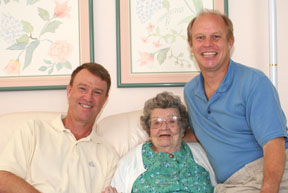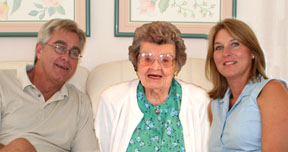 (27) Grandchildren Bruce and Marc Beisler
(28) Great nephew Don Golliher and wife Jennifer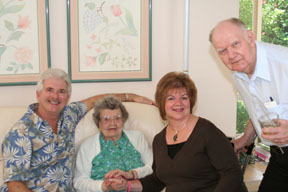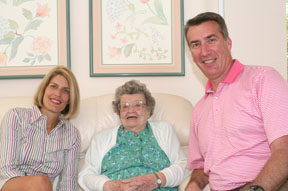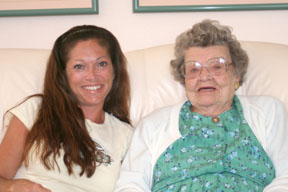 (29) Nephew Clarence Sellers (right), great niece Diann Kuzial and husband Ed.
(30) Niece Sharon Walls, and husband Glen
(32) Jennifer Faile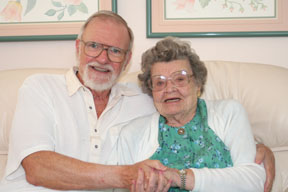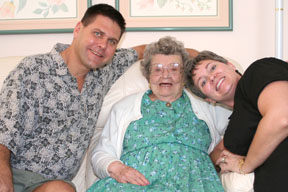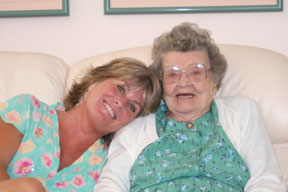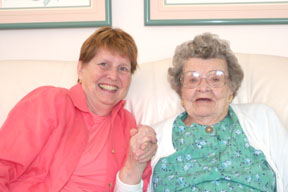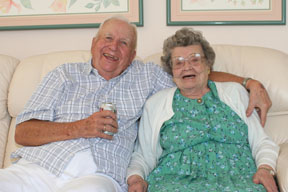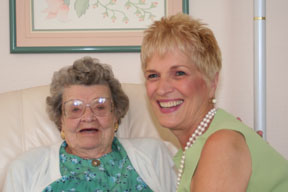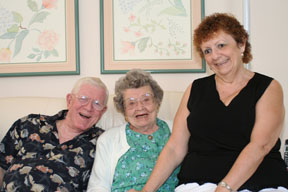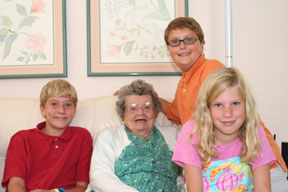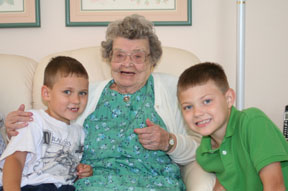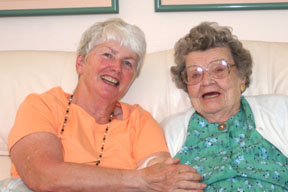 (33) Son Ken
(43) Daughter-in-law Shannon
(36) Mike Vega, photographer and Edythe's personal trainer
(37) Nancy Stearns, daughter-in-law
(40) Nephew Harry Rockwood and wife Barbara
(41) Great niece and nephews John, Ben, and Caroline Hursch
(42) Great-grandkids Ryan and Tommy Johnston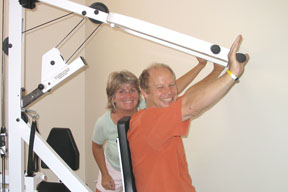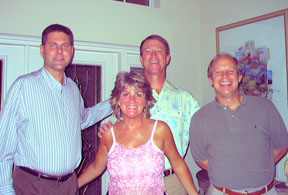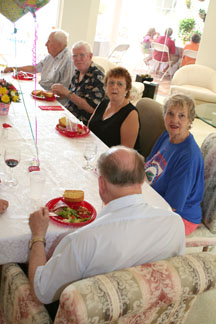 (34) Grandson Ken III and wife Lisa
(35) Lori Dunford, Shannon's Niece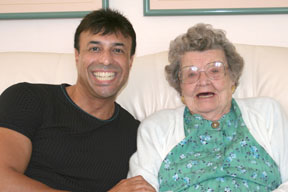 (38) Pleto (Roland) Johnson, brother-in-law
(39) Niece Ruth Johnston
(98) Lori and Marc both like to work out
(99) Saturday night the young folk went out on the town: Ken, Bruce, Marc, Lori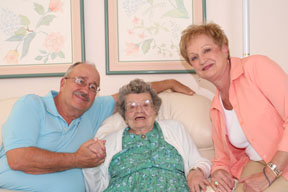 (31) Great nephew John Hursch and wife Jane