Thailand was great. I faired well on the flights with judicious use of aspirin and leg flexes. My companions on the flight to Seoul from O'Hare were a bunch of college students returning for the holiday. I felt old. I was able to meet up in Seoul with Bruce and family without trouble by just running into them but I was worried as the gate was not even listed on the boards until about an hour before the flight and the place was crowded. I was even able to switch places to be next to Bruce for the flight to Bangkok. Bruce (and family) and I were to be 12 rows apart but the woman sitting next to Bruce was married to the guy sitting next to me. Amazing coincidence but a good omen that was just a precursor of the rest of the trip.
 
We arrived in Bangkok late and were met by two of Nikki's brothers and some of their families. We took a short ride to a hotel that was about a half mile from Nikki's family home, now occupied by Na Dun (Uncle Dun). Na Suk lives in a rented house right across the street. We went to the houses the next day for a little meet and greet and went straight away to the temple to feed the monk.
At the temple we visited Nikki's dad in his casket. Both activities involved lighting incense and adopting a prayer position. The monk even gave us a braided string for luck. Unfortunately, I lost mine before the end of the next day but we fed other monks on the trips who gave us other tokens that I retained so I kept my luck.
 
That evening we boarded a train for Chiang Mai to the north, a popular tourist destination for both nationals and forang (foreigners, pronounced folaung). On the train ride, a drunken Russian fell on me from his adopted berth above me as he was stumbling out, presumably to find his rightful place. Later, he fell head first to the ground after climbing into another of the free spaces above our party's lodges. Justin and Amanda shared a birth as well as Nikki and Ashley leaving only Bruce and I as sole sleepers.
 
Chiang Mai was interesting. Our hotel was nice and conveniently located next to the Night Bazaar. Each evening, uncounted vendors set up shop with rolling carts on the side walks that include sides and tops above a storage container to allow presentation of their wares. By morning they are all gone again. Truly an amazing feat of mobilization.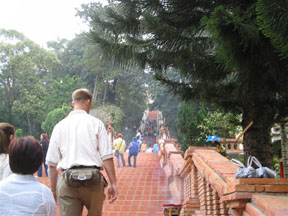 There are 300 steps to the Chaing Mai old temple
We took day trips out of Chiang Mai to the surrounding areas visiting production facilities for jewelry, orchids, silk rugs and paper composed of highly treated elephant dung. We rode elephants and rafts (I fell in the water) as well as saw a monkey show.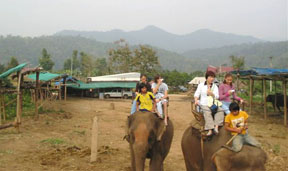 Amanda, Justin, Nikki, and Ashley ride the elephants
We also visited the hill people, two tribes of Karen people one of whom is the famous long neck tribe. Contrary to my former assumptions, they can hold up their heads without the long brass coils they wear and I learned they do not so much stretch their necks as push down their shoulders. Some alternatively perform a practice of gauging, inserting progressively larger tubes in their earlobe piercings until they are able to insert a 1-1/2" diameter cylinder that I mistook as napkin holders when I saw them for sale.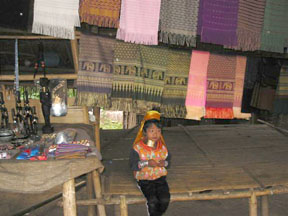 A cute long neck girl
The Karen women spend their days weaving silk that they sell along with other handy crafts. It is customary to bargain but I felt bad paying so little for the fruits of their labor. Alternatively I did not wish to have them questioning that they should have asked for more. I adopted a strategy of asking the price of several items, making a package and offering 50 cents less on the whole deal rather than beating them down item by item. Honestly, I might have paid double for most of the things I bought. The exception was on tee shirts from the night bazaar. The object there was lowest price even if it meant $2.50 a shirt. As Bruce said, they wouldn't sell it if they were losing money.
 
The train trip back to Bangkok was uneventful but it was nice that the trips gave us beds for two of the nights we were in Thailand. In Bangkok we checked back into our hotel and started to visit with the family. We had many lovely meals at the homes eating al fresco and cooking huge pots of curry on a charcoal fired burner. We partook in Nikki's father's funeral. There was some talk of Justin becoming a monk for the day (three of Nikki's nephews did including shaving heads and eyebrows) but that was abandoned when we realized Justin did not know any San Skrit. Next visit an English speaking monk may be found but the day thing is only for funerals. The customary short term is 7 days. We went to the province where Nikki's father was raised and floated his ashes in the water where her mother was floated. All family trips were taken in Na Dun's compact pickup with crew cab, typically 5 in the cab and 4 to six in the back. Bruce always rode in the front passenger seat. I alternated cab to bed to get the full experience and stretch my legs. All family trips were also taken with aforementioned pots of food; curry, rice and fruits and vegetables. So imagine the bed of the truck did not always have room to stretch too much. Somehow, it was always comfortable.
 
We went to the floating market some 100 kilometers out of Bangkok where we ate on the water from floating food preparation boats.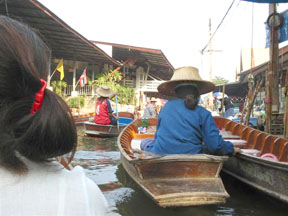 Traffic jam on the old Klong
We bought more souvenirs took photos. We went to the Bridge over the River Kwai. There we saw other parts of the Jeath Railroad and a museum depicting gruesome prisoner of war camp conditions. Apparently, the movie was not terribly accurate regarding destruction of the bridge. It was destroyed several times but by allied bombers not commandos.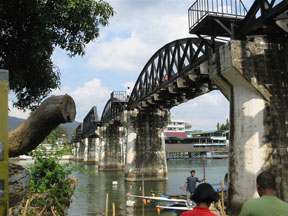 The Bridge over the River Kwai
We also went camping in a national forest.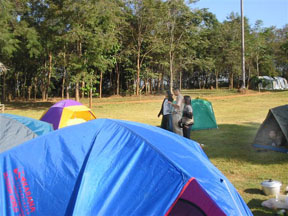 We went on a night truck safari looking for wild animals but saw none then drank around the campfire and slept in tents in the cold, probably a 40 degree F temperature swing day to night. Then we went to a cheesy amusement park with a cowboys and Indians theme. The kids had fun.
 
Highlights of the trip included drinking in the family compound, either beer or scotch and soda and making friends with the Thai branch of the family and going to restaurants with the family.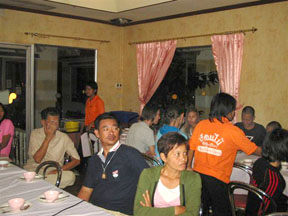 New Year's Eve at the Karaoke restaurant
We went to a hibachi place and to two places with Karaoke. The first had a singer/guitarist quite accomplished in American easy listening and the second was a place with stand alone party room with televisions and computer karaoke machines. Nikki sang old Thai folk songs and the Thai kids sang the latest Thai hits. Fa, Na Dun and Na Bem's girl looked like a candidate for Thai Idol, she sang with great emotion and conviction. All in all, a great trip.
 
Bruce tells me Nikki is going to buy a home a few blocks from the family compound. I hope to go back soon with Katherine.
Another old temple. Na Dun and Na Suk in the foreground, with Fa, Few, and Ef behind