A Trip to LA
Sons Eric and Andy invited us to come to LA for the week end of the 4th of July. In honor of the trip we bought a new GPS (Garmin). The newer one has an option not previously available. It would show the number of lanes, and grey out the lanes not to take. If you know I-75 as it goes through St. Pete, you'll understand why that's important. If you happen to get in the wrong lane there, you can end up exiting before you really want to. This GPS system helps prevent that. It also connects to a service that will alert you to traffic problems ahead. So, the trip up "The 5" was smooth and easy.
We decided to stay at a hotel near the restaurant we'd be going to. Andy put us on to it. It's called the Sofitel and is quite European in design. The room overlooked a very large shopping mall called the Beverly Center. The shower was great; after being in a tiny motor home for so long it was truly luxurious. You can see the drench head. However, I found the bed curious. It had a sheet on the bottom and only a very thick (and heavy, I thought) puff. No upper sheet. The blanket was to be the sheet. I was very warm and kept getting up to turn the A/C down. Anyone have that kind of hotel experience?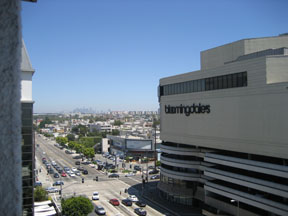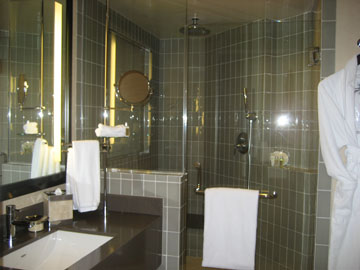 After checking in we drove to Eric's house for conversation, snacks, and beer. Ken is getting quite fond of the designer beers. They are very different from what comes in a bottle at the grocery store. Eric loves guitars. These were in his bedroom.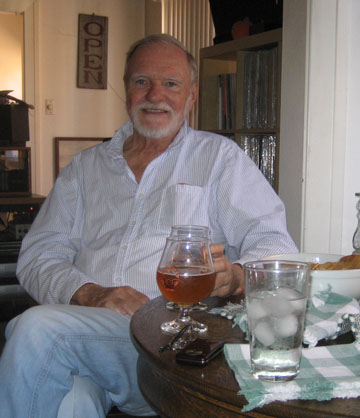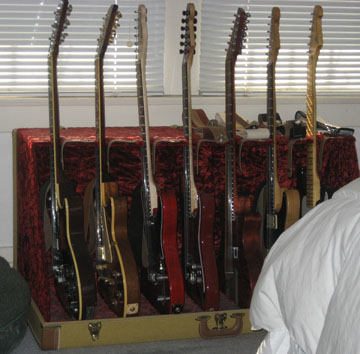 There were more in his studio, where he edits audio for both music and for films.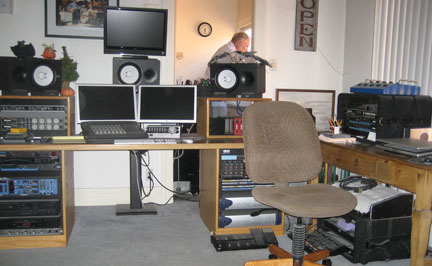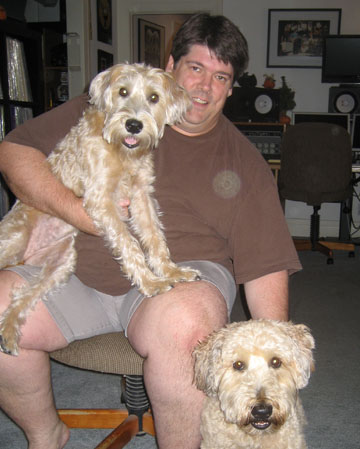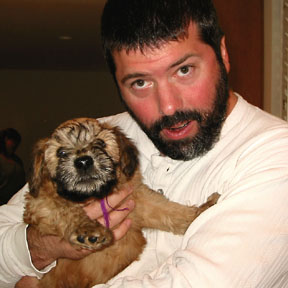 Andy has always shared Gabriel (aka Gabe on the right), with Eric. Now Gabe lives with Eric, who has taken on another Wheaten Terrier — a young lady rescue named Tatum. She has won everyone's hearts. Gabe's opinions are still out. The picture on the right is Andy picking out Gabe (or vice versa), in 2002.
Dinner would be a reunion of sorts. Every time we traveled to LA we would go to "The Stinking Rose" restaurant. Eric had first discovered it in San Francisco. Its motto is "We serve food with our garlic." Here is a picture of a garlic tree in their lobby. You can see the garlic buds growing on the branches (yeah, right).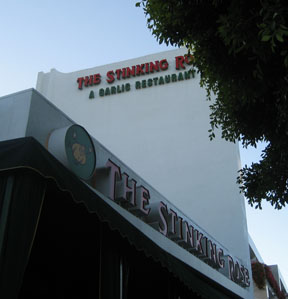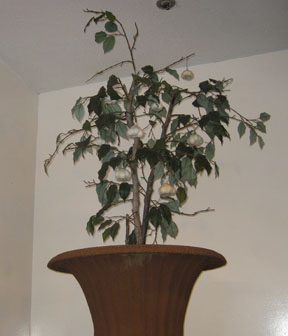 Scott Martin was always in on our dinners at "The Rose," although he wasn't feeling well because of a sprained ankle.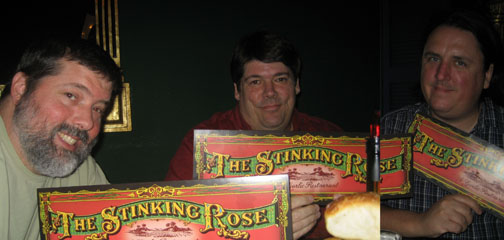 Our dim sum brunch at Ocean Star was not to be until noonish on Sunday, so Ken and I had and early breakfast at the hotel. You can see the influence of McDonald's here, with the hotel's version of a sausage egg McMuffin on a bagel. Ken could only eat half. It was huge.
Scott did not join us at Ocean Star because of his ankle, but the four of us did a pretty good job of choosing dim sum treats from carts as they whizzed by. This is truly a Chinese restaurant; no one spoke English and we were one of three tables who were non-Asian. As you can see, you can order really fresh fish from their tanks of swimmers. We ate our fill for a grand total of $22 (yes, for four).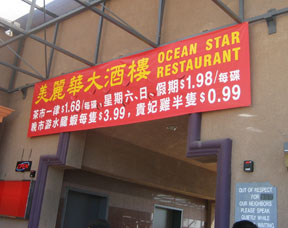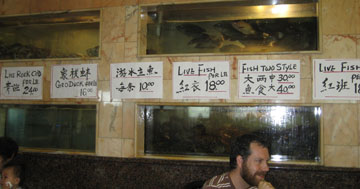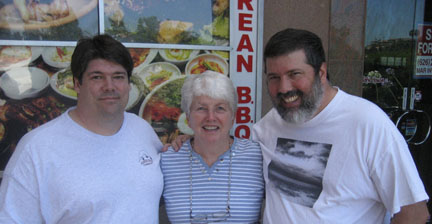 We left after dim sum and headed back to Escondido. We were already further East than before, so our GPS took us on a different route home. The hills were alive with avacado trees. I have no idea how they pick them, since the hills were quite steep.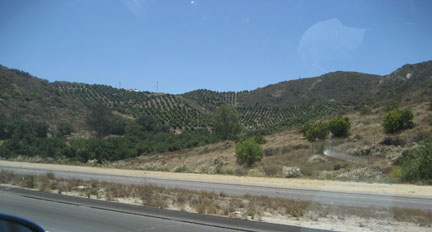 We had another uneventful trip, flying along California highways. We are always amazed at the beauty of the roadsides. If they are not filled with natural plantings and hills, they have been planted with blooming flowers of all kinds.
Hope you're having a wonderful summer.