I had fantasies that this would be the perfect day. We had chosen a park in a pretty little town called Indio, near Palm Springs, California to test out one of the fancier resorts where people actually own their lots, then rent them when they're gone. Believe me there are lots of people gone, now that the weather in the desert has turned really mean. So there was no trouble getting a reservation. The trip would only be around 250 miles — a snap.
We got up early and hooked up the Mouse. Today would be a little different, though. We would need to install our previously-unused brake buddy. If I'm repeating myself about the brake buddy, just skip down a bit.
The Brake Buddy
This is a very expensive piece of equipment and is required state by state, based on the weight of the vehicle being pulled. The idea behind the brake buddy is twofold. One: if you're going down hill your vehicle needs to brake along with you, so that it doesn't exert too much force on your vehicle. Two: if your tow vehicle is separated, a small line pulls off and the brake buddy stops the car from running down the highway.
The Mouse is about 1800 pounds, and most states don't require a brake buddy for it. California and Nevada don't exclude the Smart Car. (If you're fascinated by the subject, look up "brake buddy" on the Internet and see the various weights for each state.) If for some reason you have an accident and you don't have a brake buddy, lawyers immediately converge and begin suits. You could also be in trouble with the law. So, we had to buy one.
It had been weeks since someone showed us how to do it and after a frustrating half-hour we still didn't have it right.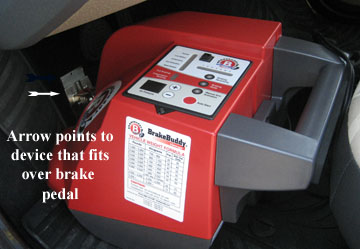 Then there are two electric hook ups. We actually did accomplish that, but then the darn thing started to huff and puff and make noises and we had no idea what was going on. Long story short we gave up. Left it there looking important, in case we got stopped, but didn't hook it up. Yes, we were scoff-laws today in California.
Enough of Brake Buddy
There's a town just short of the state line between Arizona and California called Quartzite. We looked it up and learned quartzite is a highly-pressurized sandstone and use largely for railroad beds for its stability. I assume the town sprang up around a mine.
Here's what you have to do. It has an arm with a cap on the end that fits over the brake pedal. So first put the driver's seat way back, lug the buddy onto the floor, and fit the cap on the brake pedal without putting any pressure on the pedal. Then snug it up again without putting pressure on the pedal, then pull the seat forward (ours is not electric) until it braces the buddy but still doesn't put any pressure on the brake pedal.
After the state line all traffic was pulled off to the side — not to look for illegal aliens, but to declare any fruits or vegetables. Since we were from Florida he asked if we had any citrus — it would not be allowed in the state. Ken assured him we did not and in fact preferred California oranges (fibber).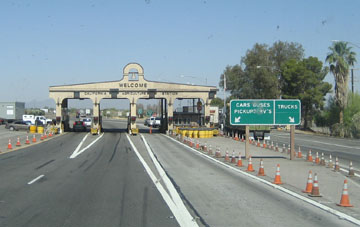 On one stretch of road we saw literally hundreds of motorcycles going East. You may remember that our nephew Peter and wife Chris are going from Tampa to Washington DC for the Rolling Thunder rally for the Vietnam vets. We called Peter (he is leaving soon) and he said yes, they would be coming from as far away as California. We were already getting sore butts; I can't imagine what a 3000 mile motorcycle ride would be like. If you're interested, the rally will be on TV Memorial Day week end on CSPAN.
As you know, we use "The Next Stop" to plan our driving. After a stint of 60 miles I was to turn it over to Ken at a specific rest stop. Guess what? It was closed so I had to go on. Suddenly it was a little like Mr. Toad's Wild Ride. You know those roadside signs that say something like "Terrifying downhill inclines at a 45 degree angle for the next 10 miles?" (Well, it was like that, only not 45 degrees, more like 6.) When we got close to Indio I turned off at a truck stop and gave it back to Ken, relieved to have that over. I understand that if you've driven to Flagstaff that what I just did was a kiddie ride.
It would be interesting to carry an altimeter on board to see just how high we were at any point in time.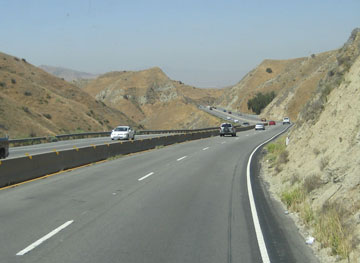 One of the most interesting desert landscapes is of the Joshua tree. In fact, there is a Joshua Tree Forest we could have explored. The desert has continual cloudless skies like this.
We used the GPS to get us to the campground. However, there was a sign at a corner for the park and we thought that was the place to turn. It was not, and we found ourselves on a dead end street (and you may remember that we can't back up the Moose and Mouse together). No problem, we'll just unhook. Ken could back up, turn around and we'd head for our new campground, with time for lunch. Now, you know that's not gonna happen, don't you?
Everything unhooked and I got in to drive, but no juice. The Mouse wouldn't start, no matter what we tried. Must be a dead battery. Maybe we killed it trying to put in that darned brake buddy. Triple A came to the rescue in just 15 minutes. The Mouse battery is under the floor on the passenger side of the car. The poor fellow sweated up a storm getting to it, only to find out it was fine.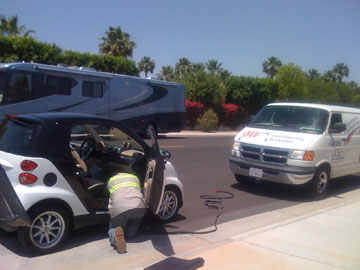 So, we called the 1-800 Smart Car number and after lengthy discussions they recommended we have it towed to the nearest dealership (90 miles away). By this time we were sweating into our shorts and my mood was grim; we'd even missed lunch. Just as the fellow from AAA was about to order a tow truck, the little car sputtered and started. We still have no idea what was wrong. We bid adieu to AAA and headed to our pretty little park, and it really is pretty.
Indio
Sites are gathered around 3 to 4 putting greens. Members can put 18 holes. Each site can be improved by the owner. Many add outside grilles, fireplaces, lighting, etc. Our site had lots of improvements — a full kitchen with dishwasher, refrigerator, oven and cook top. Next to it was a sort of lanai with a gas fireplace and ceiling fan.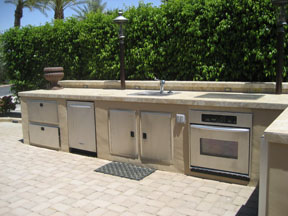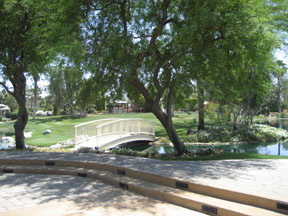 These are views from the back of the lot. The left picture is a waterfall. The right shows the bridge to the putting greens. The look of the place reminds me of Laurel Oak. They have 400 lots and yes, a homeowners' association. If it weren't so hot here, we'd be tempted to spend a month or two.
We drove highway 111 in the Mouse from Indio to Palm Springs, going through La Quinta, Indian Wells, Palm Desert, and Rancho Mirage. Lots of famouse golf tournaments played around here. It was interesting to note that there were little communties between these, that were lesser housing, evidently for the people who served the community.
We found a Vietnamese pedicure parlour and got our feet fixed up before having lunch at a lovely Mexican restaurant with no windows, and "misters" adding as much humidity to the air as they could. I took this picture from our window seat. These palm trees had the longest beards I'd seen.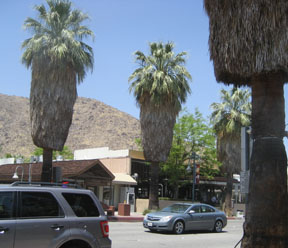 We looked at prices for the lots and were they expensive! Some were as high as $250,000. Renting is good.